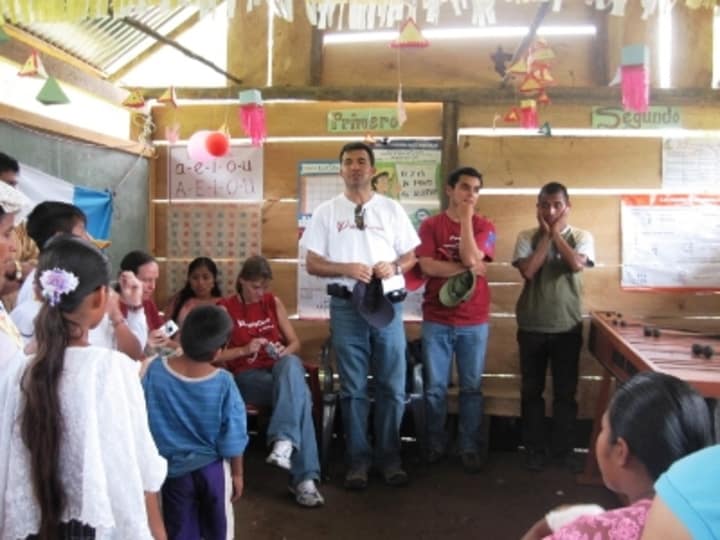 Mercy Corps is distinct from most development groups in Guatemala. It is based in the field - in Coban, about four hours north of the capital Guatemala City - and is almost completely staffed by Guatemalans, including Country Director Borys Chinchilla.
The Portland, Oregon-based agency began its Guatemala operations in 2001. But in less than a decade, it has grown from eight employees to 70 and is now working in eight of the country's 22 departments, or regions.
Chinchilla joined Mercy Corps in 2002 after working with Care Guatemala for 15 years. In both organizations, Chinchilla focused on defusing the country's land conflicts, which were central to Guatemala's civil war and remain flash points today.
In this second part of our interview, Chinchilla discusses Mercy Corps' unique field-based operations and collaborations with local organizations, as well as the challenges and rewards of working in Guatemala as a development professional.
Mercy Corps in Guatemala
How did Mercy Corps get started in Guatemala?
We started with a mother and child program. We were hired by a donor that supported a health center. He realized that building a facility wasn't enough; he realized that you need more than that. You have to build the capacity and get the community organized. That's how Mercy Corps came here in 2002.
Then, we started getting involved in different issues. We tried to be different in the way that NGOs operate normally. Normally, NGOs try to solve the effects of problems like providing health services or education services. Only a few NGOs go a little bit deeper.
That's why we got involved with land conflict issues. It's one of the reasons we had this 30-year conflict [the Guatemalan civil war], because of the lack of fair distribution of land between the indigenous population and Spanish-descended people. So, we got involved in this, and we created mediation centers trying to have dialogue between the parties, and I think that opened a huge window of opportunity for Mercy Corps. We were the first international NGO getting involved with that. It's the main [symbol] of what Mercy Corps is doing in the country, getting involved with deeper problems.
After that, we started getting involved with market and production activity, trying to connect the indigenous population directly with the market in vegetables and fruits. This was also a different sector for an NGO to get involved in. So, that created a base, credibility for us. And it is now easier for us to get in contact with donors and programs.
How large is Mercy Corps staff in Guatemala?
We went from eight in 2000 to 90 at end of 2008. Right now, we have about 70. We cancelled some programs last year.
We have been diversifying our portfolio. Now, we have health, we have agricultural production connected with the markets, we have civil society, we also have microfinance. We are going to start a huge program on nutrition for mothers and kids.
At the beginning, we were in only one municipality in the Alta Verapaz department. Now, we have a presence in almost eight departments, almost 40 percent of the country.
I think 99 percent of our staff is Guatemalan. Guatemala is one of only two countries in the world where Mercy Corps has a national person as a country director. We only have three expats now out of 70 people.
Why is Mercy Corps based in Coban rather than in the capital?
I think we are the only international organization [in Guatemala] based in the field. Most of the NGOs are based in Guatemala City, with field teams working outside.
In my experience being in the field, having your main operations and office close to the people, close to where the needs are, gives you a lot of advantages. You know what's going on. You have contact with the local authorities. We lose the [advantage of being close to national] politics in Guatemala City. But in my experience, politics is important, but it's most important to know what is going on where you are working. For Mercy Corps, this is a strength; it makes a huge difference.
We have a small office in Guatemala City to be in touch with different NGOs, coordinate with the government. You cannot avoid that part. But, I still think having the main decisions here and the main structure here makes a lot of difference.
Get development's most important headlines in your inbox every day.
Thanks for subscribing!
How does Mercy Corps collaborate with local organizations?
Our main focus is trying to work in rural areas … also mainly indigenous populations. Right now, we are working in the north part of the country and also the west part of the country, where almost 70 percent of the population is indigenous. We try to avoid duplication and overlap, and we only go into areas where we are adding value and not doing the same thing as someone else.
We always try to find a local partner. It could be a local NGO or the municipal government. We always try to have a local party involved, so if Mercy Corps has to leave, at least we have someone in place that can continue our activities.
After we started operations, we got a program from the U.S. government to develop the local capacity of NGOs. That gave us a huge leverage point because we had subgrants. With this program, we strengthened the local NGO consortium in Alta Verapaz.
We were working with 35 NGOs, trying to strengthen their systems and capacity. Now, when we have a program opportunity, we know who to partner with, we know their capacity, we know where they are located. They now look at Mercy Corps not as competition, but as someone who can strengthen their capacity.
That gave us the opportunity to have 35 potential partners that, at any moment, can sign a contract with us to implement a program.
What's Mercy Corps process for working with local NGOs?
If we have a potential proposal to submit … we contact the NGO that we think would be the best partner for us. We have a meeting with them and explain what is going on, where the funding is coming from, the components of the program, and why we selected them.
If they say "no," we look for someone else. If they say "yes," we inform them and invite them to send someone from the team to work with us on the proposal. If they can't do that, we at least ask them to provide input on the proposal. Then, we sign an agreement about who will be doing what, the roles and responsibilities. We ask them to prepare a budget for them and for us. Then, we put this together and send it.
We have four areas [where we have partners]. We have two partners with land issues. We also have a couple of partners in agriculture. In health, we will have at least 15 partners in the next six months. We are going to start working with the environment, and we will have two partners, all local NGOs.
The Guatemalan personality
What type of personality do you need to be able to live and work in Guatemala?
You have to accept the local culture, even if it looks crazy and you don't understand why people behave the way they do. You have to have an open mind and be curious about people's motives. Also, Guatemalans, at the beginning, are very closed. So, if you are expecting that you will have a lot of friends [very quickly], you are mistaken. It takes time.
You also need to have some tolerance for things that don't make sense, like corruption and injustice, because you have to deal with it whether you like it or not. Everywhere you go, when you see how people live, it's shocking. Seeing Guatemala as a poor country is easy. Just go outside Guatemala City; you will be shocked.
[On the positive side,] it's remarkable how people are still very innocent even after … different cultures took advantage of them. Seeing how innocent and nice they are is amazing.
In other cultures in Central America, they are [more defensive]. But people here are still very open. When they trust you, they trust you forever. It's amazing when you go to any village and they offer you food, they are open to share; even if they are so poor, they are open to share it with you. That still amazes me, even though I have lived in this country all my life. That makes Guatemala very different, I think.
Read the first part of our interview with Borys Chinchilla, where he talks about the development funding trends in Guatemala.