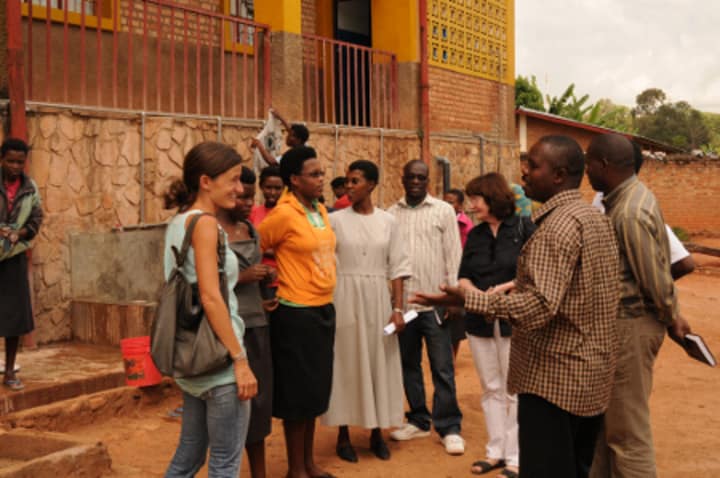 Gaining the right kind of experience in aid and relief can be tricky – it often leaves you in a Catch-22: To land an international job, for instance, most aid groups expect you to have worked internationally before.
So how do you make that first step toward a fulfilling career in international development? And how do you gain the experience necessary for mid- to senior-level posts?
This was a dominant theme during our one-hour webinar, "How to succeed as a development consultant." The webinar featured top human resource experts from DAI, one of the world's largest development consultancies: Daniel Head, senior international recruiter at the company's economic growth division, as well as Recruitment Manager Katie Levy and Associate Recruiter Sophie Montmey of DAI Europe.
After the webinar, these expert recruiters answered several additional questions posed by webinar participants on building a career as a development consultant. Here are their answers:
How can one gain field experience while retaining a full-time job? How important is it for home-based positions?
It largely depends on your full-time employment contract, but if you're able to do additional short-term work, this is a good avenue. There are volunteer opportunities you could explore if that is a financially viable option, which you could then do without taking on extra employment. If your employer is open to the idea … a creative option would be to move to a developing country and work remotely. This would at least give you the overseas experience, and once there, you could network and get a better sense of the work involved.
[Field experience] is normally desirable, but usually not required [for home-based positions]. It depends on the entire skill set and education the candidate brings, and how senior the home-based position is. The more senior, the more requisite the overseas experience.
How can a midcareer professional break into development consultancy when so often, prior experience and knowledge of U.S. Agency for International Development systems and rules seem required? Can volunteer experience help?
It is hard but not unheard of. You could start by couching your experience on your CV and in your cover letter in a way that shows your understanding of current USAID portfolio and work, so that at least you seem like you could transition easily. It's much easier to get your foot in the door if you do short-term assignments, which will eventually help you build up your CV. When organizations hire on overhead, they do not need client approval, so this avenue is an easier choice, if you can make the contacts that way.
[Volunteer work] can certainly substitute for work experience, especially if it required you to submit a deliverable or work with other implementing partners or donors. You can get good references from these assignments as well.
How crucial is in-country experience for consultants bidding on a field project?
It really depends on the country, the donor, the project, and the organization. It is always preferred, as it demonstrates more knowledge of the geographic area, but sometimes other considerations are more important, like your managerial or technical background. This should be listed in the advertisement. If it's listed, but only as preferred, be sure to play up your other strengths.
Get development's most important headlines in your inbox every day.
Thanks for subscribing!
How can someone with 10+ years administration/operations/HR/grants experience gain international experience to transition into development?
It sounds like your experience would be very relevant, so I'd suggest beginning to attend international development job fairs and networking events, and making sure you understand the donor environment and can relate your experience to it. It also doesn't hurt if you're willing to begin with some short-term assignments in conflict areas. It's typically easier to get jobs in these countries, and these areas tend to be grants-heavy.
Can someone with eight years of post-MA experience in development qualify for a senior-level position?
This depends on the definition of senior-level position and what the particular criteria are for each job listed. You should read the qualifications section of the advertisement. Oftentimes the experience you mentioned would be something I consider a mid- to senior-level position.
How can a fit 70-year-old with decades of development experience convince recruiters they have the capacity and energy to do the work of a deputy chief of party, project manager or short-term consultant?
We have many consultants who are in that age range. A recruiter should never ask how old you are, so you might consider tailoring your CV so that your "not-so-recent" experience is omitted. Don't sell yourself as someone "with almost 50 years' experience." Rather, say that you have 10+ [years of] experience in something very specific. Also be sure to provide references you've worked with in the last couple of years who could help mitigate any concerns a potential employer might have.
Any tips on gaining experience or postgraduate training on monitoring and evaluation?
Many development jobs — program manager, project coordinator, field assistant, etc. — are positions that provide great M&E experience. There are also training institutions and coursework which are available too.
What tips do you have for someone looking for a development career in small business?
Small businesses are great avenues to gain work, as they generally focus more on recruiting short-term experts and more apt to make a personal connection with a more junior-level consultant. Be sure to make contacts and then visit them to explore work.
What career suggestions would you have for a recent graduate in chemistry and international relations who wants to join the development sector?
If your degree is a bachelor's degree, then I don't think it matters what your exact major was. The development sector is expanding now to focus more work on energy, biotechnology, climate change, etc., so you should play up any knowledge of this that might provide you with an advantage than a recent grad with only "soft skills" knowledge.
Read more:
On consulting:
Other career coverage:
Read more international development career advice.