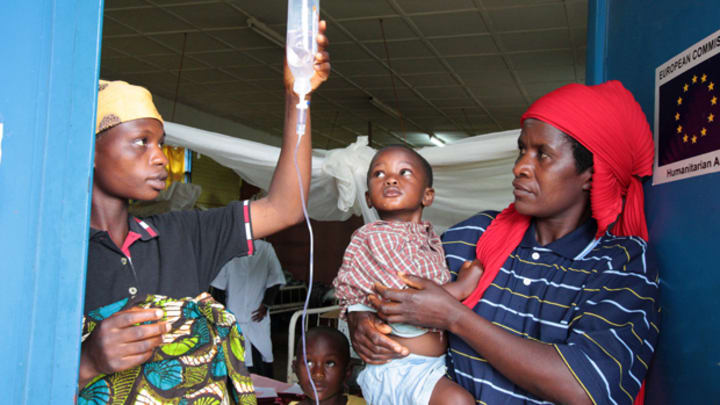 We know that globally there are sufficient funds available to provide basic health services to everyone, everywhere.  
Nearly two years of U.N.-led consultations and intergovernmental negotiations on the post-2015 agenda are coming to a close, and there have been ample statements made that "no one is to be left behind."
This creates high expectations during this "Year of Development" for bold political decisions to be taken by EU-driven post-2015 negotiations, and the means of implementation.
Health has long been at the forefront of development cooperation and it has mobilized political will and financial support. The health sector, backed by health activists — particularly the HIV community worldwide — pushed governments and markets to rethink "business as usual," and come up with new global structures, a setup of pooled international financing mechanisms with innovative partnerships, and go well beyond initial financial engagements to tackle global infectious diseases and ensure access to affordable health care.
Europe has a unique opportunity to be bold, rethink structures and shape the future of health. As the largest donor worldwide with extensive expertise in the field of "global health," but most of all using a "richesse" of diverse health models that are anchored in human rights, the EU can shape a sustainable development goal for health that reaches everyone: a health goal that tackles inequity.
Furthermore, progress on health has the potential to be the progress measurement mechanism for many other sectors.
European national health plans and health systems are shaped daily by a vivid practice of social and political dialogue, by checks and balances. The World Health Organization's technical support for governments rolling out universal health coverage demonstrates that Europe is luckily not unique in this sense.
Wherever possible, governments' health systems are shaped by the engagement of health practitioners, service providers and those constituting "civil society" — patient groups, communities, and vulnerable (but nevertheless vocal) population groups.
However, the key to success is the existence and practice of democratic control that goes beyond the strict medical sphere, to ensure that health systems are backed up by coherent government policies on the social determinants of health. Simply put, it is easier to have CSOs in a watchdog role, than to have genuine parliamentary oversight of how a health system is run, how medical procurement is made, how the national health budget is allocated and spent.
Get development's most important headlines in your inbox every day.
Thanks for subscribing!
When claiming a human rights approach, let us go beyond CSO engagement, and ensure we do not end up with a democracy for the poor — or a poor democracy — which cannot reverse growing inequity.
Moreover, to treat every tuberculosis patient, to prevent the death of the "fifth child," and to prevent maternal mortality, many of the global health mechanisms and governmental stakeholders realize that investment is needed in the national health system itself. However, to date, investments in health systems strengthening barely match public "high-level" declarations, or in many cases, funding even decreases.
Investments in health care seem to be governed more by the market than by the burden of disease. It is easier to build a clinic than to pay health workers over an extended period of time.
Building a hospital fits donor and project funding priorities better, even though increasing the number of health workers is more sustainable. Health is a basic human right. As Europeans, we have the means and expertise needed to assist other governments, and stakeholders to ensure affordable, accessible and qualitative health care is provided.
Even better, we have a commitment to ensure everyone, everywhere can claim that right, either individually or collectively.
This piece is part of a series of articles to be published in "Health Matters," a news bulletin commissioned by Action for Global Health for European Health Month, as part of the European Year of Development 2015. The paper brings together key stakeholders working on health to confront the challenges of the post-2015 framework, provide recommendations on the means of implementation, and raise awareness on the importance of health for all.