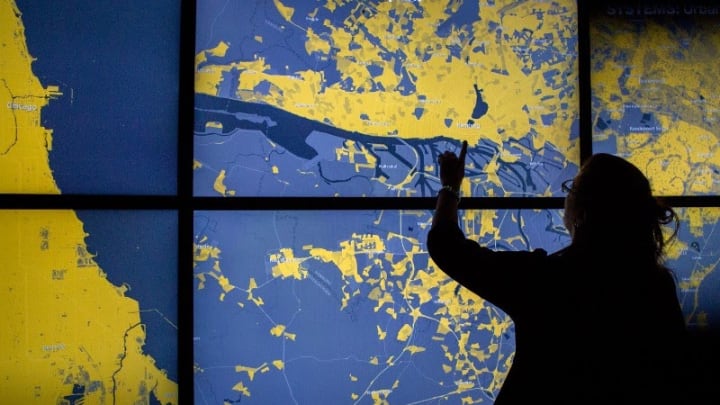 SAN FRANCISCO — In Afghanistan, a highway system connects urban centers around the perimeter of the country, leaving people who live among the river valleys, deserts, and mountain ranges out of reach of essential services and foreign aid.
Walker Kosmidou-Bradley, a geographer on the Afghanistan team in the World Bank's Poverty and Equity Global Practice, has made it his mission to map every road across the country, a task that has proven difficult for geographers due to years of war and instability.
He is working with members of Afghanistan's Ministry of Rural Rehabilitation and Development and Ministry of Public Works to analyze high-resolution satellite imagery, trace what they see, and create geospatial data in OpenStreetMap, a free, open-source, editable map of the world.
"We use geographical, remotely-sensed, and geotagged surveys to understand the particular challenges facing people in their space."
— Walker Kosmidou-Bradley, geographer on the Afghanistan team, World Bank's Poverty and Equity Global Practice
"For too long in Afghanistan, the development community would simply provide a data set instead of working with our counterparts to show them how to create the same data," Kosmidou-Bradley said during his presentation at the 2020 Esri User Conference, organized by the California-based supplier of geographic information systems, or GIS, software.
At the virtual event last week, the United Nations Sustainable Development Solutions Network announced a new data portal featuring regularly updated metrics and maps on progress against the Sustainable Development Goals. SDGs Today was developed in partnership with Esri and the National Geographic Society, which has ramped up its efforts to develop GIS tools for students and educators. In addition to providing real-time data, the platform also offers training to enable more users to conduct spatial analysis and provides a virtual forum for collaboration to advance progress on the goals.
The partners behind this effort say the SDGs cannot be achieved without geospatial skills. They point to the importance of building capacity in GIS tools and introducing geospatial thinking to people across different ages, disciplines, and geographies.
While geography has an influence on every aspect of the economy, Jeffrey Sachs, director at SDSN, became a tenured professor at Harvard University without having an understanding of that relationship.
"When I studied economics as a Ph.D. student, I did not hear a word about geography," he said last week in a press conference about SDGs Today. "As an economist, I thought countries were arrayed in alphabetical order. I looked them up on tables. We were not trained to look at maps."
Sachs said he did not consider the connection until 1985 when he was working as an economic adviser in Bolivia. A friend at the World Bank noted how its geography, as a landlocked country with a capital located 12,000 feet above sea level in the Andean highlands, posed challenges for its development.
Today, due in part to efforts by groups including Esri and its partners, GIS is at the center of a lot of international development work.
For example, in Afghanistan, policymakers can use maps to measure accessibility not by the linear distance from point A to point B, but by the time it takes to travel — taking into account the terrain that communities must navigate.
Kosmidou-Bradley said he thinks GIS should be decoupled from the field of geography and applied as a potential tool for all fields.
"Development happens somewhere, so it's imperative that we understand the particular challenges facing development worldwide. We use geographical, remotely-sensed, and geotagged surveys to understand the particular challenges facing people in their space. This allows for more nuanced development approaches instead of trying to apply a one-size-fits-all method," he said in an email interview with Devex.
With the rise of community-based mapping, the development of online and offline navigation apps, and the expansion of digital literacy, there are a growing number of opportunities to incorporate spatial thinking into critical thinking, Kosmidou-Bradley said.
SDGs Today builds on past collaborations between the U.N. and Esri, including a data hub to help member states track and report progress on the SDGs.
This new data portal will complement the official SDGs monitoring platform, which was developed by the U.N. Department of Economic and Social Affairs.
Get development's most important headlines in your inbox every day.
Thanks for subscribing!
SDGs Today will draw on new data sets that are updated more frequently than the official SDG data sets, which are often based on traditional methods such as the census and may face significant time lags, according to SDSN.
At the Esri user conference, Homi Kharas, a senior fellow in the Global Economy and Development program at the Brookings Institution, said official public data is often so out of date that it is completely irrelevant.
"If we want to bring poverty down, we have to do a much much better job of spatial targeting of programs — and of course, to do spatial targeting you have to know: Where are the poor people? And the more granular you can make that estimation and understanding the more effective your spatial targets will be," he said in an event on SDGs Today, where he discussed the World Poverty Clock, an effort by the World Data Lab to visualize and forecast poverty.
Over time, geospatial data has become more widely available, but new tools to turn real-time data into insight and action often launch without the training that helps grassroots organizations, NGOs, and governments make sense of and act on data.
Women in GIS Kenya aims to help with that, by bringing together members of the geospatial industry, providing mentorship to students and younger professionals, and hosting training and workshops where experts can share their knowledge.
"If we want to bring poverty down, we have to do a much much better job of spatial targeting of programs."
— Homi Kharas, senior fellow in the Global Economy and Development program, Brookings Institution
It has organized several data visualization challenges focused on problems facing women in the country, including cervical cancer, gender-based violence, and teen pregnancies.
The group brings men and women together to take on issues they might not talk about otherwise, said Women in GIS Kenya co-founder Carole Akoth, who worked for Esri in East Africa before becoming a spatial data analyst for UN-Habitat and starting this organization.
"It's using data to drive societal conversations," she said. "It's easier for the men when they're talking about, say, GBV, to talk about it as a data point."
Now, Akoth and her team are working with Kenya's State Department for Gender to create a gender data portal.
Andrew Schroeder, vice president of research and analysis at Direct Relief, an organization that uses GIS in its work to deliver essential medical resources globally, said he was skeptical about whether there is a need for "another dashboard for real-time monitoring for policymakers."
But with 10 years left to achieve the SDGs, and COVID-19 putting real-time mapping at the center of more decisions, Schroeder said he does see value in SDGs Today's goal of creating a constituency of young people who can try and use these tools to find solutions.
"You have all of these sensors all over the world giving you all of this information constantly," Schroeder said. "If you can fold it together, interpret it, put it into a story so people can comprehend what it's telling you, at least you don't have the excuse to say you didn't know what was going on."
Still, while real-time maps do have the potential to drive accountability, the problem of political will remains, he said.
Sachs, who continues to work closely with a wide range of governments through his work with SDSN, said many governments are eager for people to step forward with proposals they can implement.
He said their questions often go something like this: "How can we do this? Do you have a plan? Can you show me a map?"
GIS skills are essential across all 17 SDGs, Sachs said.
"Take the goals and start coming up with the practical pathways," he said. "And as soon as you do that, the maps are going to come out again — whether they're spread out on the floor or whether they're on the computer screen."
Visit the Data for Development series for more coverage on practical ways that satellite data can be harnessed to support the work of development professionals and aid workers. You can join the conversation using the hashtag #DataForDev.