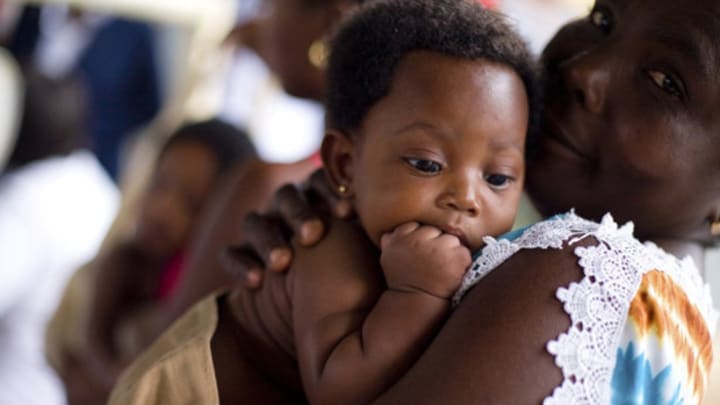 Two years ago, it was difficult to find Colombian women leaders who would talk about being internally displaced. There were a disproportionate number of women who, with their children, arrived to the Bogotá region daily, clogging the sloped shanty towns that overlooked the capital city.
But there were very few women who actually identified as leaders and activists, ready to advocate on behalf of vulnerable displaced Colombians, in particular, and fight the violations that have emerged during the country's ongoing 50-year-old internal armed conflict. And there were even fewer who felt it was safe to speak out.
Women across Colombia are now learning about how to successfully access the country's three-year-old Victim's Law, which provides victims of violence with financial compensation and could help displaced people reclaim 6.1 million acres of the 16.6 million acres of land they were forced to abandon between 1998 and 2010. Implementation of the law has been slow.
"What we are doing is training these women so they can demand their rights," said Kelly Brooks, the deputy director of a human rights program funded by the U.S. Agency for International Development and implemented in Colombia by Chemonics, the international development company. "By securing these rights, we are building a future of women leaders who are then able to participate in the peace mediation process. There is going to be a lot of demand moving forward for women to be strong in these regions."
While the government of Colombia and the Revolutionary Armed Forces of Colombia, a rebel movement, continue to drag on peace talks in Havana, Chemonics is among the groups that is counting on women leaders to play a key role in carrying the country forward as a stable, post-conflict nation. For this to happen, women, who make up about 55 percent of Colombia's 3-5 million internally displaced, must first know their rights. They also need to be prepared to encounter serious bureaucratic obstacles, like not having land deeds in their names.
It is no wonder, then, that Chemonics' human rights program is centering on women's leadership, or why the technical and professional services firm Creative Associates International chose to launch an educational program focused on overage girls, training of women teachers and textbook distribution shortly after the fall of the Taliban in Afghanistan in 2003 and through 2006.
The launch marked the first time in Afghanistan, which had a compulsory education law in place for girls and boys, that there was a large, accelerated educational program for girls who were sometimes as far as five to 10 years behind in school. Creative also started doing work, with the help of small grants, to help women start small micro-enterprises, while teaching them in their native language to read and write.
"Women were coming up to us sharing how they can help their son with homework, go buy food at the local market and not feel like they are being robbed of their money, and are now educated so they can be elected to the local village council or to higher level," said Carla da Rosa Borges, a senior associate in Creative's communities in transition division.
It was a question, Rosa Borges said, of how to get women to believe they are a leader in their own world — in their own council, or even in their own family.
"They can have leadership skills and they don't have to be the next president but they can still be a leader," Rosa Borges said.
The benefits were clear.
Indeed, as Margaux Bergen, the vice president of global strategic engagement at Vital Voices Global Partnership, said: "We have seen, over and over and over again, going from the theoretical to the data-driven, that there is this multiplier effect we can prove through the specific investment in women leadership."
Women on the front lines
Since 2009, I have reported from nine diverse countries in North America, South Asia, Southeast Asia and Latin America. In each place, the political climate, historical precedent and societal makeup differed immensely. But I found one consistent thread that wove each experience together.
In the northern islets along the Brahmaputra river in Bangladesh, I met women who were the last to leave when annual monsoon floods struck and submerged their homes, leaving them and their children stranded on rooftops and tree branches. Near the enclosed flower fields of Tocancipa, Colombia, I interviewed women flower workers, many of whom were single mothers, who were working with female union organizers to devise a plan to fight their illegal firings that followed on-the-job injuries.
In the far western mountain of Nepal, I found it was women who were trained as health experts to travel Achham district on foot to talk with families and help drive out the dangerous and discriminatory practice of chhaupadi, which involves girls and women on their menstrual periods staying sequestered in outdoor shacks.
And in Cambodia, I heard the stories of women, both young and old, who stood on the front lines of the Phnom Penh streets to face off with police and defend their homes that had been illegally seized during government land grabs in the Boeung Kak lake area.
Women are a driving force for change and for the stable future of their communities, cities and countries in all of these diverse scenarios. It is a heavy role to occupy, undoubtedly, which women sometimes must simply assume, either because it is thrust upon them or because they lack other options. Male leaders could not speak effectively to menstruating teenage girls and women about chhaupadi. Nor could the Boueng Kak men, many of whom are employed as government civil servants, have risked their jobs by protesting.
In some cases, women seem to carry the burden and power of leadership without a thought. There is work that must be done. In other instances, female leadership and participation in the community is presented as a unique opportunity, awarded through training sessions, programs and jobs backed by national civil society groups and international development organizations.
Support is growing — somewhat slowly, perhaps, but still noticeably — for women and girls to build the future, theirs and all of ours.
Get development's most important headlines in your inbox every day.
Thanks for subscribing!
High-level decisions and grassroots activism
On March 22, the Commission on the Status of Women concluded in New York with an agreement that affirmed the need for a stand-alone goal on gender equality and women's empowerment among the post-2015 global development goals world leaders are in the process of negotiating. The concluding member-state document — a result that last year's CSW failed to produce — also agreed to eliminate all harmful practices, like child marriage and female genital mutilation.
It was the latest victory for advocates working to ban female genital mutilation. In December 2012, the U.N. General Assembly passed a resolution that banned the practice, which affects an estimated 100-140 million women and girls worldwide.
Following this year's CSW, Phumzile Mlambo-Ngcuka, the executive director of U.N. Women, called the concluding agreement "a milestone toward a transformative global development agenda that puts the empowerment of women and girls at its center."
Leaders like Justine Greening, the U.K. secretary of state for international development, praised the agreement. Under Greening, the U.K. Department for International Development has become a leader in the global fight against female genital mutilation, early and forced marriage and child pregnancy.
This work has the potential to make a transformative impact in some of the most remote regions of the world, far from United Nations headquarters in New York or DfID offices in London. But change hasn't come easy.
"What we have seen over 17 years is there has been a gradual shift in understanding where the power lies," Bergen, of Vital Voices, said. "Seeing women as a key development tool and using a women's perspective on the ground — all of these shifts take time and to apply those shifts to tweaking a program."
"The authentic way to work at improving and accelerating development outcomes must be to work first of all with the 51 percent of the world, and secondly, to take their deep understanding of their communities needs of their regional and national needs seriously and to apply that to a framework for action," she added, referring to a recent statistic about the global population's share of women that has since been revised; the latest estimates suggest that males now outnumber females marginally.
#SheBuilds the future
Vital Voices, an organization co-founded by Hillary Rodham Clinton in 1999, is known for harvesting talent and helping women around the world connect to learn from one another and form a stronger contingency. Aside from the 14,000 alumni of female community leaders in 144 countries who have passed through one of Vital Voices' many programs, there are also cohorts like the 200 fellows who compose the two-year VV Lead Fellowship Program, a global network of emerging and established leaders backed by DfID. Fellows take part in peer-to-peer exchanges, mentoring, South-to-South exchange conferences and technical assistance, like fundraising training, to assist their work, in addition to grant opportunities.
"It is about bringing everyone to the table and making sure you are building alliances that cross the spectrum so you can really engage the full community in creating change," said Emma Hersh, the senior program manager of global programs who heads the VV Lead Fellowship Program. "We are hoping and pushing for women to connect and learn from one another so they can show the best practices and lessons they have identified through their work."
The idea, Hersh said, is that while investing in women leaders, there is an element of paying it forward and reaching out to additional women and girls, making the world a safer and equitable place. That's why donors like the Millennium Challenge Corp. are mainstreaming gender in their programs and operations and why groups like JBS International have made gender assessments and analyses a cornerstone of their work.
In Haiti, the U.N. Office for Project Services is recognizing the long-term benefits of enlisting and hiring women for construction jobs and other low-skilled labor work that is helping to rebuild the country following the 2010 earthquake.
UNOPS is working to hire at least 40 percent of women for all of its projects, which run anywhere from a few weeks to several months as people work to pave roads and construct buildings. For many of these women, it is their first job, said Nathalie Angibeau, a UNOPS project coordinator. Immediately, this allows women to take care of their families and also gives them a better chance to find another job when the contract ends. Angibeau said she will work with the women in her team on resume drafting.
In the long run, the benefits of this type of work are hard to measure exactly. Yet Angibeau said the work helps women to learn about good housing standards and construction models, which have been partially blamed for the high number of deaths during the devastating quake four years ago.
"Usually, men are a part of construction work and now women are in the field and they understand it," Angibeau said. "If they have someone coming to their home to build something, they can ask questions. Women can assume this position now, too, and take this stand."
The international community can take a stand for women and girls — and thereby for a future that is more economically prosperous, politically secure and socially just. Working to improve maternal and child health, ending early and forced marriages, preventing child pregnancy and violence against women, creating jobs and training opportunities and engaging women in governance and peace-building activities are sure to make a difference. Nurturing the next generation of female leaders will help build a future for all of us.
Want to learn more? Check out She Builds and tweet us using #SheBuilds.
She Builds is a month-long conversation hosted by Devex in partnership with Chemonics, Creative Associates, JBS International as well as the Millennium Challenge Corp., United Nations Office for Project Services and U.K. Department for International Development.