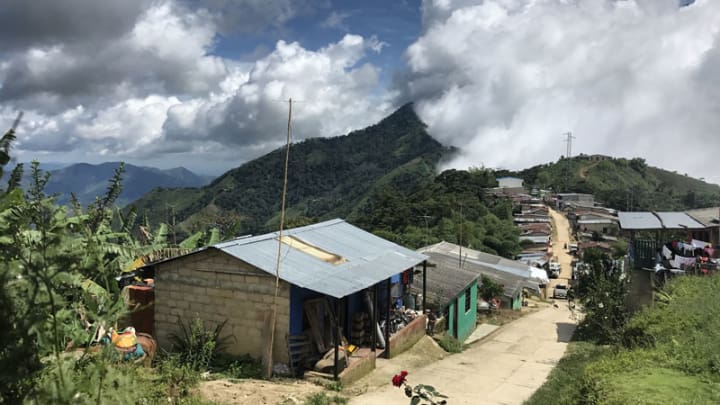 Editor's Note: Around the world, women's health care providers and those they serve are bracing for the impact of the "global gag rule." But what does the policy look like on the ground from the perspective of those running soon-to-be cut programs? And how will the women who count on such programs get by? To find out, Devex spent a week with the rural teams of Profamilia, Colombia's largest family planning provider. This is the first of a three-part series. Read part two and part three.
SANTA CLARA, Colombia — High in northern Colombia's lush Santa Marta Mountains, 30-year-old Hillary Sanchez Arengas is perched on a boulder overlooking her quiet 400-person village, Santa Clara. As the elected leader of women in her community, she is worried about the rate at which young girls in the area are getting pregnant and dropping out of school.
A three-hour drive away, down deeply rutted, often impassable dirt roads lies the town of Fundación. There, 34-year-old community leader Merlis Paola Castro Lugo speaks of seeing too many women birth child after child. Many have nine or more and little means to feed and care for them.
The two women are linked by a young adulthood marred by Colombia's long and brutal armed conflict, by their leadership of local women's groups and by the fact that Colombia's largest nongovernmental family planning provider will soon halt programs in their respective villages.
Since 1964, Profamilia has brought crucial reproductive health services and education to vulnerable towns across Colombia, providing millions with medical checkups, access to contraception and workshops focused on gender-based violence, reproductive rights and self-respect — topics that otherwise rarely surface in villages like these, the women tell Devex.
But in January, the family planning institution and safe abortion provider chose not to comply with United States President Donald Trump's expanded "global gag rule," otherwise known as the Mexico City Policy and most recently renamed the "Protecting Life in Global Health Assistance" policy.
The order, predicted to affect $8.8 billion in funding, prevents all non-U.S. NGOs that provide services or information related to abortion from receiving U.S. government funding for any of their programs — no matter if those programs are unrelated to abortion, or if abortion is legal in that respective country.
With Profamilia's noncompliance comes the forfeit of a $1.2 million U.S. Agency for International Development budget directed toward inclusive services for conflict-affected populations. The organization will wrap up its USAID-funded projects in Sanchez and Castro's towns, along with nine other municipalities, by December — a full year ahead of schedule.
In rural areas still largely dominated by machismo culture, local governments have done little to direct funding toward women's health, let alone varied contraceptive options or psychosocial care for victims of conflict. And in small villages still reeling from 50 years of war — where perpetrators so frequently committed acts of sexual violence that it became the norm — the shuttering of Profamilia's program and the community therapy it provides is a blow to a slow healing process.
Aside from the conflict-affected community outreach, the organization will also forfeit $1.5 million for a maternal mortality program that never got off the ground, and another $300,000 for a Zika prevention program they were in the midst of designing to complement rural outreach in the north.
More than anything, Colombia is a prime example of the gag rule's punishing grip on vital, integrated programs that have nothing to do with abortion.
A far-reaching rule
The expanded "global gag rule" doesn't neatly shut down clinics that perform abortions, leaving other services untouched. In fact, Profamilia's 33 clinics around the country will continue operating as normal.
But for rural Santa Clara, a five-hour drive from the nearest full service clinic, the halt of sexual and reproductive health care brigades and education is a setback for a village that was for years caught in the gunfire and violence between the FARC group and the AUC — a particularly cruel Colombian paramilitary and drug trafficking group active in the Colombian armed conflict through the early 2000s.
The sexual and gender-based violence that became prevalent throughout years of war has seeped into the culture, making it paramount to teach youth their rights, Sanchez said.
"We've spent a lot of time trying to improve the education for our children," she said. "We want them to have all the options we didn't."
It's the youth who will suffer most from the discontinuation of regular workshops and talks about contraception and sexual rights, said project adviser Ana Paola Argota after finishing an energetic workshop with teens in the modest Santa Clara schoolhouse.
Nearly 1 in 5 adolescents in Colombia aged 15-19 years is pregnant or has one or more children, according to the United Nations Population Fund. And rural women are 26.7 times more likely to become adolescent mothers — a target demographic of Profamilia's work in Santa Clara.
In some municipalities in which the USAID program is currently active, as much as 35 percent of adolescents are pregnant or have been pregnant.
In Guamal, a central municipality that also receives Profamilia support via the USAID project, the teenage birth rate is skyrocketing. One woman who wished not to be named shared the story of her daughter, who visited a clinic in search of contraception. At 15, she was turned away for being "too young" and asked to reconsider her choice. Six months later, she was pregnant.
In rural towns throughout Colombia, stories abound of local health professionals refusing to offer contraceptive options to young women seeking birth control. Others are denied abortions — which leads to an estimated 400,000 illegal abortions performed every year, according to the U.S.-based Guttmacher Institute. There is a lack of reliable information on how many of these abortions result in maternal deaths, as doctors more commonly link the death to other adverse events, like hemorrhages, rather than citing abortion.
Get development's most important headlines in your inbox every day.
Thanks for subscribing!
"These are the places we want to target our care, and the health professionals we want to sensitize," said Nadia Rivera Bonilla, coordinator of the USAID-funded project.
Part of Profamilia's USAID-funded program would have involved training of health professionals, something they've already started in Fundación.
Displaced populations are another target demographic of Profamilia's USAID-backed work — like the settlement of Villafani just outside Fundación, where nearly 100 percent of residents come from somewhere else — most displaced by conflict and now living in abject poverty. Profamilia facilitators regularly visit to provide contraceptives and conduct sexual and reproductive health workshops with women and a handful of men in the 57-house settlement.  
Castro has lived at the end of one of the dirt lanes in Villafani, still slick with mud after a typical wet season downpour, for five years. She runs a small shop and has become a voice for other women in the community.
Her own story is painfully peppered with displacement, sexual abuse and violence at the hands of the paramilitary, memories she tries to forget and rarely speaks of, she told Devex. Recently, realizing she needs psychosocial support — a service promised to victims by the government — Castro visited the local hospital and found "there was no one there to provide this care for me."
The population of Santa Clara, too, suffers from undelivered promises: A doctor is supposed to visit from Fundación twice a month. Too often, no one comes at all, Sanchez said.
Colombia is a prime example of the gag rule's punishing grip on vital, integrated programs that have nothing to do with abortion.
—
Nowhere to turn
Now would seemingly be the time to lean on the local government, handing off youth programs and workshops to appropriate ministries before the end of the year. But local government finances have already been decided through 2019.
If the budget lines for sexual and reproductive health care is anything to go by, it won't be the government who steps in to fill gaps.
Though Fundación has a higher budget line for women's health than most, thanks in large part to its work with Profamilia when structuring its four-year plan, Profamilia project adviser Maria Elena Santo Domingo Vascaino has little hope it will be able to meet needs, especially in a municipality with such high numbers of displaced populations and female victims of sexual violence.
"It will be difficult to keep the programs with the same energy and same frequency," she said. "Right now, we can assist with populations the municipality doesn't have resources for. The government will face a tough choice of who to focus on."
A visit to local government offices in Fundación revealed an overwhelmed Office of Victims Assistance — sometimes logging 100 statements a day, according to Maria Jose Palmera Martinez, the victim's office liaison — and a health ministry trying to focus on victims and often unable to extend support to their families, according to Gustavo Adolfo de la Ossa Angulo, public health coordinator.
"Attention used to be only on the victims, but with [Profamilia's] help we are communicating more among our own institutions and better reaching areas and families we are unable to otherwise," de la Ossa said.
In Guamal, Mayor Cristobal Losano Caicedo is forthcoming about the problems he sees in his community — such as masculine aggression, intolerance and adolescent pregnancy — and passionate about the education and advancement of young people.
Drug trafficking continues to plague the municipality, while the booming oil business brings a steady stream of men who prey on the young women of the community.
"All of these children can do so much more," he said, gesturing to a sports festival outside. "They just need to know it's hard, they need motivation."
He cites a lack of resources as to why the government cannot provide "as strong of a sexual and reproductive program as Profamilia," but assured that he's focused on support of sports and art in order to keep adolescents occupied, motivated and out of trouble. The town has a large, impressive basketball court, and will soon have several sports fields and a track when construction is finished on a new sports complex.
Still, driving by the beautiful half-finished sports complex raises the question of how many girls will be running the track if more than 20 percent continue to get pregnant by 15.
Back in Santa Clara, Sanchez is remembering the time she was forced to flee her village at age 14 due to threats from the paramilitary. It was the most scared she's ever been, she said, but she has a fierce love for her town and returned as soon as she could.
"This is where I met my husband, this is where I got married," she said. "Now I teach my children to love this town. I talk about their dreams with them."
She hopes it isn't long before Profamilia is able to return to the village to continue sexual and reproductive rights workshops with teens in the schoolhouse.
Colombia's young people — their education, empowerment and creation of new norms — are the key to a recovering country, said Profamilia's Rivera.
"Older women know the whole story. They lived the story. The young women? They have a chance to write a new one," Rivera said.
Read more international development news online, and subscribe to The Development Newswire to receive the latest from the world's leading donors and decision-makers — emailed to you free every business day.