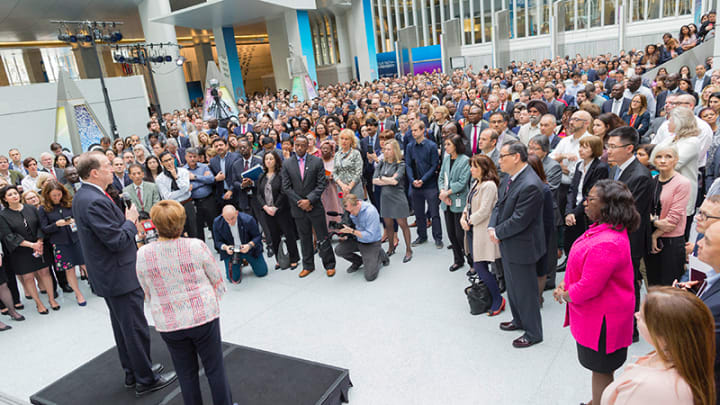 WASHINGTON — The World Bank is grappling with the implications of a plan to shift hundreds of staff from its Washington D.C. headquarters to offices overseas in order to be closer to its clients, Devex has learned.
On Tuesday, the bank's senior management team posted an update to staff on its internal site providing more details about plans to decentralize and expand the multilateral development bank's global footprint, including a target of shifting 10% of the workforce closer to client countries by the mid-2020s — especially to so-called "hardship posts" in fragile and conflict-affected countries.  Currently, 55% of the bank's employees are based in D.C., and 45% overseas, and the aim is to flip that ratio, according to the update seen by Devex.
More staff from the International Finance Corp., the bank's private sector arm, will also be relocated, shifting from 55% to 65% of staff being in the field, the message states.
According to its last annual report, the bank has 12,300 full-time staff, meaning hundreds of jobs in the U.S. headquarters will be relocated to the bank's network of 141 field offices. Management is also understood to be considering beefing up its Vienna, Paris, and Singapore offices to act as quasi-headquarters, while also possibly expanding into Johannesburg, Nairobi, and Dakar, an insider told Devex.
The current decentralization push started under former CEO Kristalina Georgieva in January and is regarded by staff as part of a broader push to dismantle former president Jim Kim's unpopular reform agenda, which shifted power away from regional and country teams back toward D.C. headquarters by reorganizing the bank's operations into thematic "global practices." In April, Georgieva reorganized the bank's senior management structure and reporting lines in order to give power back to regional teams.
In its update to staff, management said the transition will be a "complex undertaking," but will ultimately benefit both the bank's clients and its staff.
"Boosting the World Bank Group's field presence … will open new opportunities and help to enhance our service to clients along with the effectiveness of our organization and staff. We will be closer and more accessible to clients and will be more able to provide wider career choices for staff," the internal message states.
'Budget discipline'
While most staff are in favor of increasing the bank's in-country presence, there are concerns about how the decentralization effort will be rolled out given the bank's program of budget cuts. The institution vowed to save $400 million per year, which includes limiting salary and benefit packages, under the terms of the $13 billion capital increase agreed last year.
"Where is the budget for this coming to come from?" said one staffer, who spoke to Devex on the condition of anonymity. "It's a good intention but it may not be implemented properly and end up as a token thing rather than full-scale strategy," the staffer added.
The World Bank's Staff Association has also called for assurances that D.C. jobs will not be cut, that field staff would be kept safe and fairly compensated for working in tough countries, and that their chances of promotion would not be negatively impacted by relocating, or by refusing to do so.
Get development's most important headlines in your inbox every day.
Thanks for subscribing!
As part of this update, management reassured staff that changes would be gradual and no jobs would be lost. Instead, the 10% decrease would be made by "slowing down the hiring of staff to positions in Washington, deploying staff in country offices, or by way of attrition — not replacing staff who leave or retire."
Daniel Sellen, Staff Association chair, told Devex in an email that staff needed more detail.
"Nobody would argue that getting closer to the client is a bad idea. That said, staff want more detail on what this means to their jobs and their families. We're glad to see that the process of decentralization will be incremental, not rushed, to minimize disruption to work programs and staff," Sellen wrote.
Another bank employee said that similar decentralization efforts have been launched in the past but later abandoned due to the high costs involved.
However, this particular effort could prove more durable since it fits well with bank president David Malpass' stated priority of bringing the bank's work closer to borrower countries, including by creating country platforms. 
Regarding paying for the global expansion, the internal note from the bank's managers said that "budget discipline" will be applied in order to meet the targets. The bank is expected to sell off some of its D.C. real estate in order to free up funds, but relocating staff, especially to European cities such as Vienna and Paris, is unlikely to prove cheaper than keeping them in D.C., one insider noted.
There are also concerns that the reforms could discriminate against local hires by not giving them the opportunity to work in D.C. headquarters, another bank employee said.
Koen Davidse, the bank's executive director for the Netherlands constituency, said that while the board strongly supports the decentralization push, the bank will need to ensure staff hired in borrower countries — and also those sent to the field from the U.S. — are not left out on a limb.
"Staff sent from Washington need to be empowered to take decisions at a country level and not refer everything back to Washington, while at the same time local hires need to be strongly connected to the institution," which means having the opportunity to work out of the headquarters, Davidse said.