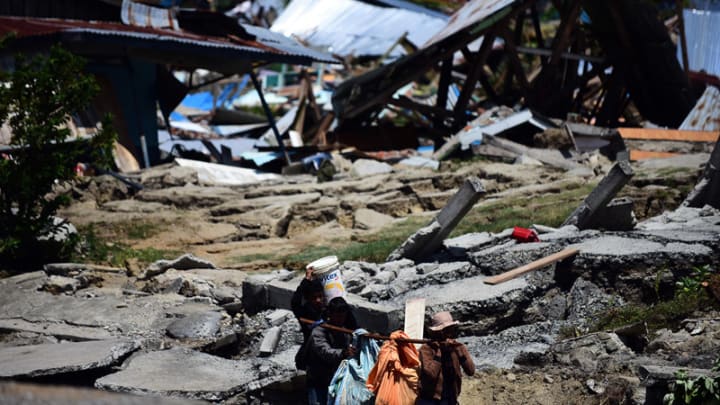 BANGKOK — Aid groups in Indonesia are slowly reaching the worst-hit communities in Palu and Dongala, but widespread devastation makes it painstaking work, responders tell Devex.
Thousands were injured and tens of thousands require emergency assistance following the magnitude 7.5 earthquake that struck the island of Sulawesi last Friday, smashing waves up to 6 meters high into its northern beachfront. The death toll from the quake and tsunami has risen to 1,558 on Friday, according to the Indonesian National Board for Disaster Management.
The humanitarian response has been hampered by the devastation, which knocked out power lines, bridges, and damaged airport infrastructure. Many roads were blocked by landslides or destroyed altogether. The first humanitarian teams to arrive to Palu and Dongala, the hardest-hit cities, made it via a 15-hour overland journey from Makassar, a port city on the southern end of the island. The next surge of responders will likely take the same route, considering the damaged Palu airport has only reopened to receive humanitarian relief.
There is a "good market in Makassar that can help absorb this demand [for relief], but it won't be large enough to meet the full need," Catholic Relief Services Indonesia Country Manager Yenni Suryani told Devex. "Aid must come from other locations as soon as possible."
Indonesia was initially reluctant to accept foreign aid, but on Sunday President Joko Widodo agreed to assistance after seeing the true scope of the devastation. Since then, more than 25 countries have offered help, and the United Nations pledged $15 million to the relief effort. Planes and trucks are now trickling into Palu to deliver urgently needed items including tarpaulins, shelter kits, food, water, and medical supplies — and to help evacuate survivors.
Delivering aid to Sulawesi through the port of Palu continues to be a challenge, since the cranes and equipment to remove goods from vessels has been badly damaged. And until fuel shortages are sorted, "it will be difficult to move goods outside Palu even if they arrive by air or sea. There is no fuel to move aid out of the port or away from town. This will hopefully stabilize soon," Suryani said.
Get development's most important headlines in your inbox every day.
Thanks for subscribing!
On Wednesday, the CRS team reached Balaroa Village in Palu, which had been largely cut off due to the destruction of the main road leading to it: "That will make delivering relief into this area complicated," Suryani said. "And there are remote villages further away that need attention."
Save the Children sent out three teams on different routes with as many supplies as they could carry to ensure they could reach people as fast as possible, "but the journey has taken days," said Zubedy Koteng, child protection specialist with Save the Children in Indonesia. "I can't overstate how much this aid is needed by children and families impacted by the disaster." More than 46,000 children are in urgent need of humanitarian assistance, according to the U.N.
For now, panic has taken hold in many areas where people are still waiting for relief. Lack of food is a concerning health issue, especially for children, the elderly, and people who are sick, Suryani said. This is compounded by the fact that clean water is in short supply and latrines are damaged.
Responders are urgently trying to prevent the spread of diseases and contamination as families are packed into evacuation centers, as well as meeting the medical needs of people with existing conditions.
"With supply chains down, people with chronic conditions like diabetes still need medicine and it's going to be difficult to find in coming weeks," she said.
CRS is currently coordinating with local partners to set up a warehouse space for supplies, and planning routes to source materials, likely through Makassar.
"We are identifying communities that might not have received attention yet, and in those places, looking for the most vulnerable people to prioritize for help," Suryani said. "People with resources to leave will probably evacuate the area — the people who stay will be those who don't have good options or who must stay for other reasons."