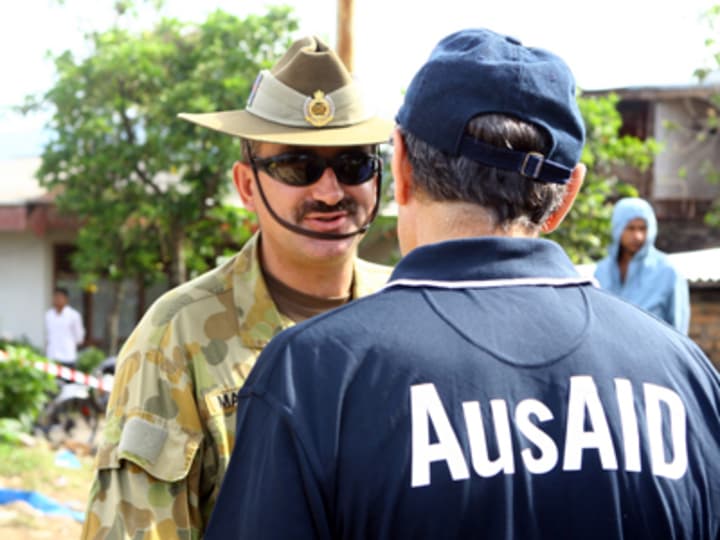 After almost two months of speculation over the details and implications of the new Australian government's plans to re-integrate AusAID into the Department of Foreign Affairs and Trade, civil servants can now be sure jobs will be cut.
There will be layoffs, but it is yet unclear exactly how many will come from each department and agency.
Around 12,000 jobs will be terminated in the country's bureaucracy, including positions that will be affected by the integration. This is in line with Prime Minister Tony Abbott's commitment to trim fat and re-balance the federal budget.
"The final staffing profile of the integrated department is not yet clear," a DFAT spokesperson told Devex on Thursday, the day before the reintegration process will start officially on Nov. 1.
The spokesperson added: "Reductions to the aid program, increased efficiency dividend, the work of the Audit Commission and the reduction of 12,000 in public service number are expected to result in declines in staff numbers."
AusAID staff 'anxious'
Weeks before Friday's official announcement, the reintegration announcement had already caused anxiety among AusAID employees, concerned about the security of their jobs on top of the lack of information given to them by the government regarding their future in the Canberra-based aid agency.
Exactly a week ago, staff from AusAID and DFAT met to discuss issues pertaining to the re-integration and go over its implications — but employees of the aid agency did not get many answers to their queries, according to a local politician.
"AusAID staff are feeling anxious about the integration," MP Canberra Gai Brodtmann said during an interview with Devex after the meeting. "[They] expressed their concern about the lack of clarity that came from that meeting."
The aid agency has about 1,200 employees in the Canberra headquarters alone that will be affected by the changes once they are implemented starting Nov. 1.
Timeline
On Friday, with all AusAID operations — including budget — will be formerly transferred to DFAT.
"AusAID will be formally integrated with the [DFAT] on November 1, 2013. All AusAID staff will transfer to DFAT [that day]. AusAID budget appropriations will also be transferred to DFAT [who] will be responsible for Australian aid policy and programs," noted the ministry spokesperson, adding that full integration of the aid agency into DFAT's organizational structure will be a phased process to be fully completed by July 1, 2014.
Not only staff will be affected, but also the work of the whole agency, as well as ongoing and planned development programs in partner countries and communities.
A number of AusAID implementing partners dependent on these funds for survival have already been put in a limbo situation, and some may have to shut down permanently if they don't find alternative sources of funding.
Get development's most important headlines in your inbox every day.
Thanks for subscribing!
Brodtmann said many employees were particularly concerned about the lack of a definite timeline for the transition process, but now that this last point has been clarified, many more questions remain.
Concerns
Right now, AusAID staff are concerned about three main issues: job security, job location, and terms and conditions of employment.
Brodtmann noted the main understanding among employees regarding integration is that DFAT staff will "take precedence" over AusAID, painting a grim picture for the the aid agency's civil servants: "The impression that they got is the DFAT person will take precedence over the AusAID person. They are concerned of the security of their job. Will they have a job [after]?"
Job location is also a major concern, given the geographic location of the offices of the two agencies. which may affect employees in terms of housing and lifestyle, among other things. According to the MP, staff are worried because AusAID and DFAT are based in two very distant parts of the capital, so commuting could be a burden for aid agency employees.
In addition and given the different nature of the functions of both agencies, with one being a policy organization and the other a program delivery organization, terms and conditions of employment also differ, including salary packages and benefits, among others.
Brodtmann said compensation will play a big role. For an AusAID employee, she explained, it might be comforting to know that you may still have a job after the integration, but not being sure of the type of new job and the salary may lead to added stress while the transition process is ongoing. DFAT said it will "seek to manage job losses through natural attrition, voluntary redundancies and redeployment" for the reasons of efficiency in both costs and operations as well as increasing quality of public service.
Amid the anxiety among aid employees, the real effects of the shift in the country's aid landscape are yet to be seen.
AusAID said the integration "will bring together the government's foreign, development, and trade policies and programs in a coherent, efficient and effective manner, in pursuit of Australia's national interest" but many ask whether this move will have negative consequences for the country's humanitarian policy in the long run.
Read more development aid news online, and subscribe to The Development Newswire to receive top international development headlines from the world's leading donors, news sources and opinion leaders — emailed to you FREE every business day.
See more: