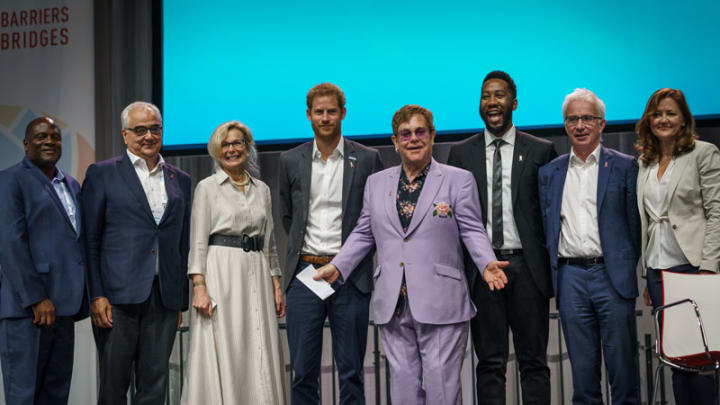 AMSTERDAM — A group of major HIV/AIDS donors, NGOs, and pharmaceutical companies have joined forces to launch a $1.2 billion coalition to expand the diagnosis and treatment of HIV infections among men, who are currently less likely to be accessing these services.
The MenStar coalition brings together the Elton John AIDS Foundation; the United States President's Emergency Plan for AIDS Relief; Unitaid; the Global Fund to Fight AIDS, Tuberculosis and Malaria; the Children's Investment Fund Foundation; Johnson & Johnson; and Gilead Sciences around the issue of how to get more men, especially those aged between 24-35, accessing HIV testing and treatment.
It was launched Tuesday at the 22nd International AIDS Conference, AIDS 2018, in Amsterdam, The Netherlands, during a star-studded event featuring Elton John and Prince Harry.
"If we want … to end AIDS once and for all, we must make men part of the solution," Elton John said during the launch event, referencing the fact that men are less likely to access HIV treatment and support services. "It is time there was a global coalition to teach men to protect themselves, and in doing so, it will teach them to better protect not only their wives and girlfriends … [but] also critically their brothers and their sons."
PEPFAR is putting up the bulk of the initial funding: The U.S. agency has said it will spend $800 million on strategies designed to reach men in the next year, with the aim of reaching an additional 1 million men with HIV treatment and help ensure that more than 90 percent of young men living with HIV are virally suppressed.  
A MenStar press release stated: "Given the common vision and interconnectivity between these individual efforts [on HIV/AIDS], the partners have formed a coalition to enhance each other's work and achieve greater impact."
Ambassador Deborah Birx, head of PEPFAR, added that, "we must innovate and accelerate to reach more men with lifesaving HIV treatment."
Men and boys are more likely to die from AIDS than women. According to the United Nations Joint United Nations Programme on HIV/AIDS, 58 percent of all AIDS-related deaths are among men. The gap is widest in sub-Saharan Africa, where only 41 percent of people living with HIV are male, yet they account for 53 percent of deaths. This is in large part because, around the world, men living with HIV are less likely to be receiving treatment than women. In sub-Saharan Africa, men and boys are 20 percent less likely to know they have HIV and are 27 percent less likely to be accessing treatment, according to the 2017 UNAIDS "Blind Spot" report.
There are two main reasons for this, according to the report: First, services are not "male-friendly," and second, gender norms and stereotypes tend to keep them away from health clinics. In contrast, although women and girls face many barriers to accessing services, they are more likely to receive testing and treatment, since they spend more time in the health system on account of being mothers.
Reaching men will be critical to ending the AIDS epidemic, protecting themselves, their sexual partners, and families from transmission, experts say.
Get development's most important headlines in your inbox every day.
Thanks for subscribing!
"Better engaging men in the response to HIV is critical given that too many do not get tested
for HIV and do not access prevention and treatment services," said Unitaid Executive Director Lelio Marmora in a statement.
MenStar was formed as a result of the growing awareness of the need to find new ways of reaching men and breaking the cycle of infection and transmission. It said in a press release that it will support "innovative approaches" to delivering services to men through initiatives such as "data analytics and human-centered design to better adapt services to men; nuanced demand creation; targeted marketing; innovations, such as HIV self-testing; and supply-side solutions." It will also work to improve the supply of HIV commodities and services to ensure there is enough to meet demand.
"It's an absolute tragedy that so many young men are dying of HIV never knowing they were infected … We will only achieve quality outcomes … if we work just as hard to inform and educate and provide services to boys and men."
— Robin Gorma, co-lead at SheDecides
Advocates welcomed the new partnership. Longtime AIDS activist and feminist Robin Gorna chaired a session on the UNAIDS "Blind Spot" report organized by Grassroots Soccer, which works to improve health access for adolescents in low-income countries, at the beginning of AIDS 2018.
"It's an absolute tragedy that so many young men are dying of HIV never knowing they were infected," she said, adding that beating the AIDS epidemic will only be achieved by targeting both men and women. "This is never going to be a zero sum game; we will only achieve quality outcomes … if we work just as hard to inform and educate and provide services to boys and men," she said.
One of MenStar's first projects will involve partnering with creative agencies in Kenya on an HIV self-testing campaign aimed at young men, set to launch next year. According to Unitaid's Marmora, evidence shows that men are more likely to get tested for HIV if they can test themselves, and the project will be funded by Unitaid, the Elton John AIDS Foundation, and CIFF. The London-based CIFF told Devex it is investing $6 million in a MenStar Coalition Challenge Fund to prototype and scale new strategies for reaching high-risk young men with self-test kits and linkages to care. It is also providing $13 million for affordable HIV self-tests and prevention services, a spokesperson said.
CIFF's Chief Executive Officer Kate Hampton said in a statement: "We champion HIV self-testing and other modes of self-care as one of the most powerful ways for adolescents, youth, women, and men to take control of their sexual health … Together with the MenStar Coalition, we can realize the promise of self-testing toward breaking the cycle of HIV transmission."
Other projects will include supporting targeted, male-friendly HIV services such as dedicated men's corners at existing health clinics, expanded clinic hours, and deeper community engagement.
Read more Devex coverage from AIDS 2018 and sign-up for our special newsletter with the key updates and analysis.