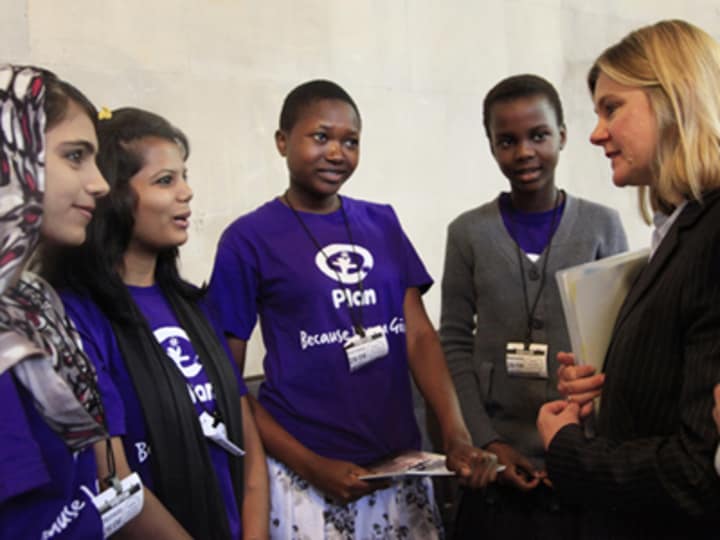 Overseas aid will be spared from cuts under the United Kingdom's latest spending review — at least for the next three years.
Britain will maintain its 0.7 percent aid target until fiscal year April 2015 to April 2016 amid austerity measures back home. This is the pledge made by David Cameron's government, as underlined in Chancellor of the Exchequer George Osborne's speech before Parliament on Wednesday: "I'm proud to support a Government that is the first in our history to meet our pledge and meet it not only this year, but next year and the year after […] Even in tough times, the decisions we make mean we keep to our commitments."
The commitment however has yet to be enshrined into law.
Devex analysis shows that U.K. aid has been growing in real terms since 2010, experiencing only a slight dip in 2012, when from 8.63 billion pounds it fell to an estimated 8.62 billion pounds.
From this year to 2015, however, British ODA is expected to grow an average of 11.7 percent annually, reaching 12.2 billion pounds.
Not surprisingly, aid groups are pleased with the projections.
"Obviously, we would like to see this commitment maintained for as long as it is needed but this is certainly a step in the right direction and we'll be looking to the party election manifestos next year to ensure that this commitment continues," U.K. Aid Network's Amy Dodd told Devex.
Save the Children UK meanwhile said the government "has shown moral leadership" with the aid commitments.
"This deserves much credit in the current economic climate," the organization's head of government relations Bernard Aryeetey said in a statement.
Oxfam's Ben Phillips also "commends" the U.K. government for its decision.
"The additional aid money the UK government has committed to could save the lives of over 3 million people every year; helping those forced to flee their homes due to conflict or those inflicted by one of the devastating food crises happening in the world today […] t's crucial for the lives of millions of people in poor countries that we continue to meet our aid commitments until countries are able to increase revenue from taxes and so reduce the need for aid," he explained.
Click the image to view in large size.
Budget increase for DfID
The U.K. Department for International Development, which handles the bulk of British aid, meanwhile will continue to enjoy a ring-fenced budget until 2015-2016.
DfID's budget is set to increase from an estimated 10.7 billion pounds this year to 11.1 billion or 90 percent of total U.K. ODA in that period.
The Foreign and Commonwealth Office, which also handles a part of U.K. ODA, however, is not so fortunate. William Hague's office will suffer a 100 million pound cut in its budget under the spending review.
It is not yet immediately clear which programs will be affected by the reductions. And aid groups Devex has spoken to said they too are unsure on how this will play out in practice.
Osborne however said Hague is "still committed to strengthen our embassy network in high-growth markets, from Shanghai to Abuja." 
Aid budget plans
Economic growth, job creation and advancing women's and girls' rights will remain a priority for DfID, as laid out by Justine Greening in her vision for the agency.
Get development's most important headlines in your inbox every day.
Thanks for subscribing!
Great Britain seems determined though to push through with earlier decisions to end aid programs in India and South Africa, and it's possible that other middle-income countries may soon follow. "The government will continue to close programmes in middle-income countries such as India and South Africa," says the review.
At present, six countries categorized as lower middle-income countries by the World Bank remain on DfID's priority list: Ghana, Nigeria, Pakistan, Sudan, Yemen and Zambia.
Former U.K. aid chief Andrew Mitchell recently mentioned two of them — Ghana and Zambia — as "strong candidates" for an aid cut.
Dodd told Devex they will be asking DfID and the government to clarify what the statement in the review meant.
"Over three quarters of the world's poor live in MICs so I would question whether a complete withdrawal from those countries is in keeping with the Chancellor's commitment to tackle poverty and not to balance the books on the backs of the world's poorest people," she said.
"That said, if there is a real push to pull out of more MICs - and in some specific cases, at the right time this might be the right decision - they will need to be transparent about these plans and work with partner countries to come up with appropriate, phased withdrawal plans."
Meanwhile, the U.K. will spend more in the areas of science and research, and tax reform to improve tax collection in developing countries. Money for climate change-related activities will increase to 969 million pounds, according to the review, but tracking this may prove to be a challenge given that resources will come from three departments, not just DfID.
New fund
The government is also maintaining its 30 percent of ODA commitment to fragile and conflict-affected states — a growing focus of many donor governments.
Great Britain is planning to set up a new Conflict, Stability and Security Fund by 2015-2016 to support activities aimed at conflict prevention in developing countries.
The National Security Council will be tasked to set the priorities for the fund, which is expected to support not only military training and security and justice reform, but also human rights, political reconciliation and peace processes.
"This will include actions the UK delivers directly or through third parties and its contribution to multilateral interventions overseas to help prevent conflict and instability, and support post-conflict stabilisation," the review notes.
Dodd said they have yet to get details of how the fund will work, but "we would welcome efforts to increase joined up working across the departments."
She hopes the fund will take into account ICAI's recommendations last year on the Conflict Pool, the government's existing funding instrument for conflict prevention overseas. In particular, she notes, recommendations on simplifying its management structure and on setting a "clearer strategic direction."
Read more development aid news online, and subscribe to The Development Newswire to receive top international development headlines from the world's leading donors, news sources and opinion leaders — emailed to you FREE every business day.