When social media first emerged over a decade ago, no one knew quite how long it would be around. There were no standard job titles, no defined metrics, no clear trajectory for social media as a career path.
Now, brands can hardly expect to keep their external presence, voice, and values consistent without a point person at the helm of their social channels. In many ways, the career of a social media director has come more into focus: We now have a better understanding of the role and how it impacts our organizations. But with the evolution of social platforms, it can often be somewhat of a mystery what really happens "behind the handle." What goes into curating, writing, and developing social content; how do social media directors build their teams; and how are they adapting to the ever-changing nature of online interaction?
This new series, Behind the Handle, will be a way to explore these questions each month. I will be talking to the heads of social media at development-focused organizations, foundations, United Nations agencies, and private companies working toward progress on the Sustainable Development Goals.
If you're tuned in to the global refugee crisis, you may have noticed the groundbreaking work coming out of @Refugees — the handle owned by the UN Refugee Agency. Who's behind the handle? Meet Gisella Lomax and a team of talented global communications experts whose work has @Refugees ranked as number 10 on the most followed international organizations according to a ranking by Twiplomacy.
Lomax and I catch up on a Friday afternoon. She's getting ready for the weekend after a busy week in Geneva. Lomax couldn't have dreamed up social media as a career, she tells me. She began her career as a journalist, classically (read: Print) trained for an industry that would evolve dramatically by the time she began work in it. Her training, however, wasn't for naught. The lessons she learned while reporting for local U.K. newspapers, and writing entertainment news for The Sun and MSN, would prove the training ground on how to speak to microcommunities on social media.
A day in the life of a social media director
Like most communicators, Lomax begins her day by reading the news — specifically, the daily briefs from the BBC, the New York Times, and the Guardian — and continues to visit news sites throughout the day. UNHCR press clips arrive into her inbox at 7:30 a.m. giving her the rundown for the day. By 9:30 a.m., she's at headquarters meeting with communications staff for the daily stand-up news meeting that sets her action plan.
How does she keep up with social news? She outsources it. She relies on peers in professional Facebook groups, sites such as The NextWeb and NewsWhip, social media, and Slate's If/Then podcast to fill her in on what's trending.
Building an all-star team
UNHCR social media is geographically dispersed with communicators who sit at the agency's offices in Geneva and New York City, and remotely in London, Abu Dhabi, and Mexico City. Their team supports content coming in from 100 countries where UNHCR implements programs.
The team's global presence is an intentional move for the agency. "Not only do we not need to be in the office, but we also don't want to be. My vision for the team is to have a 24/7 operation," Lomax said. Using tools such as Slack to communicate in real-time allows her team to tell stories across the agency's main global channels and languages: English, Arabic, Spanish, and French.
Get development's most important headlines in your inbox every day.
Thanks for subscribing!
Lomax emphasizes three key skills on her social team: Great news judgment, the ability to multitask, and a hint of generalism. With more than 30 posts published across the UNHCR social platforms each day, it's a team where "everyone is equipped to a little bit of everything." It helps if everyone can put together an infographic and write a Medium thinkpiece, as well as they can write a tweet or handle a Facebook Live.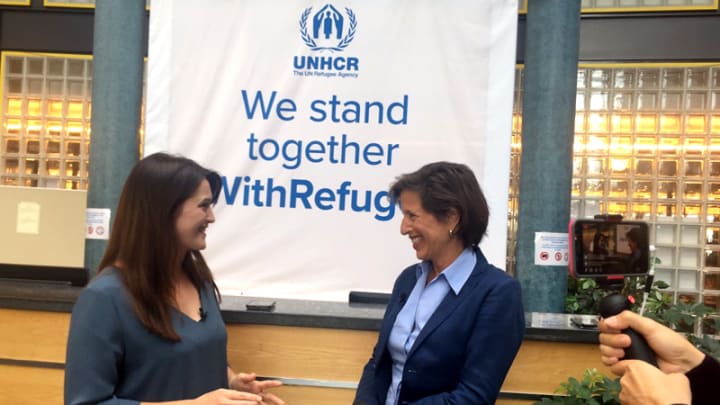 The UNHCR story, personalized
If you take a look across UNHCR's social platforms, you will see an emphasis on personal, single character stories. As outlined in the agency's communications charter, "communicating like human beings" is at the forefront of their strategy. While Lomax argues that there's no 'golden formula', individual stories that educate have proven to be powerful mediums.
"It's very hard for people to feel trust with a logo or acronym these days. We live in the age of personality. What people trust more than ever is a human being," Lomax said.
Both UNHCR leader Filippo Grandi, who goes by @RefugeeChief on Twitter, and Head of Communications Melissa Fleming, are active Twitter users and run their own accounts. These personal windows into humanitarian work have received positive responses from their followers.
"Part of the reason to be a journalist and communicator is to influence people. Social media is the medium of our age, it is the medium of our time and that's exactly where I want to be."
— Gisella Lomax, head of social media, @Refugees
"There's endless curiosity about what it is to be a humanitarian worker. It builds trust in our organization as people see more about the people who work there," Lomax said. In fact, Edelman's 2018 Trust Barometer cites that voices of authority are regaining credibility, with NGO representatives and CEOs enjoying credibility levels of 40 percent and higher. Internally, Lomax is an evangelist for increased digital engagement from senior leaders, often sitting for one-on-one sessions with them and their mobile phones. So far, she's convinced 40 leaders to join Twitter.
Looking ahead
So what's next for the UNHCR social team? Lomax says partnerships with social-first media companies. Her team has partnered with NowThis to tell stories from TEDxKakumaCamp, with VICE to tell young refugee stories across Europe, and Buzzfeed's food vertical Tasty to recreate a refugee's favorite childhood dish.
For Lomax, media outlets reach audiences they can't. "We learn from them. We learn new ideas … and they help us reach that 'anxious middle' segment that we're always trying to reach."