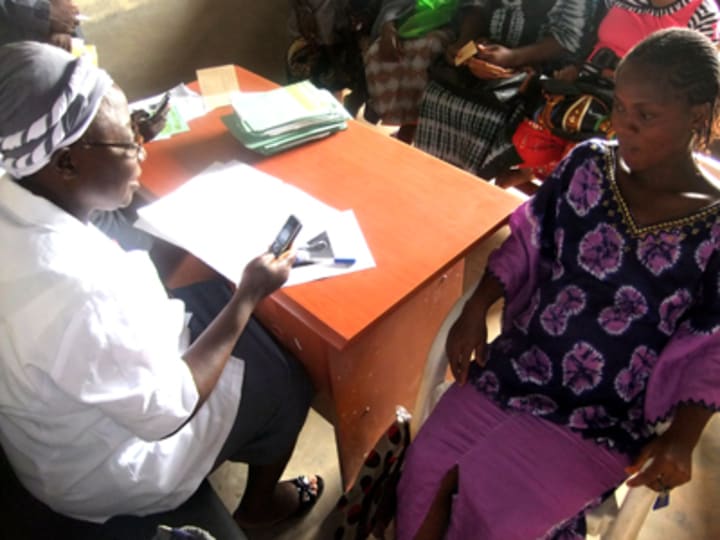 How do you save 1 million lives in three years?  In Nigeria, an international nongovernmental organization has introduced an innovative solution: a mobile phone application to help improve health care and enable a more efficient delivery of conditional cash transfer payments to mothers. 
Back in November 2012, Nigerian President Goodluck Jonathan committed to scale up essential health services and products for women and children in order to save 1 million lives by 2015. The announcement was notable and hailed by the international community as Nigeria ranks among the 10 countries with the highesst maternal and child mortality rates.
In that same month, Pathfinder International embarked on a project designed to help Nigeria get to that goal. It began equipping community health extension workers with CommCare, a mobile phone app that collects information needed to determine the kind of antenatal health services provided to mothers.
This year, m4Change — a partnership with the Nigerian government and CommCare developer Dimagi Inc. — goes a step further. With a grant from the United Nations Innovation Working Group, Pathfinder looks to use data collected via CommCare to help the government determine the eligibility and register women for its conditional cash transfer scheme.
"Realizing the value of having a mobile client tracking system, and the government's commitment to scaling the conditional cash transfer program that requires tracking clients over time, we decided to marry these approaches to support the government program," Linda Suttenfield, director of communications at Pathfinder International, told Devex.
Under the current procedure, the Nigerian CCT program carries huge overhead and is a challenge to coordinate. To register beneficiaries, representatives from the health ministry visit field sites to collect information on those who are eligible for payments and email a document to the central government with details about each woman and the recommended amount of payment. The government then needs to request a partner bank to disburse payments in person once a month. A call is also made to all women to come back to the site to collect their money.  
Get development's most important headlines in your inbox every day.
Thanks for subscribing!
With 1,250 sites to cover under the CCT program, the amount of time and travel expenses for the government are "currently not sustainable costs," according to Suttenfield.
Through m4Change, Pathfinder expects the process to speed up.
"We are designing this approach to help facilitate the CCT program to be able to go to national scale," Suttenfield said.
Part of the approach is to develop a Web interface that will aggregate and identify women who are eligible as CCT beneficiaries using the information gathered via CommCare. The dashboard will produce a report that will allow the government to see beneficiaries from various sites in real time and authorize payments through mobile money.
The use of mobile money in Nigeria, though, is still in infancy. And so the project "will have to be creative" when working with banks and mobile banking operators to ensure sufficient coverage by agents and boost the overall uptake of mobile money, Suttenfield said.
Pathfinder is now carrying out prepilot testing of the project and is documenting its experience, with the hope to sharing lessons learned from it with the aid community and the broader public. A formal launch of the effort is expected by March.
What do you think of this innovative solution? Tell us by leaving a comment below and read our previous #innov8aid.