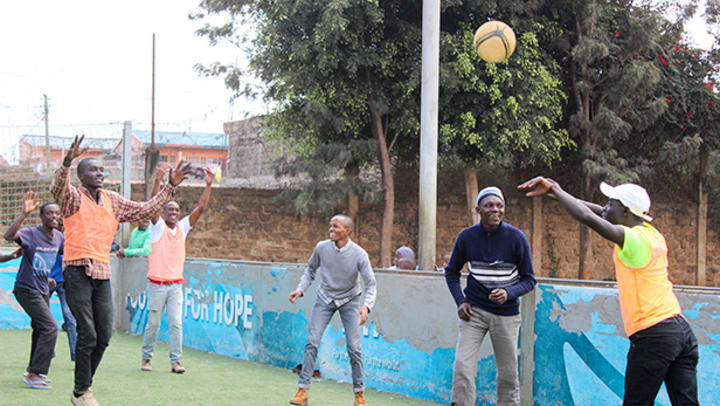 We all know the big statistics — there are 1.8 billion young people on the planet today, the largest youth cohort in the history of humanity — but, gaps in youth-related data have created obstacles for many of us in the development community to make the case for investing in youth development.
Five years ago, at the United States Agency for International Development — where I was the first assistant to the administrator for policy, planning and learning — we faced this very challenge in designing the agency's first youth and development policy. Now, on the eve of International Youth Day, it's an excellent time to pause and take stock of the state of youth in the world today.
Just five years after USAID issued its policy, we know much more about the status of youth because of tools such as the 2017 Global Youth Wellbeing Index, which includes not only objective research data, but also the voices of young people across the globe.
What is the Global Youth Wellbeing Index and what does it tell us?
The index, created in partnership between the International Youth Foundation and Hilton, consists of data from young women and men in 30 different countries that account for 70 percent of the global youth population. They contributed their opinions regarding seven domains of well-being — economic opportunity, education, health, gender equality, safety and security, citizen participation and information and communication technology — each of which corresponds to a Sustainable Development Goal. The youth perspectives recorded in the Global Youth Wellbeing Index, coupled with other research data, provide a clear picture of what young people need to succeed and how investors can most effectively serve their interests.
Young people will play a critical role in achieving the peaceful, prosperous world envisioned in the Sustainable Development Goals. To harness their energy, aptitudes and ideas, and to understand what specific actions should be taken to assist them in reaching their potential, we must listen to what they say — and heed their advice.  
An overarching takeaway from the index is that young people are overwhelmingly optimistic about the future. In the youth economic opportunity domain, for example — which is most closely associated with overall well-being — 74 percent of youth believe they will secure the jobs they want. Moreover, 65 percent anticipate making as much money as they want.
However, when factors such as gross domestic product per capita, global competitiveness and youth unemployment are examined, countries scored lower in economic opportunity than any other domain. Discrepancies between expectations and reality were not uncommon — for example, in the area of gender equality, 89 percent of young people believe that women and men should be treated equally, while in many index countries, gender equality doesn't yet exist. The fact that youth are hopeful and enthusiastic about a future of prosperity and inclusion should galvanize the world's leaders to invest in their vision of the future, and doing so will pay great dividends.  
No country considered in the index, whether developed or developing, is without challenges. Sweden and Australia, for example, which ranked first and second respectively in overall well being, also ranked 10th and 16th respectively in terms of health — specifically mental health, with youth in both countries reporting high levels of stress and high rates of self-harm and suicide. Similarly, Germany ranked fourth overall, but 23rd in the education domain; the U.S. scored fifth overall, but 12th in health and 16th in citizen participation. On the other hand, Saudi Arabia scored 12th overall but first in the health domain, while Thailand, 24th overall, ranked fifth in education.
These findings serve as a reminder that we all have work to do. Furthermore, results drive home the point that achieving the SDGs is a universal responsibility. All countries are accountable, and all will benefit when the goals are met.
While investment is needed in each of the seven domains, youth economic opportunity emerged as an especially urgent and strategically important need. Either directly or indirectly, youth economic opportunity impacts the overall well-being of the world's youth — and of the world in general. Without a stable economic foundation, young people may not be able to afford the education and other training required for job retention, skill upscaling and professional advancement. Without a steady, decent income, young people may not be able to afford the health services they and their families need. Provided with economic opportunities, young people can create the lives and livelihoods they desire while contributing to the prosperity and future health of their respective nations in ways that cannot be overstated.
"Young people will play a critical role in achieving the peaceful, prosperous world envisioned in the Sustainable Development Goals. To harness their energy, aptitudes, and ideas and to understand what specific actions should be taken to assist them in reaching their potential, we must listen to what they say and heed their advice."
— Susan Reichle, president of the IYF
Based on the index findings, the following three recommendations stand to make a real difference in youth economic opportunity:
Get development's most important headlines in your inbox every day.
Thanks for subscribing!
1.  Invest in specialized skill-building programs.
Increasingly, employers want to hire people who possess a well-rounded set of skills that includes foundational literacy and numeracy, but also more specialized skills. Investment in programs — not only at academic institutions, but in less formal community settings, too — that offer information and communication technology training, science, technology, engineering and mathematics training, and technical and vocational education and training can have a big impact on the ability of young people to secure decent work.
2. Invest in entrepreneurship and innovation. 
Many youth want to start their own businesses. While there is no shortage of amazing ideas, young women and men, even those who graduate from secondary and postsecondary school, often lack the entrepreneurial, business, and finance skills — not to mention the financial capital — needed to turn their good ideas into reality.
3. Invest in life skills.
Employers agree that life skills — such as teamwork, problem solving, critical thinking and conflict management — are necessary for thriving in the 21st century labor market. While these skills are not necessarily taught at home or in traditional school settings, programs that incorporate life skills are sought after by young women and men. Life skills lessons can be integrated into other training programs — from traditional secondary and postsecondary curricula to more specialized programs such as ICT, STEM, and TVET. Life skills are transferable and of value, regardless of field or industry, and also increase the resilience of young people to face other challenges to their well-being.
Overall, youth well-being has improved, but not enough — only 11 percent of youth experience high overall well-being — and the rate of progress is too slow considering the central role youth must play in achieving the SDGs by 2030. As we celebrate International Youth Day and the optimism of this unique cohort, the 2017 Global Youth Wellbeing Index brings us another step closer to filling the gap in evidence and analysis needed to make more strategic investments in the well-being of young people.
To learn more about issues affecting youth well-being, watch the 2017 Summer Youth Assembly at the United Nations — through August 12 — live.