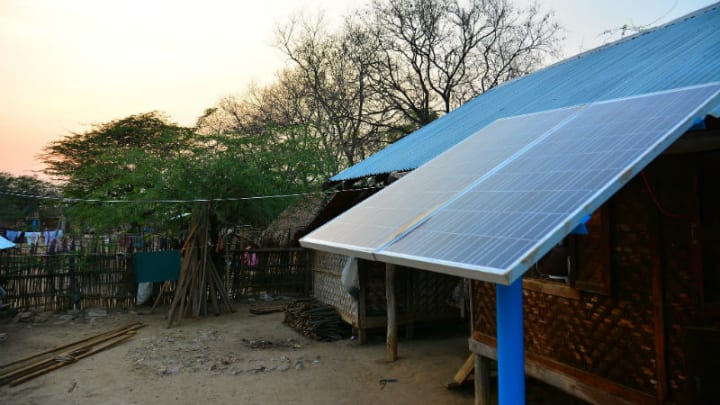 For almost 1 billion people without access to electricity, the day ends when the sun sets. And it results in a staggering loss of economic and social potential, as well as disillusionment with governments that are viewed as incapable of providing basic public utilities, which contributes to political and security instability.
Economic development is impossible without access to affordable and reliable energy, which is why in 2015, the United Nations included energy for all as one of the Sustainable Development Goals. While there has been significant progress over the past decade, the world is by no means on track to achieve universal access to energy by 2030.
The International Energy Agency projects that 700 million people will still lack access to energy by 2040, even with the adoption of new policies that accelerate electrification. This scenario would be an unmitigated failure for the global economy and for the hundreds of millions without equal opportunity to participate in the global economy. Ultimately, this would mean another generation of poverty, conflict, and lost opportunity globally.
Grid electrification of rural areas typically takes decades; raising electrification from 80-90% to 100% took approximately 20 years in Brazil, China, and Thailand, for example. For most who lack access to energy, distributed energy will be the best solution. In most cases it's cheaper than extending the central grid, can provide reliable, 24/7 electricity from day one, and can be deployed in months rather than years.
Myanmar is an excellent example of this opportunity: The average cost per connection is $1,250 for a mini-grid, compared to $2,200 for a grid connection, according to an upcoming study by Smart Power Myanmar. Even communities that are connected to the grid don't have reliable power for homes and enterprises; more than 50% of grid-connected customers lose power at least three times each week, often for two hours or more, according to the World Bank's multi-tier framework study.
Like all infrastructure, distributed energy systems are expensive — although they are becoming increasingly more affordable, thanks to the declining cost of components such as solar panels and batteries. But the revenue from rural households is low, meaning that serving these customers will not be profitable in the near term. Emerging markets and unstable foreign currencies create additional risks for investors. Building infrastructure, therefore, requires significant amounts of long-term, patient capital.
Governments, civil society, development financing institutions, and the private sector need to address these issues by taking steps to further reduce the costs of distributed energy infrastructure, bring expectations for investment returns in line with other forms of energy infrastructure, and provide consistent and reliable financial support. It is also essential to boost demand for energy in order to reach profitability sooner and realize economic outcomes.
If these measures are implemented in Myanmar, for example, the upcoming study estimates that there would be at least 4,700 viable decentralized energy projects by 2030, which would cover more than 20% of the off-grid population. In a country where an astonishing 60% of the population still don't have reliable access to energy, this represents more than 1 million people — and a $1.4 billion investment opportunity. Coupling pragmatic and realistic grid extension with strategic investments in decentralized minigrids would allow the government to meet its goal of universal electrification in the most affordable and timely way possible, making a marked dent in poverty in Myanmar.
Get development's most important headlines in your inbox every day.
Thanks for subscribing!
But it is important to realize that energy access alone is insufficient to achieve development goals. Using energy productively is also an essential ingredient, not just to improve the economic viability of energy projects, but also to improve economic outcomes. More attention must be given to overcoming the financing and technical challenges that make it difficult for people to purchase and use equipment that require electricity in remote rural areas. In Myanmar alone, it is estimated that at least $65 million in development financing is required to solve productive use challenges and maximize the effectiveness of minigrids, according to the upcoming study.
Once people have reliable access to energy and equipment to use it, productivity can increase. But even that does not guarantee economic development. People must be able to gain an education that will enable them to plan and run businesses. There must be physical and financial markets that operate with clear rules. There must be infrastructure for transporting goods and people. There must be transparent and accountable systems of governance. In short, energy and equipment are necessary, but alone, they are insufficient.
Those who doubt the connection between energy and economic development need only look to the impact of power outages in places that have already come to rely on it. The U.S. Department of Energy estimated that the 2003 blackout across the U.S. east coast cost $6 billion in lost economic activity and spoiled goods. Federal and state authorities declared a state of emergency because of the losses and because the blackout endangered the lives of people in hospitals and the elderly.
Every day is just such an emergency for close to 1 billion people who lack access to electricity — yet we are complacent about this emergency's very real effects. It stymies livelihoods among the world's poor, it limits global development, and in turn, leads to outcomes such as conflict, mass migration, climate change, and countless lives cut short.
Too few private and development resources are being used to link agricultural productivity with energy needs and opportunities, leaving value chains untapped and poorly linked, acerbating food and water shortages. Energy alone will not solve all of these issues, but we must address the fact that one-eighth of the world's population is unable to switch on the lights, create businesses, or access life-saving medical care.