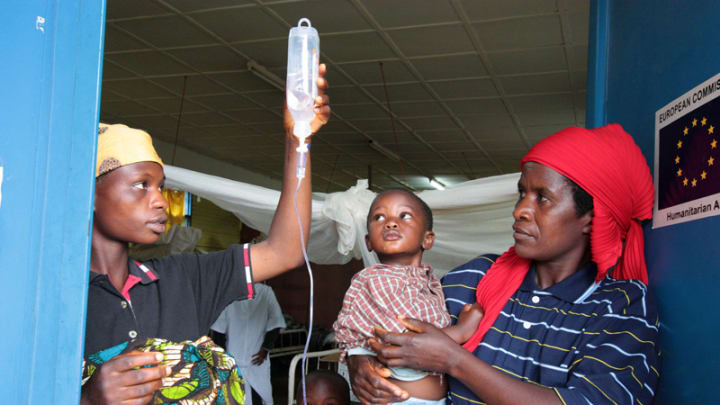 2015 was an important year in the fight against diseases of poverty. At the U.N. General Assembly in New York, the international community set the clock running on the challenge to end the epidemics of HIV and AIDS, tuberculosis, malaria and neglected tropical diseases by 2030.
In order to achieve this, governments throughout the world need to urgently scale up their investment in global health innovation — developing new vaccines, drugs and diagnostics that will be key to a 2030 that is free from diseases of poverty.
Europe, long a laggard to the United States in spending on disease research, has an opportunity in 2017 to position itself as the champion of global health innovation and kick-start this effort. At the European and Developing Countries Clinical Trials Partnership Forum in Lusaka, Zambia, this month, DSW will be mapping out how.
The status quo is not enough — we need innovation
Tremendous progress has been made in the fight against diseases of poverty since the Millennium Development Goals were launched in 2000. AIDS-related deaths have fallen by 28 percent, with some 7.8 million lives saved between 2000 and 2015. Malaria death rates fell by 60 percent globally. But the way we fought those diseases in the last 15 years is not how we will overcome them by 2030.
Collectively, in 2016, these diseases still affect over 1 billion people, damaging the health not only of these individuals but of communities and countries. Women and children remain disproportionately at risk from and affected by these diseases.
Global health innovation is essential to really begin to roll back these diseases, as the Lancet Commission on Investing in Health and others have repeatedly stated. Take HIV/AIDS as an example. In a study undertaken by IAVI and The Futures Institute, even a 70 percent effective and well-adopted vaccine as part of a comprehensive HIV/AIDS response would prevent the majority of annual new HIV infections by 2050. Not just for HIV but also for malaria and TB, new and better vaccines, more effective drug treatments, and diagnostic tools are missing.
Investment is needed and the benefits clear — but funding is stagnating
Given that there is often little market incentive to develop medical innovations for diseases of poverty, public investment in global health is critical to advancing medical breakthroughs.
However, as Policy Cures' most recent G-Finder report found, international investment for diseases of poverty research has stagnated since 2009. What is more, a recent report by Policy Cures and DSW found that funding from both the EU and European governments fell in four out of the five years between 2009 and 2014; EU funding remains lower than both its 2009 peak and the 0.01 percent of the target gross domestic product set out by the WHO Consultative Expert Working Group on Research and Development Financing and Coordination.
Funding has declined despite the clear benefits it brings. From 2007-2014, 80 cents of every euro spent on global health innovation was reinvested back into Europe, delivering economic growth, creating jobs and securing the continent's global competitiveness. The EU's investment in this area, for example, has directly created over 10,000 jobs in Europe. Investment in global health innovation is delivering products that have already had an impact, as well as a robust pipeline of products that have the potential to deliver significant benefits in coming years. For example, EU funding contributed to the development of half of all new malaria drugs registered since 2000.
Get development's most important headlines in your inbox every day.
Thanks for subscribing!
In 2017, the EU is undertaking a midterm review of its seven-year budget, identifying priorities for the next three years for the overall budget and the EU's research program, Horizon2020. The EU will also launch discussions for the next multiyear budget cycle, to launch in 2020.
These parallel processes provide a critical opportunity for the EU to assess what its funding for global health innovation has achieved, where it can be improved, and how much additional investment is needed. Here are three ways that Europe can grasp this opportunity.
1. Meet its funding targets.
Estimates suggest that investment in global health research and development needs to double from $3 billion to $6 billion between now and 2020. To support this increase, the EU and European governments must work toward achieving the CEWG's funding target of 0.01 percent of GDP. Part of this debate on funding will have to consider the question of the continued participation of U.K. institutions in EU research programs following the Brexit vote.
Many U.K. institutions are world leaders in the field of global health innovation and the EU will have to decide where the U.K. fits into programs such as the European and Developing Countries Clinical Trials Partnership and Horizon2020 after Brexit.
2. Improving synergies.
The EU and European governments must develop a comprehensive, complementary and unified strategy for global health research, focused on leveraging both synergies and differences in the way each actor supports global health innovation. Increased funding will not have the requisite impact if it is not accompanied by a thorough, long-term strategy for the sector in Europe.
3. Making investment more effective.
We need to make EU investment work better and make the tangible results that it is bringing about more visible. Part of this is making sure that funding gets to the most promising projects and to the actors most likely to deliver. To ensure the funding is really working, we need the EU to regularly monitor and report on the impact of its global health investments.
Making Markets Work is an online conversation to explore what's being done to make global health care markets accessible to people at the base of the pyramid. Over 10 weeks, we will amplify the discussion around effective health financing, analyze key challenges blocking universal market access in the health care supply chain, and explore the key strategies to make markets more effective. Join us as we look at this important issue, and share your thoughts by tagging #MakingMarketsWork and @Devex.