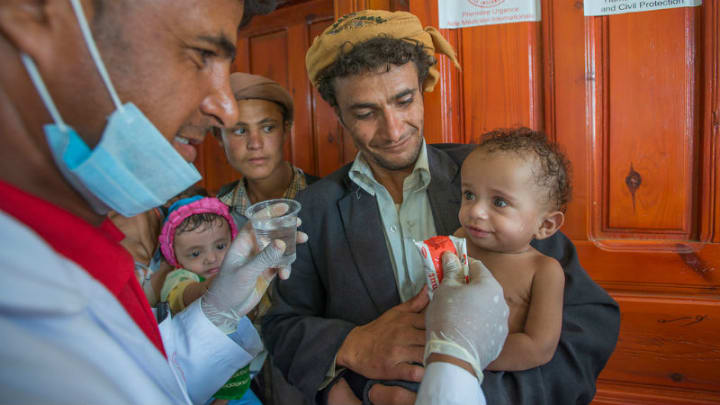 Each minute, we are losing a child under the age of 5 to extreme hunger in a conflict zone around the world.
We have calculated that 4.5 million children under 5 will need treatment for life-threatening malnutrition this year in the top 10 warzones — up 20 percent over 2016. As things now stand, 590,000 of them will likely miss out on treatment and die as a result of hunger.
Conflict has been repeatedly cited by the United Nations as a major driver of hunger in 2018. Failure to get nutritious food to children trapped in war zones has a double whammy long-term effect on a country's development. Impaired development and poor health in children will result in lost gross domestic product when they become adults, with increased health care costs as they suffer from additional diseases.
Yemen is the poster child for this lethal combination of conflict and hunger robbing children of their childhood around the world. The U.N. has warned that 12-13 million people could face starvation if there isn't a drastic change in the situation on the ground, which could usher in the worst famine the world will have seen in a century. The situation in South Sudan has deteriorated since my January visit, to the point where 1 of 2 people face possible starvation, the worst outlook in 10 years.
But these dire projections do not have to become reality. As we celebrate the recipients of the World Food Prize in Des Moines, Iowa, it is timely to ask what the United States and others can do to ensure children in these hard to reach conflict zones are not consigned to the lifelong impact of malnutrition, or worse, premature death?
Several lessons have been learned in recent years that can shape a better response today:
1. Addressing hunger and conflict requires a whole of government response
Hunger and conflict is not a problem just for humanitarians alone. Given the significant American interests at stake in many of these conflict countries, our diplomats should be hard at work securing access for humanitarian assistance, promoting political resolution of the conflict, and holding violators of humanitarian law to account. Our policymakers need to put the full weight of the U.S. behind this vital work in Yemen, South Sudan, and elsewhere. Business as usual is not working.
2. Safeguarding and expanding access to vulnerable communities
In many cases, access to the people we need to reach with food and other aid is cut off. As warring parties hold their ground, people including children are effectively held hostage. Food is being used as a lethal weapon. Warring parties must be called out to allow aid to enter. In addition, governments need to abide by international humanitarian law that requires them to protect children and civilians.
3. Sustaining humanitarian and development responses to malnutrition
The international community needs to mobilize more resources to meet the increasing humanitarian appeals we have seen in recent years. Funding regularly falls far short of what is required. The average level of humanitarian funding, for example, for nutrition programs in the 10 most dangerous conflict zones this year is only one-third of what is needed; in the Democratic Republic of the Congo, it is just 8.6 percent.
Get development's most important headlines in your inbox every day.
Thanks for subscribing!
4. Cash aid can empower impacted communities to meet their needs
In some conflict zones, markets are still functioning. In parts of Somalia and Nigeria for example, this has been the case. In such circumstances, rather than bringing in additional food, it makes more sense to enable families who understand their own food, nutritional, and other needs better than external agencies to decide what to purchase. That is why actors like the U.S. Agency for International Development and World Food Programme also use e-vouchers and cash programming rather than just rely on food aid in all circumstances.
In Somalia, we have supplied cash to mothers' mobile phones, so she can choose the food for her family and spend money in her local economy. In Nigeria, we provide e-vouchers to conflict-affected families that allow households to purchase food items that will meet the nutritional needs of their children and help to sustain the local markets.
Building resilience of impacted refugee, displaced, and host communities for the longer term.
Many of these hunger and conflict-related crises are protracted or cyclical. The old model of humanitarians completing the relief phase and handing over to development players for recovery does not reflect current realities.
Education, livelihoods, and other steps that strengthen a community's resilience to shocks can't wait indefinitely. In some areas, communities hosting refugees are as much in need as those fleeing war. In northern Jordan and Lebanon, for example, Syrian refugees live side by side with host communities. This gives us the opportunity to help two vulnerable communities at once — we need to look for win-win interventions that are going to boost the nutrition, health, and education of both for the longer term.
Food insecurity is a self-evident driver of instability and conflict. We see that when child soldiers tell us they feel compelled to join the army because that this is the only way they will be able to eat.
But we can also flip this notion around and recognize that food and nutrition security is a foundation for peace. To foster peaceful and prosperous societies, we need to get food and nutrition security, particularly in conflict areas right.