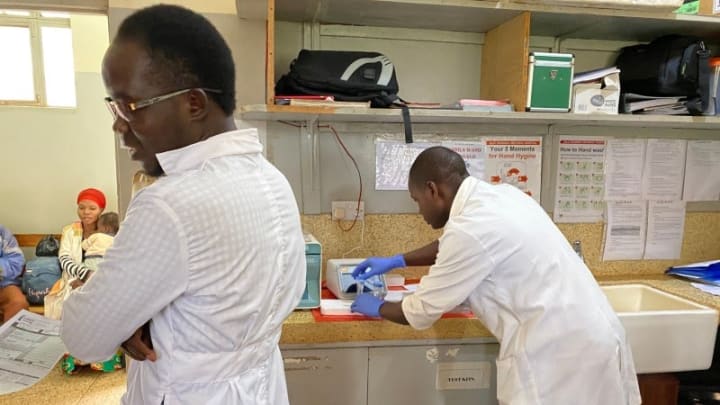 SAN FRANCISCO — A new portable diagnostic platform could change the way sickle cell disease is tested, and offer a model for developing point of care tests for a range of diseases in low-resource settings.
On Wednesday, medical diagnostic device company Hemex Health officially launched Gazelle after its sickle cell disease test was given regulatory approval in India and Ghana, with other country registrations pending.
The portable diagnostic platform combines proprietary microchip electrophoresis technology, which is a miniaturized version of the traditional blood test, with artificial intelligence. Gazelle also includes a test for malaria, and the Hemex Health team is working to develop tests for anemia and COVID-19.
"The whole world wants a diagnostic for COVID. This is a great moment for diagnostics to get a boost."
— Jayasree Iyer, executive director, Access to Medicine Foundation
While Gazelle's impact on these markets still remains to be seen, the company is focused on developing point-of-care diagnostics that are practical for low-resource settings. An approach that is critical not only for sickle cell disease but for a range of global health burdens, including COVID-19, said Hemex Health CEO, Patti White.
Sickle cell disease, which disproportionately affects people of African descent, is usually diagnosed through routine newborn screening tests. Early diagnosis and treatment is critical, because children born with sickle cell disease are at increased risk of a range of health problems.
Over 75% of sickle cell disease births occur in sub-Saharan Africa, where the majority of children born with the disorder die before they reach 5 years old.
Sickle cell disease diagnostics typically requires specialized laboratory equipment, but in many of the areas where the disease is most prevalent, the equipment is too expensive, health workers are not adequately trained, or transport challenges cause delays in test results, meaning the disease goes undiagnosed and untreated.
While a range of companies have worked to develop a point of care diagnostic for sickle cell disease, many have failed to design a device that can distinguish between the genetic trait and the actual disease, and do this successfully in low-resource settings.
White explained that when she initially approached investors about sickle cell disease, many of them responded by saying, "There's no market there."
But as more large organizations like the national institutes of health began to recognize sickle cell disease as a global health priority, White felt more optimistic that she could raise the capital she needed, she told Devex in an interview ahead of the launch of Gazelle.
"To get money, somebody big has to believe it, too," White said.
White, whose team often describes their devices as "optimized for the underserved," said that from the start of the project, the goal was to develop a diagnostic that was affordable, fast, accurate, and easy to use.
"If you're paying for a platform or instrument, you want to leverage it for as many things as possible," she added, referring to the multiple tests included on Gazelle.
The team had to strike a balance between offering versatility, with the option to add on tests, without loading the platform with too much complexity.
Before Hemex Health started the development of Gazelle, with technology licensed from Case Western Reserve University in Cleveland, Ohio, it conducted a multistate research project in India, and collected feedback from health care workers, clinical experts, and purchasing decision-makers.
Clinicians are familiar with electrophoresis, the blood screening technology miniaturized for the Gazelle.
But with AI automating the analysis and interpretation, this platform could be used by health workers of all experience levels, noted Dr. Kavitha Saravu, head of the department of infectious diseases at Kasturba Medical College in Manipal, India.
Get development's most important headlines in your inbox every day.
Thanks for subscribing!
She helped to test a pre-production version of Gazelle during India's last malaria season, putting the technology to work in hot and humid settings, and providing feedback on its performance.
Drawing on feedback from the field, the Hemex Health team made Gazelle compatible with Android cell phone chargers and built-in local and cloud-based digital storage so that clinicians can access records and provide patients with reports for malaria or sickle cell disease during their visits.
Pharmaceutical company Novartis took an immediate interest in Gazelle. Hemex Health was selected for the San Francisco Novartis Biome, part of a global network of innovation hubs that provide startups with onramps to work with the company. And Dr. Patrice Matchaba, Novartis' global head of corporate responsibility, connected the company with key stakeholders in Ghana.
Matchaba leads the pharmaceutical company's work on sickle cell disease, which began in Ghana — where only 4% of babies are tested for the blood disorder — with plans to scale to 10 African countries by 2022.
Due in part to its partnership with Novartis, which helped the organization gain traction in Ghana and a range of other countries where universities, health ministries, and hospitals are testing the product, the Gazelle technology took 4 years from conception to development to introduction.
Many diagnostic products take two or three times that long, or the companies "just run out of steam," said David Bell, adviser to Hemex Health who specializes in innovative global health technologies, and has focused much of his career on malaria diagnostics.
He described the common scenario of diagnostic companies spinning out of universities, generating publicity, absorbing large amounts of grant money, then fading from the headlines.
"They seem to think because they have good technology, and a lot of people are dying of a certain disease, everyone will want their technology," Bell said.
Beyond developing a strong product, diagnostics companies must understand how to navigate the market if their technology will ever make it from the lab to the field, he explained.
"It's a poorly funded market, highly dependent on individual donors and sometimes individual people, it's slow-moving, and understanding that and navigating that is just as important as having the technology," Bell said. "It's unusual to have both in the same place."
As Hemex Health works to develop tests for COVID-19, it is moving from a more neglected area — point of care sickle cell disease diagnostics — to the highly competitive field of coronavirus diagnostics.
Jayasree Iyer, executive director for the Access to Medicine Foundation, said COVID-19 has drawn attention to the need for fair allocation of health products.
"The whole world wants a diagnostic for COVID," she said. "This is a great moment for diagnostics to get a boost."
As biotech companies of all sizes rush to develop tests for the coronavirus, Iyer said she hopes to see them break out of their usual silos, developing point of care diagnostics for a range of diseases, and partnering to get those products to low-income markets.