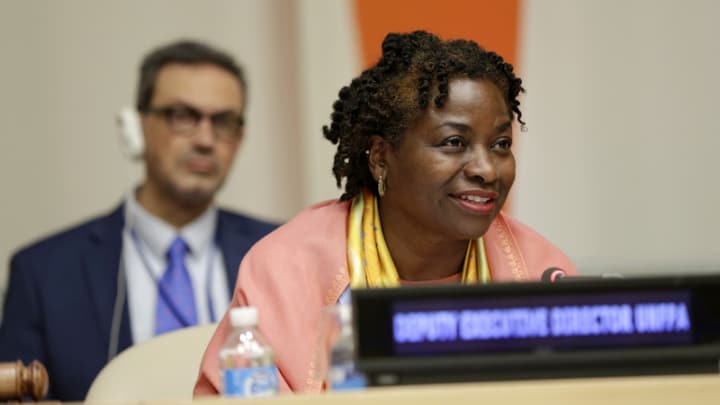 Inaction on the Sustainable Development Goals could have economic consequences that go far beyond the individual targets, according to new findings from the United Nations Population Fund.
The UNFPA, led by its new acting executive director, Natalia Kanem, is driving at the connection between youth engagement — including access to sexual and reproductive health services and employment — and the economic gains developing countries stand to make over the next few decades. The link is highlighted in the new report "Demographic Dividend Atlas for Africa," which Kanem presented earlier this month at the African Union Summit.
In Africa, young people between the ages of 10 and 24 make up a third of the continent's population. And, according to the atlas — which will be available online soon — there's a clear correlation between national wealth and reduced child marriage rates, among other factors.
"Right now, adolescent girls in particular are not able to contribute to a booming economy. Early childbirth is affecting their health and the nutrition of their infants and that has many social consequences."
—
Kanem carried this work and the message of the demographic dividend back to government representatives in New York this week during the United Nations High-Level Political Forum on the SDGs.
Kanem — a pediatrician who assumed her new post in June after the unexpected death of her former boss, Babatunde Osotimehin — sat down with Devex at UNFPA's midtown Manhattan office this week to discuss the organization's new focus and the impact of U.S. funding cuts. The conversation here has been edited for length and clarity.
Can you explain why this concept of the demographic dividend is so important, and how it is influencing the work you are leading with UNFPA?
We currently have 1.8 billion young people, which is the greatest number of young people that the world has ever had. The demographic dividend concept describes the boost in economic growth that society can experience when a well-equipped demographic — in this case young people — has the education and jobs. If you have the same number of young people, but lots of dependents and big families, that is not going to lead to the boost that we are describing.
Typically, countries will benefit when they are equipping young people [with education and skills] and they are also making a transition from having lots of dependents to better family planning. The dependency ratio is a key element of the demographic dividend — that you have fewer dependents per working age population. It all is part of a piece: Better economy, better health, better nutrition, longevity.
Right now, adolescent girls in particular are not able to contribute to a booming economy. Early childbirth is affecting their health and the nutrition of their infants and that has many social consequences. For example, adolescent girls are typically less educated and less able to compete in the economic market.
The linking of adolescent girls' health and economic growth in this way — is that a shift in the way UNFPA is trying to develop its work, or think about its work?
It is an emphasis. I would not say it is a shift because UNFPA, for the longest time, has focused on sexual and reproductive health and rights, and the adolescent girl is at the center of that. In many developing countries, up to 40 or 50 or 60 percent of girls can be married by the age of 18, before they are physically and emotionally ready. That has intergenerational consequences.
That is why it was so heartening to see the African Union and heads of state, one after another, take [the demographic dividend] on as their theme. We do want to prepare our young people. It really liberates the economy and that is the appeal for heads of state.
There have been some U.N. reports this past year that show one of the major things holding back progress on the SDGs is youth unemployment.
Yes. In some places, the youth are equipped [with education and skills], but there are no jobs for them. In more places, there are no jobs, but the youth are also not equipped. It is important to see that all of this has to happen in concert.
Get development's most important headlines in your inbox every day.
Thanks for subscribing!
When are we talking about the demographic dividend, some of it comes down to legislation, such as [adolescent girls and women] having the right to protect themselves from sexually transmitted infections and pregnancy. But the private sector also has a huge role — people who are asking, "Where is our labor market going to come from in Africa?"
In a flagship example, Philips [the electronics company] is partnering with UNFPA in Kenya on a youth skills development lab. That investment by a private company is a signal that they understand the need to equip young people with modern skills.
The digital space is allowing us to leapfrog, so kids can participate. I think the private sector is 90 percent of jobs, and as much as we want government and the public sector to employ people, a lot of these kids are going to have to make their own jobs.
Do you think linking wealth with health data resonates well with countries? Will it lead to changes in the way they work in certain areas?
Some people jumped on this; somebody like the president of Rwanda [Paul Kagame] lept into this. For others, it takes persuasion, for reasons that have nothing to do with what we are talking about. You may choose to use data based on your ideology, or on your need to outnumber the people next door. We are seeing some pronatalist ideology come forward.
We offer the data and we think that if half of your country is suffering from child marriage, there are real consequences in terms of who will live and who will die. It just is a fact that those are linearly correlated.
When you have a [high] child marriage rate, it also means that those kids are not going to school because if you are married at 14, you are going to be a grandmother by the time you are 30, and how many dependents can you really securely feed and send to school in uniform? Society stacks the deck against you when you are a teenage mom. I think this is persuasive.
Can you speak to the impact the U.S. cuts are having on your work? Where are you most feeling the impact of this?
UNFPA assess extent and impact of US cuts
While the funding loss was expected, the Unites Nations' reproductive and sexual health agency is still grappling with how the cuts will play out across its various programs and work worldwide.
As our late executive director said, we really regretted and were disappointed in the U.S. decision. For us, the monetary loss was significant, and a great deal of that money was being applied to our work in humanitarian settings. In Syria, in particular, we are feeling a pinch because we were deploying a lot of money there to protect women and girls who do not wish to be pregnant under those circumstances, or they need the counseling services that UNFPA brokers for sexual and gender-based violence, or family violence. At the Zaatari refugee camp [in Jordan], which the United States helped to fund, we are so proud that we have had 7,400 safe deliveries.
Above and beyond UNFPA, the United States has been a huge contributor to family planning programs. So we understand the curtailment we have fallen into, on both the political and financial spectrums. We hope a reconsideration will be in the cards at some point because they really are so important to the dignity and the solidarity that women and girls around the world feel.
Read more international development news online, and subscribe to The Development Newswire to receive the latest from the world's leading donors and decision-makers — emailed to you free every business day.