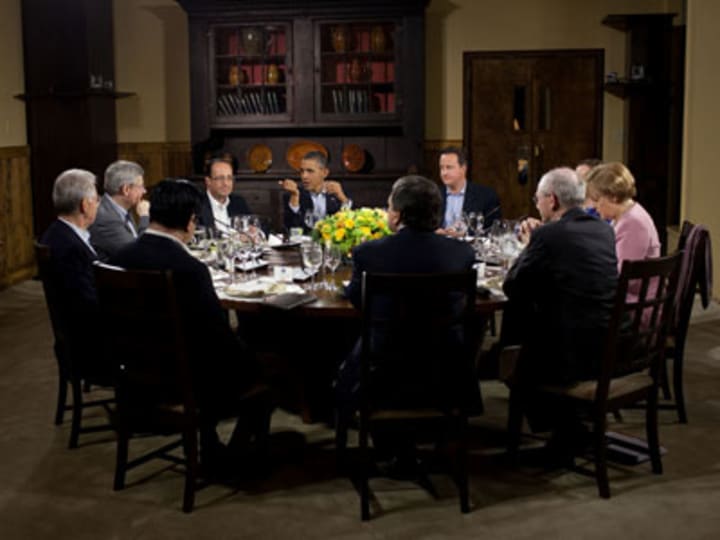 EDITOR'S NOTE: The United Kingdom is set to host the 2014 G8 Summit. Overseas Development Institute Executive Director Kevin Watkins says it is time for the elite club to do something for development that goes beyond the traditional aid agenda, and Great Britain can provide leadership by example.
It's easy to be cynical about G8 summits. But, as David Cameron prepares to host the annual meeting of leaders from the world's richest countries in Lough Erne, Northern Ireland, the British government has a unique opportunity to provide leadership on issues at the heart of global poverty and inequality — and to restore the credibility of the G8 in global economic governance.
Analogies will inevitably be drawn with the last G8 summit to be held in Britain. At Gleneagles, in 2005, development was the agenda. Tony Blair and Gordon Brown secured a pledge to double aid and cancel debt. While the pledge was only partially redeemed, Gleneagles gave a major boost to international efforts aimed at achieving the Millennium Development Goals.
We are not about to witness a Gleneagles moment. Political leaders will arrive in Lough Erne without their checkbooks, and preoccupied by fiscal austerity. The global campaigning on poverty that forced the hand of G8 leaders at Gleneagles has lost its momentum. Meanwhile, the G8 itself is a fading force both economically and politically. With the shift of balance of economic power towards emerging markets, the more disparate and globally representative G20 has emerged as an alternative force in global economic governance.
So why hold out hope that the summit will be anything more than a glorified photo opportunity? For two reasons:
The core agenda provides an opportunity to do something for development that goes far beyond the traditional aid agenda.

As the only G8 country to have reached the 0.7 per cent aid-to-GNP ratio, Britain is well-placed to provide leadership by example.
The core agenda Prime Minister David Cameron has focused on the 'three Ts': trade, tax and transparency. Aside from the annual application of the G8 defibrilator to the long-deceased Doha Round of negotiations, you can park expectations on trade. But on tax and transparency the G8 could help to stem the hemorrhage of financial resources from the poorest countries that occurs through tax avoidance, illicit transfers and outright looting. Success in this area would dwarf any potential increase in aid.
Thanks to the sophisticated tax avoidance strategies of Starbucks, Google, Apple and other multinational companies, there is a strong bi-partisan consensus in the European Union and the United States in favor of tough measures on tax evasion — as well as public demand for action. G8 governments are rightly fearful that the erosion of their tax bases will undermine the social contract between citizens and states.
What is less widely recognised is the harm inflicted on the poorest countries. Trade mispricing — a practice that facilitates the shifting of profits to low-tax jurisdictions — costs developing countries in excess of $550 billion annually, more than five times annual aid flows. For some of the world's poorest countries in Africa and other regions, stemming the losses associated with dubious tax practices would generate far greater increases in revenue than any plausible increase in aid.
Extractive industries, one of the engines of growth in Africa, are particularly susceptible to tax evasion and other illicit activities. The Africa Progress Panel, chaired by former UN Secretary-General Kofi Annan estimated that the Democratic Republic of the Congo has lost $3.4 billion between 2010 and 2012 through the systematic under-valuation of state assets, an amount equivalent to total national spending on health and education combined. All of the deals involved companies and trusts registered in one of the world's most secretive tax jurisdictions (the British Virgin Islands), some of them owned by major multinationals.
This is one area in which G8 governments can make a difference. They could demand at a stroke that all tax jurisdictions meet a new global standard for transparency through open public registries that disclose beneficial ownership of all companies and trusts. They could clamp down on profit shifting and trade mispricing through improved information flows and, where necessary, on taxing multinationals as a single entity. And they could demand that all countries require extractive industries to disclose payments on a project-by-project basis, moving towards the type of global standard created by the Dodd-Frank legislation in the U.S., and similar measures in the EU. The key to success will be rigorous transparency backed by regulatory enforcement applied to all the key players.
Get development's most important headlines in your inbox every day.
Thanks for subscribing!
Beyond tax, the G8 summit will be discussing a wide range of transparency themes. Some of the most important relate to agriculture and food security. Earlier this year, the U.S. followed up on a food-security initiative launched at the last G8 summit, held at Camp David, by launching an Open Agricultural Data Initiative. Meanwhile, Britain has been working with G8 partners to develop an initiative to bring the largely closed world of large-scale land deals in developing countries into the open. The problem is that transparency initiatives are at best weakly linked to wider strategies for building capacity, strengthening the entitlements of marginalized groups, and giving the poor a voice. Information on land deals does not automatically protect communities seeking to protect their livelihoods; and smallholder farmers lacking access to productive resources and infrastructure cannot readily translate new evidence into changed practices.
Leadership by example from Britain
David Cameron is well-placed to guide the G8 towards a compelling agenda for development. In a period of fiscal austerity, and despite opposition in his own party, he has held to the last government's aid commitments: The United Kingdom is the only G8 country to have reached the 0.7 percent aid-to-GNI ratio. His challenge is to persuade other leaders that the credibility of the G8 as a force for global poverty reduction is in the balance.
The starting point for restoring the G8 credentials is real delivery. Over the years since Gleneagles, the G8 has made a number of grandiose commitments on issues ranging from aid, trade, climate change, education, maternal health and child survival. Action has often fallen far short of the promises made. Moreover, with aid levels slipping it is important that Cameron uses the summit to make the case for a renewed effort on development assistance.
Food security should be a focal point for that effort. Later this week the British Prime Minister will co-host with Brazil a high-level meeting that will focus on child malnutrition. The event will bring together governments from developing countries, civil society, donors and companies to build support for ambitious goals and expand the reach of the G8's New Alliance for Food Security and Nutrition. Galvanizing action will require a high order of political leadership and sustained commitment.
One G8 summit is not going to transform the global environment for international cooperation. But, if a group of countries that account for half of world GDP — and over 70 percent of development assistance – is not prepared to lead by example in areas where it can make a difference, what hope is there for an ambitious global agenda for development?
Edited for style and republished with permission from the Overseas Development Institute (ODI). Read the original article.