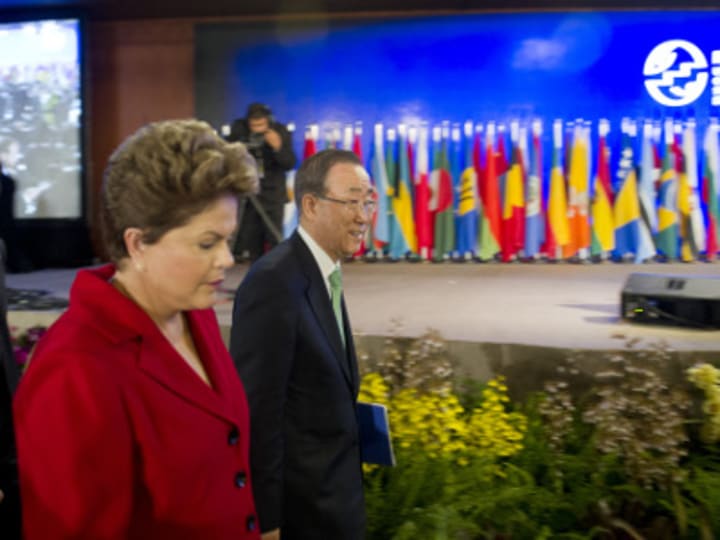 Five hundred and ninety-two government representatives – and thousands of civil society leaders – gathered in Rio de Janeiro last week to craft a global blueprint on sustainable development.
Reactions to the United Nations summit have been mixed. Some have criticized the agreement world leaders signed on Friday as lacking the details and specific targets needed to advance socio-economic growth without compromising the environment. Others have praised it as an important stepping stone toward a more comprehensive, longer-term agreement that is expected to emerge in the coming years.
The summit's outcome document may be lacking in specifics. But public, private and civil society leaders did get more specific on the fringes of Rio+20, announcing hundreds of pledges.
Which government made the most commitments?
Plenty of donors pooled their resources. The largest overall commitment was made under the umbrella of the U.N. Sustainable Energy for All campaign, which has pulled in more than $323 billion to date from a variety of donors. Technically launched in September 2011, governments, corporations, banks, NGOs and even the rock band Linkin Park have registered more than 100 commitments and actions as part of the initiative.
The goals of SE4All are threefold: ensure universal access to modern energy services, double the global rate of improvement in energy efficiency, and double the share of renewable energy in the global mix. As part of the initiative, the United Nations has set a global action agenda that could benefit more than a billion people.
The largest contribution from a single government came from Japan, which announced $6 billion for green economy and disaster reduction. In a speech at the conference, Japanese Foreign Minister Koichiro Gemba recalled the earthquake and tsunami that devastated parts of Japan in March 2011, and emphasized the urgency of creating sustainable and resilient societies. Japan announced it would hold an international conference on urban planning next year on the "future city": resilient to disaster and environmentally sustainable. Half of the $6 billion will help developing countries augment disaster risk reduction over the next three years.
The largest private-sector commitment also came from Asia, namely from the Elion Resources Group in China. The group pledged $1.6 billion to green 10,000 square kilometers of desert by 2022. The commitment will be implemented in partnership with the U.N. Environmental Program. The Elion Resources Group, based in Beijing with projects in Inner Mongolia, operates in energy resources, chemicals and pharmaceuticals. The company website states that Elion has experience addressing desertification by planting licorice, which helps prevent sand from expanding and can be used in traditional medicine. The company also operates a high-end desert tourism industry, Bloomberg reports.
Get development's most important headlines in your inbox every day.
Thanks for subscribing!
China won't be the only surface getting greened: School children the world over committed to planting 100 million trees by 2017. The promise was made by ENO Programme Association of Finland, a global virtual school that has already convinced 7,000 schools in 150 countries to participate. Kids have planted seven million trees since 2004, but in honor of Rio, the association will see them step up their game.
When those kids grow up and go to school, they'll be able to stay focused on sustainability. The greatest number of commitments made at Rio in fact came from schools and universities, with a total of 243 pledges. Many of these were "in-kind," with schools creating degree programs, creating on-campus "eco representatives" or reducing the school's ecological footprint. The Higher Education Sustainability Initiative is grouping these efforts of universities across the globe towards sustainability.
Learning institutions out-committed governments and NGOs by far. Governments only made 50 pledges, representing a mere seven percent of the overall tally. Outside of the SE4All commitments, the only developed countries to make additional promises were Japan, the Netherlands and Lichtenstein, according to the conference organizers.
Donor money will of course be used to further many of the announced initiatives over the coming years. And we can't assume that the number of commitments is a fair representation of a country's support for the sustainable development goals. The U.S. endorsement of SE4All, for instance, can be seen as a significant step in itself. But if this were a counting game, an underdog government might win: Mauritius made the most commitments out of any country present, with ten on the books.
Mauritius committed to reducing its greenhouse gas emissions by 300,000 tons by 2020, increase the share of renewable energy to around 35 percent by 2025, and develop national water resources to ensure an uninterrupted supply of potable water for everyone by 2050. It also pledged to increase its forest tree cover, and declare at least a quarter of its land as protected areas, among other deliverables. Many of the commitments were directly aimed at bolstering the Mauritian economy at the same time.