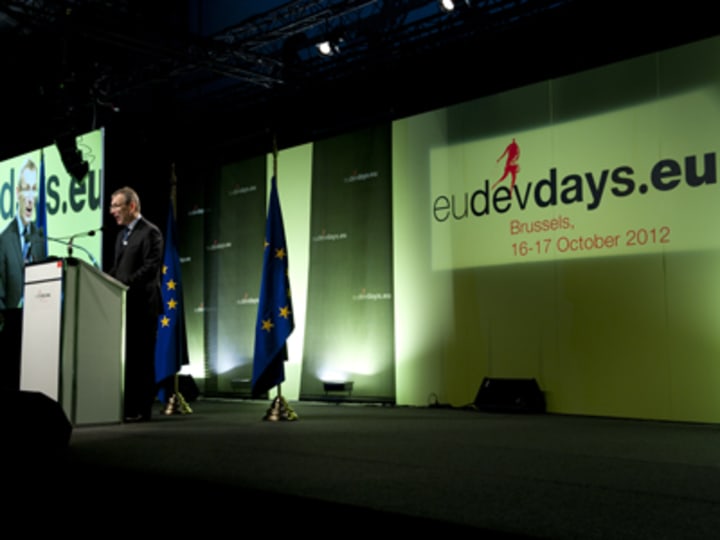 EU officials pledging to tie emergency relief more closely to long-term development assistance. A call for a "vulnerability-based" approach to foreign aid. One aid minister speaking out in support of European funding targets that are now under threat by budget-conscious politicians.
These were just some of my impressions from this year's European Development Days, which took place in Brussels this week. Europe's largest gathering of aid experts and officials, hosted by the European Commission, focused on inclusive growth, resilience and private sector engagement. But while many discussions stayed at the high level, there was also a spirit of departure, or renewal — a focus on new partnerships and innovative financing of anti-poverty solutions.
Devex was in the middle of it all, as official media partner, video-taping conversations with more than 50 international leaders about everything from impact investing to the use of biofuels, from China's role in development to lessons learned from Somalia's development challenges.
Christian Friis Bach, the Danish minister, spoke with Devex President Raj Kumar about his vision for development cooperation. Peter Burian of the Slovak Republic and Božo Cerar of Slovenia, both state secretaries in their countries' foreign affairs ministries, discussed the modest aid programs they manage. We sat down with EuropeAid officials and members of the European Parliament, NGO executives and advocates, multilateral and business leaders, from Father Oreste Incimatata, secretary-general of Caritas Rwanda, to Brian Bieron, eBay senior director of global public policy.
Nancy Lindborg, assistant administrator and a rising star within the U.S. Agency for International Development, was one of many conference participants to buzz about resilience; we asked how to increase it, especially in crisis-prone regions.
Get development's most important headlines in your inbox every day.
Thanks for subscribing!
Andris Piebalgs, the European commissioner for development, and Kristalina Georgieva, the European commissioner for international cooperation, humanitarian aid and crisis response, were omnipresent, mingling and stressing the need to speed up relief to development.
"Disasters bark, preparedness is the dog that doesn't bark," Georgieva said. How can the dog be made to bark? By bringing the development and humanitarian community together.
EDD12 won't dissuade those who have been speculating about a possible merger of the European Commission's development and humanitarian arms, DG DEVCO and ECHO.
We spoke with many participants about the challenges and opportunities in engaging the private sector in development cooperation, searching for a win-win situation that increases business while advancing social good. For us, these conversations brought home the need for a space like Devex Impact, a joint initiative with USAID that we'll be launching in the coming weeks to facilitate public-private partnerships.
Many of the conversations we led at the European Development Days will be featured on the Devex website in the coming days, so watch this space — and if you´d like to learn more about Devex Impact, email us.
For our full coverage of this year's European Development Days, check our EDD12 topic page.