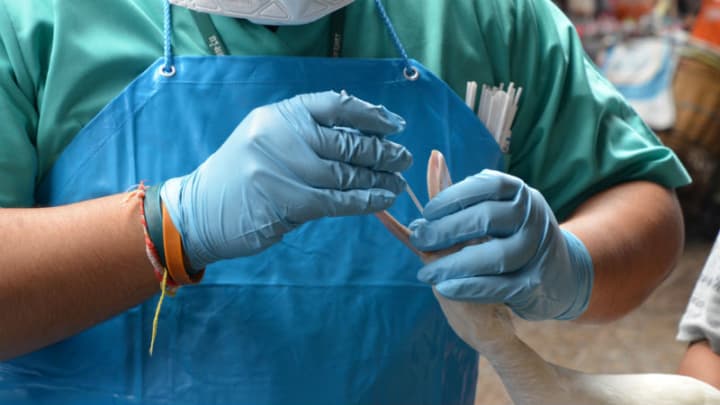 LONDON – A little more than fifteen years ago, at a particularly dire moment in the AIDS epidemic, the global health community found an unlikely, but effective fundraiser: the United States Central Intelligence Agency.
"In some places [HIV/AIDS had] become so prevalent that it was destabilizing," Richard Hatchett, former deputy director of the U.S. Biomedical Advanced Research and Development Authority and current CEO of CEPI told Devex at a global health roundtable in Berlin, Germany earlier this year. "So, the CIA famously declared HIV a security threat."
"These diseases clearly disrupt economies, disrupt societies, particularly in regions where they have fragile infrastructure to begin with, so it's not a hard case to make, but that was not the kind of argument about security that traditional security specialists were used to hearing," he said.
By declaring HIV a security threat, the U.S. government was able to secure the "stability of funding" the global health community had failed to harness, Hatchett said. 
"When national security comes along, it almost becomes non-discretionary," he said. "It was kind of radical at the time."
Since then, cross-government cooperation on global health threats has become more common. The U.S. government deployed similar arguments to fund research into Ebola, avian influenza, Middle East Respiratory Syndrome, or MERS, and others. Just this week, the governments of Russia, Lithuania and Poland, together with European Union member states, began grappling with how best to contain and fund research about African Swine Fever, which is now infecting European farmers' livestock. Agencies including the World Health Organization and the Centers for Disease Control work more closely with regulatory bodies and security and military functions on current and potential global health threats than ever before. And yet, many in the global health field argue that progress toward a more vigilant global health ecosystem still hasn't come to grips with a crucial common denominator: animal health.
Around 70 percent of all infectious diseases are zoonotic, moving from animals — usually livestock — to humans, through either contact or the consumption of animal products and by-products. The International Food and Livestock Research Institute estimates that 2.7 million people die from zoonotic diseases each year, while approximately 2.5 billion people get sick. To offer some sense of scale, a recent study led by Lawrence Summers, former treasury secretary and former director of the National Economic Council at the White House, estimated that the costs of pandemic diseases — nearly all of which begin in animals — fall in the same range as those expected by climate change-related disasters.
"And yet only 4.5 percent of development money, of aid, goes to agriculture," Carel du Marchie Sarvaas, executive director of the International Federation for Animal Health — the global trade association for leading animal pharmaceutical health companies — told Devex. "Organizations like [the Bill & Melinda Gates Foundation] know it should be a lot higher; they've set the bar at 20 percent themselves [for agriculture], and they reached it last year."
Other aid donors and investors are beginning to pick up the pace, but Delia Grace, joint program manager of animal and human health at International Livestock Research Institute told Devex that a concerted effort to monitor, prevent and contain infectious disease isn't really materializing — despite the widely accepted threat posed by zoonotic-borne disease.
"Those who do prioritization of what they call 'existential threats,' so threats that could knock civilization as a whole back, put toward the top things like nuclear war, being hit by an asteroid, massive global terrorism, and out-of-control climate change up among those top 10 threats to humanity: people are very aware that one of those is plagues, which historically are zoonoses," Grace said. "But in terms of investments, if you look at what is invested in climate change, it is orders of magnitude greater than what is invested in emerging infectious diseases."
Du Marchie Sarvaas told Devex that investment in animal health is "extremely low" compared to humans.
"The animal pharmaceutical industry is about 2.5 percent of the human pharmaceutical industry. It's extremely low, especially when you realize how many global health challenges come from animals," he said.
One could argue the exception is for what's known as the "big three" infectious diseases: malaria, HIV/AIDS and tuberculosis. While there's still more to be understood about these diseases, and decades more work needed to curb resistance and contain the diseases, Grace said for the most part, the worst damage done by the big three is behind us, and it's time to think about what comes next.
"HIV is what you might call an 'ex-emerging infectious disease,' so investing in HIV now will not reduce the threat, though it does a very good thing: it helps people suffering and reduces transmission, but I wouldn't call that an investment in emerging infectious disease," she said.
A different kind of threat
The nature of the threat is changing, Grace explained, and largely, this is good news. Loss of life due to what Grace called the "classic" neglected infectious diseases, including tuberculosis, Cysticercosis, pig-transmitted tapeworm, Brucellosis and others, is flatlining, and in some cases declining.
"These are the diseases associated with severe neglect and poverty, and research shows these diseases are declining as health systems improve, as access to clean water improves, people are in less close contact with animals and their wastes, they get better housing, and as a result other diseases, malaria, TB, they're all declining too," Grace said. "These diseases are, we hope, diseases of the past. In some communities they persist or get worse, but the global trend is clear: these diseases of poverty and isolation are declining."
At the same time, Grace said, a new category of infectious diseases is thriving. Amid mostly stabilizing population growth, declining poverty, rising urbanization and emerging economic wealth, other zoonotic, largely foodborne diseases are emerging more quickly, keeping pace with human progress.
As increasing wealth and urbanization changes people's food demands, consumption of fruits, vegetables and animal-sourced food goes up, Grace explained. To meet the rising demand, intensive farming -- meaning large numbers of animals are kept in close quarters -- of poultry, pork, fish and dairy also increases.
"These conditions are ideal for spreading disease among animals, so basically it is we who are creating the foodborne disease by our intensive agricultural systems," she said.
The same is true of antimicrobial resistance, Grace noted, a result of over-exposing livestock to antibiotics, which encourages diseases to evolve and develop resistance.
"It is we who are creating this by giving antimicrobials to animals in order to increase their production," she said.
At the same time, increased mobility — including regional migration and international travel as well as expanding trade — means tastes are growing more diverse and agricultural trade is exploding, often beyond legal channels.
Get development's most important headlines in your inbox every day.
Thanks for subscribing!
"In many countries in Africa, for example, more than half the agricultural trade is illegal and goes through porous borders, there isn't inspection and it's often fostered by systems where there is low governance or corruption," Grace said, made worse by many governments' tendency to try to generate much needed revenue through fees and taxes, creating perverse incentives for people to trade illegally.
While ILRI and other international bodies are aware of the problem, she said "authorities really know very very little about the health aspects of this illegal trade — it's a huge unknown area."
One classic example of the dangers of unregulated agricultural trade is bushmeat, which "carries a non-negligible risk of bringing about another HIV/AIDS, Spanish flu, or plague that will kill tens of millions," Grace said.
"While we're getting rid of conditions that bring about some diseases, we're also creating the conditions to give rise to new diseases or make other diseases worse," she said.
Weapons of mass desolation
While diseases of poverty are on the decline, people in least developed countries continue to rely heavily on agriculture, largely livestock, for trade and in many cases subsistence. Their often sole dependence on live animals means their livelihoods are more vulnerable to shocks such as climate change-related events, which frequently give rise to devastating pestilence and disease. Organizations like Heifer International and others continue to stress the importance of health for animals as a means to human prosperity, but investments in animal health still tend to languish as a subcategory of agriculture development, which received only 4.5 percent of aid flows in 2016, and declined in sub-Saharan Africa, according to Organisation for Economic Co-operation and Development figures.
ILRI and others stress the importance of animal health not only as a pathway out of poverty, but as a global security concern. But how do you generate interest among global development stakeholders in diseases that destroy communities and kill and displace thousands of people, without infecting a single human? ILRI is taking matters into its own hands, and Grace points to the linkages between animal health and climate change as another important concern for global security. For example, ILRI is rolling out new satellite technology to help track the impact of climate-related shocks on livestock health, hoping to track vector-borne diseases that come about after heavy flooding, for example.
"One of the diseases we work on, Rift Valley Fever, tends to occur when you get a surge in an insect vector population, and that's driven by unusually heavy rainfall in arid areas," she said.
ILRI has found that Rift Valley Fever is driven by El Niño-related events, which can be predicted to some extent by satellite data.
"There are a lot of climate-sensitive diseases and the utilization of these data can help us form risk maps, showing now where is the problem, and where is the new problem, where are the diseases that, as temperature changes, are going to jump?"
Nature abhors a vacuum, Grace explained, so climate-based predictive technology that could potentially see 10-15 years into the future might allow scientists to foresee "jumping" zoonoses, many of which are vector-borne, or driven by climate-sensitive insects.
The same findings, she pointed out, could be used for identifying and defending against potential weapons of bioterrorism. She explained that attackers wouldn't necessarily need to harness a disease that targets humans in order to wipe out whole communities. The U.K. Department for Environment, Food and Rural Affairs recently eradicated rinderpest — only the second disease to be eradicated after smallpox — which "if anybody had stocks of this or could revive it, all livestock are naive to it so it kills like the Black Death, just killed everything in front of it, so introducing a disease like that to any economy where cattle are important would have terrible effects," Grace said.
Another, more holistic solution is emerging from the World Bank. The "One Health" movement surfaced over a decade ago as two separate movements, "One Health" and "Equal Health." One Health sought to install basic zoonotic health provisions and monitoring in every development intervention, and emerged from efforts to tackle diseases in South Asia, namely bird flu and SARS. Equal Health came from concerns about the impacts of the medical and pharmaceutical industries on the environment in Latin America, for example mercury leakage in waterways. Now generally branded "One Health," the movement merged on the premise that the health of humans, animals and the planet are closely interdependent, and that mankind can't attain the health of any one without thinking about the health of the others.
For example, the typical response to rabies is to administer an antidote after exposure, but the cost of this is extremely high, it doesn't always work, and rabies continues to kill about 70,000 people annually. The "One Health" approach would focus not on the human victim, but on the animal "reservoir," trying to instead to eliminate or manage the disease in dogs or bats.
"In Kenya it costs about $0.57 to vaccinate a dog against rabies, and costs $75 for a full treatment of a person infected with rabies, which is about a month's wage," Du Marchie Sarvaas told Devex.
"By tackling these further towards the root, it's both more cost effective and more efficient and has more impact — fewer human deaths — than focusing purely on the human health," Grace said.
The World Bank, in a few pilot programs, has begun to operationalize the concept, which Grace called a "very interesting experiment to address complicated problems that occur at the intersection of health, security and the environment."
The Gates Foundation is also investing in a more holistic approach to zoonoses, and rolled out its first zoonotic focused project working on foodborne illness, in collaboration with ILRI.
"Gates [Foundation] looks at in three buckets, one is, people in the least developed countries are dependent on animals, so if their cow gets sick and dies, that's their income," du Marchie Sarvaas said. "Two, it's like a store of value, you can sell animals to pay for other things if you need to, so this is an investment. And the third bucket is the disease aspect: that animal can get sick and if they get sick, they are in many ways, a liability."
Examining how global health affects security and vice versa, Devex, PATH, and Johnson & Johnson look at how country governments, donors, foundations, the private sector, and civil society can better respond to and anticipate threats, asking whether increased investment in global health security is critical to the security of all countries. Join our conversation on preparing for the unexpected by visiting the From Healthy to Secure site and tagging #Health4Security and @Devex on social media.