What does a healthy relationship look like? Open communication, trust, working toward common goals — and it turns out these are not just needed in personal relationships, but for cross-sector development partnerships as well.
The little research that has been done on relationship health between partners demonstrates its importance to achieving desired results. For example, a 2007 study in the Harvard Business Review noted that cultivating a strong relationship, embracing differences and behaving collaboratively can dramatically increase the likelihood that a partnership's end goals will be achieved. Relationship frameworks such as "The Partnership Toolbox" identified many factors as important to relationship health, including alignment, trust, commitment, mutuality, performance, and efficiency. Yet these studies did not determine if one factor was more critical than another, or what partners could do to improve these factors.
At the U.S. Agency for International Development, we "partner to end extreme poverty." Our recent research suggests that improving relationships with our private sector partners can also improve performance and thus development impact.
To better understand what aspects of our relationships with these partners drive development results, USAID conducted a study with Dalberg Global Development Advisors in which we surveyed both USAID and private sector leaders of 100 of our active partnerships in 2014. We identified five key findings about why relationship health is important to the success of our partnerships, what factors are most important during different partnership stages and how these factors influence and support relationship health.
1. Healthy relationships improve performance.
The survey revealed that those satisfied in their relationships with partners were significantly more likely to view the partnership's progress as meeting or exceeding expectations. This effect grew as the quality of the relationship grew, meaning that incremental improvements in relationship health were linked with incremental improvements in performance.
2. Early-stage partnerships need alignment and commitment, while implementation requires trust.
In early-stage partnerships aligning understanding of objectives, clear cultural expectations between partners and a joint commitment to goals are key to beginning a healthy relationship. Additionally, commitment at both the executive and staff levels provide an incentive for all sides to buy into the partnership and champion its success. This focus on alignment and commitment in the early stages helps partners overcome obstacles that may derail new relationships.
Once a partnership is off the ground, trust is essential to relationship health, becoming increasingly crucial during the implementation of a partnership. A trusting day-to-day relationship ensures those engaged in the work can address challenges and obstacles to sustain progress.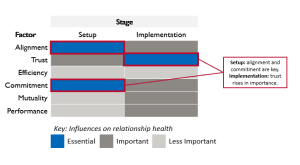 3. Strategic partnerships rely on trust, while shared value partnerships need alignment.
Strategically aligned partnerships — alliances focused on improving societal or environmental conditions in which business and development organizations operate — require strong trust between partners. In fact, trust was 30 percent more critical to these kinds of partnership than the second most highly rated factor, commitment. Because strategic associations tend to be broader, more flexible in scope, last longer and involve more partners, they may require higher levels of interpersonal trust.
On the other hand, the health of shared value partnerships — intentional investments into societal issues that strengthen a company's competitive advantage and potential for profit — rely more heavily on alignment of interests, goals and objectives, with respondents again rating it 30 percent higher than commitment, the second most highly rated factor. These partnerships often require shared decision-making and close coordination in the development of project scope, inputs, outputs, and outcomes of project activities.
4. Established norms, and proactive communication support relationship health.
Get development's most important headlines in your inbox every day.
Thanks for subscribing!
We found the establishment of agreed-upon operating norms — for example, how decisions are made and what milestones will be measured — to be important actions in supporting relationship health. Almost all respondents said alignment in partnership objectives and mechanisms is critical before any progress can be made.
Many partners also identified proactive communication as the foundation of trust. Both private and public sector survey participants noted that open, candid communication is particularly important as it helps to avoid unnecessary work and maintains consistent, high levels of trust between partners.
5. Addressing partnership pain points is critical to success.
While our research identified essential factors for relationship health, it also highlighted specific pain points in working relationships: staff transitions, a lack of experience or understanding about how the other sector works and misaligned expectations.
Both USAID and private sector partners noted staff transitions as the most pressing challenge, agreeing that transitions can derail partnership progress and hinder relationship health. Creating "point of contact" teams, as opposed to relying on one individual, has proven helpful in addressing inevitable staffing transitions during the course of a joint project. Developing written primers on the partner organizations can also help ease personnel transitions.
Private sector partners unfamiliar with USAID or the U.S. government found it difficult to jointly develop a venture or get a partnership off the ground. Orientations for new private sector counterparts may help educate partners about policies, language and procedures, encouraging mutual understanding from the outset.
Finally, partners who feel that they have misaligned expectations — that decisions are not being made fairly or resources are not being invested proportionally — should hold those difficult conversations early in the process and build partnership pathways that outline how collaboration can and should evolve. This establishes trust from the start and sets the tone for the partnership's success going forward.
What's next?
Investing in the health of a partnership is valuable, but it is not often prioritized. USAID is actively working to improve the relationship health of its partnerships by supporting partnership relationship managers and prioritizing the "felt experience" of its partners. We are looking to create a relationship health pulse check tool for use by USAID staff overseeing a partnership with the private sector that would encourage regular reflection on relationship health and suggest actions to improve the performance of that relationship depending on the type of partnership and project stage.
By better understanding the importance of the experience of our private sector partners — and identifying the actions that create thoughtful, trusting engagements — we believe we can harness the critical and unique capabilities of these partners to address our most pressing challenges and achieve critical development impact.
Do you have thoughts on how to improve relationship health? Lessons learned from your own experiences? Please leave a comment below.
Join Devex to network with peers, discover talent and forge new partnerships in international development — it's free. Then sign up for the Devex Impact newsletter to receive cutting-edge news and analysis at the intersection of business and development.