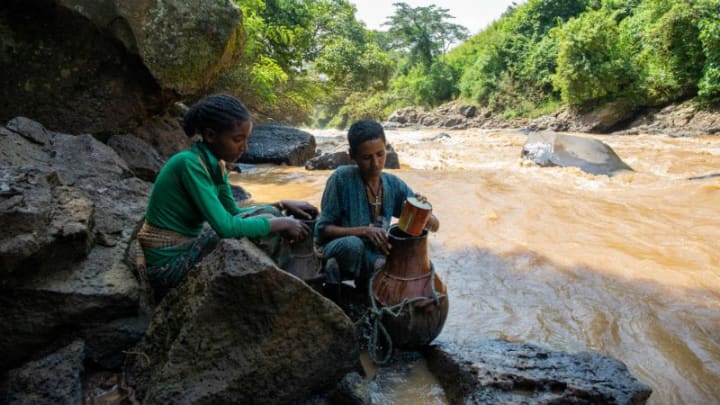 BARCELONA — Countries with the lowest levels of water access receive as little as 17 cents per person per year in climate finance for water service adaptation, according to a new report by WaterAid, which said that amount should be 10 times higher since improved access to clean water is a vital defense against the impacts of climate change.
"Climate change is water change," said Jonathan Farr, senior policy analyst at WaterAid. "Water, sanitation, and hygiene, in and of itself, needs protection from climate change. … Without basic services, you can't be resilient to anything."
Today, 2.2 billion people don't have a reliable and safe water service, with droughts, sea level rises, floods, and storms further jeopardizing accessibility. Only 5% of climate finance is spent on adaptation to safeguard such services, according to Climate Policy Initiative.
The WaterAid report, titled "Short-Changed on Climate Change: Money, Water and the People on the Frontline," found that the 10 countries with the lowest levels of water access receive less than $2.37 per person per year in climate finance for improved water access. It also found that some of the countries most vulnerable to climate change get the lowest levels of climate financing in general — as low as $1.17 and $1.33 per person per year for Yemen and Sudan, respectively.
Keely Noiles, project coordinator at Ryan's Well Foundation — an organization providing sustainable solutions to the water crisis in Uganda, Ghana, and Mexico — said she wasn't surprised Uganda received so little funding, adding that many working on water access and wells in the country had already begun digging them deeper to avoid the risk of drying out.
"Water, sanitation, and hygiene, in and of itself, needs protection from climate change. … Without basic services, you can't be resilient to anything."
— Jonathan Farr, senior policy analyst, WaterAid
But a low level of adaptation finance does not necessarily mean that the level is insufficient, according to Xavier Leflaive, chief water analyst at the Organisation for Economic Co-operation and Development. "Countries that mal-adapt are likely to spend more than countries that adapt properly," he said in an email.
Farr, who said climate-resilient WASH projects are "chronically underfunded," blames low levels of adaptation finance in general and the absence of established best practices for climate-resilient WASH. The different approaches needed — due to the differing contexts and levels of water access — make it difficult to develop a template that would attract regular finance, he said. "Generally, investors like to invest in what works. … That becomes a self-fulfilling problem because if the money is not getting through, climate-resilient water projects aren't being developed, best practices aren't being developed, and investors don't have the confidence they need."
Get development's most important headlines in your inbox every day.
Thanks for subscribing!
Another barrier is that climate funders often set criteria — such as an aim to reduce carbon — that a WASH project can't meet, said Farr, adding that "it's much harder to gather evidence of something you're trying to avoid happening," such as the negative impact of flooding on drinking water.
The Green Climate Fund has so far committed $5.4 billion in climate finance, $1.4 billion of which is for adaptation projects.
Farr said low-income countries should demand more money from members of the international community and make clear that water is a priority for them. "They need to own their commitments under the SDGs to deliver water to everyone everywhere by 2030, and to meet the sustainable part of that, they need to make sure it's resistant to climate change," he said.
But Noiles said that given corruption concerns — referring specifically to those in Uganda — she would recommend donors fund nongovernmental organizations rather than governments. "I'm not saying they're purposely neglecting a large portion of their population, because they do recognize access to safe water and sanitation as a priority for their 2020 goals. However, what they say and what you see in the country isn't in cohesion," she said.
Eddie Martin, founder of Myra's Wells, which provides clean water in Burkina Faso, agreed. "If I was in control of Burkina Faso's water, I would direct finance to agencies like ourselves who can operate to a tight budget to provide a high-quality well where it is most needed."
He said that in Burkina Faso — where 52% of people lack access to water close to home and the government receives about $1.94 per person per year in climate financing — there is little to no infrastructure to enable water distribution. "The cost of that is unimaginable," Martin said, adding that the government should be more proactive in liaising with other agencies that want to help.
According to Leflaive, the most cost-effective method of increasing water access to a safe water supply and sanitation in urban environments is a connection to a public water system. "If the cost of connection is too high for poor households, targeted social measures can help. In rural environments, small scale distributed systems can be less costly than pipes and networks."