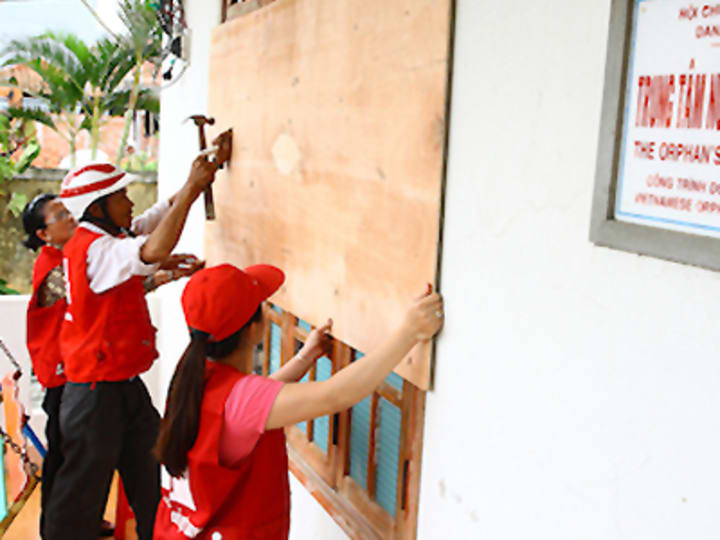 This is a joint post with Doan Van Thai, vice president and secretary-general of the Vietnam Red Cross.
Vietnam had a lucky escape as Typhoon Haiyan weakened after having smashed through several cities in the Philippines and merely grazed the country.
But for 88 million Vietnamese, the storm is just the latest climate-related phenomenon that highlights the vulnerabilities of many communities, and we would like to share ways donors can address these weaknesses.  
Vietnam is a country of increasing economic prosperity, with its gross domestic product growing at an annual average of 7.3 percent over the last few decades. But these statistics mean little to a family with a unsellable crop after Typhoon Wutip destroyed their rice fields barely six weeks ago.
This story — just one of many from families being helped by the Vietnam Red Cross following that calamity in October — demonstrate how easily a population pulling its way out of hardship can be plunged back into poverty by the force of a single weather disturbance.
More typhoons and other natural disasters will inevitably affect Vietnam, and though economic progress is being made, we must not be complacent and assume the authorities will be able to cope with the multiple natural emergencies that strike the country each year.
As human beings, we cannot fail to be touched by the immediate suffering of others. The outpouring of sympathy and donations to the victims of Haiyan in the Philippines is a clear reflection of our collective conscience. But we also need to see beyond the media spotlight of the crisis and ensure that the urgent needs of other disaster-prone countries, such as Vietnam, do not fade into the shadows.
Calling donors  
Donor agencies, governments and humanitarian agencies are in a privileged position to help families like the one that lost their rice crop to pick up the pieces of their lives and begin — again — to improve them. Sometimes, though, seeing beyond the big crisis is hard.
Get development's most important headlines in your inbox every day.
Thanks for subscribing!
Alarmingly, the current emergency appeal launched on October 7 by the International Federation of Red Cross and Red Crescent Societies to support the immediate needs of thousands of people dealing with the aftermath of Wutip is only 37 per cent funded. More has to be done. A financially secure foundation is necessary for humanitarian organizations like the Vietnam Red Cross to react not only at the start of an emergency.
The collective suffering of communities hit by successive, small disasters must not be forgotten by the international media, governments and aid groups, which tend to mobilize in force for super-storms and major catastrophes.
A long-term vision — one that enhances the resilience of communities to withstand multiple typhoons each year — is what will truly make a difference.
The strategic shift from emergency assistance to development aid is rational and responsible, but it must be managed in such a way the victims are not ignored. Resilience here is our guide and our aim.
Providing assistance right now gives us the chance not just to make desperate lives more comfortable, but also to create the conditions under which the next storm, the next flood will be just a drama rather than a catastrophe.
To make these things happen, we need serious, sustained investment in both immediate need and long-term risk reduction. It's time that vulnerable communities had something more than a small plot of land which can be ruined in minutes, to rely on when nature transforms from a source of life to something that you run from.
Join the Devex community and gain access to more in-depth analysis, breaking news and business advice — and a host of other services — on international development, humanitarian aid and global health.