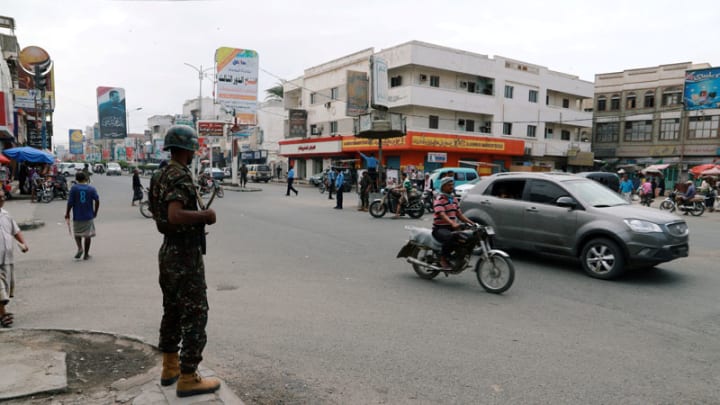 WASHINGTON — The World Bank is currently in the consultation phase of a new strategy for fragility, conflict, and violence, which officials hope will help the institution enter conflict-affected areas earlier and with a better understanding of how security and development intersect.
The development of the new strategy could represent another step for the institution into protracted crises where early investments must contend with issues of politics, risk, and instability that the bank was not historically created to deal with, according to those working on the effort.
"We actually need to work much more on this nexus between security, development, peace, and humanitarian."
— Alexandre Marc, chief technical specialist for fragility conflict and violence, World Bank
"This is not a matter of ... designing a financing instrument. It's the way we understand the development philosophy for those situations, our delivery model, the staffing we need, the way we engage with the government sometimes, or not with government — nonstate actors, working with local bodies," said Saroj Kumar Jha, the bank's regional director for the Mashreq Department, which includes Lebanon, Iraq, Syria, Jordan and Iran.
"This is a different world, and I think our upcoming FCV strategy that the World Bank is putting together, that perhaps will take us to the next level," Jha said.
When the World Bank was established after the World War II, its mandate was specifically to avoid politics and conflict as it pursued development, said Alexandre Marc, the bank's chief technical specialist for fragility conflict and violence.
"The idea that you can resolve the problem of development through technical solutions, and that the [United Nations] can resolve them through political solutions was very much at the center of things. We are starting to realize that we have to be much more holistic in the way we approach things," Marc said.
Part of that realization is driven by numbers.
One of the bank's twin goals is to eliminate extreme poverty. Roughly 2 billion people live in countries affected by fragility, conflict, and violence, and extreme poverty is increasingly concentrated in these places. Former president Jim Kim is credited with ushering the bank into a larger role in protracted crises, including through the establishment of a financing facility for countries hosting large numbers of refugees.
"If the World Bank is true to its vision — and I think they will [be], including the new president — it's about extreme poverty," said Yves Daccord, director general of the International Committee of the Red Cross.
"Extreme poverty doesn't happen only in conflict, but all the projections, all the figures show that if there is nothing done, 50 percent of extreme poverty in 2030 will be in conflict areas," he said.
The World Bank's shareholders have also told the institution they want a larger share of its portfolio dedicated to fragile states. During the 2016 replenishment of the International Development Association, the bank's fund for least developed countries, the institution committed to double IDA's resources for fragile and conflict-affected states.
As a condition of the World Bank's $13 billion capital increase last year, the International Finance Corp., the bank's private sector arm, is required to channel 40 percent of its investments to least developed countries and fragile states.
Get development's most important headlines in your inbox every day.
Thanks for subscribing!
"We actually need to work much more on this nexus between security, development, peace, and humanitarian ... And that is very complicated for us. We have a mandate issue. We have all sorts of internal organization [issues]. We also have a culture issue, because our staff are not always used to know[ing] what is the famous peacebuilding toolkit," Marc said.
"It does not mean that the World Bank has to do all that. It means that the World Bank has to be very cognizant about how others work, and about how we can work in tandem with them," he said.
In recent years, humanitarian organizations that work in conflict areas have struggled with conflicting messages from the world's biggest donors.
On one hand, the international community wants to see more early engagement in conflict-affected states. On the other hand, these same donor countries are so consumed by national security concerns and the risk that assistance might inadvertently support terrorist groups, that they make it extremely difficult to implement programs in unstable environments.
"When you start to zoom in, there is such an obsession about security and terrorism that the environment in which you will be able to operate is much more difficult than even a year ago," Daccord said.
Some hope that the World Bank could provide a more impartial option for delivering development projects in the midst of highly politicized situations, if it can figure out a model that works.
That will require coming up with a strategy and implementation plans that "give insurance that in a conflict you can spend money, and it's well spent, and we can report about it, and there's a high level of compliance," Daccord said.
According to bank officials, the institution is increasingly looking at ways to engage with security forces.
"They provide you the access and support, but they also are the ones who engage early on with the humanitarian, and most importantly, the stabilization phase. If you're able to connect the two better, it provides a seamless kind of transition from humanitarian to stabilization to development agenda," Jha said.
"That's something which will definitely be as part of our new thinking … In Iraq, for example, we work with stabilization people, we work with security actors. We're learning quite a few things in terms of how we can do a better job — in many other countries of Africa as well," he said.