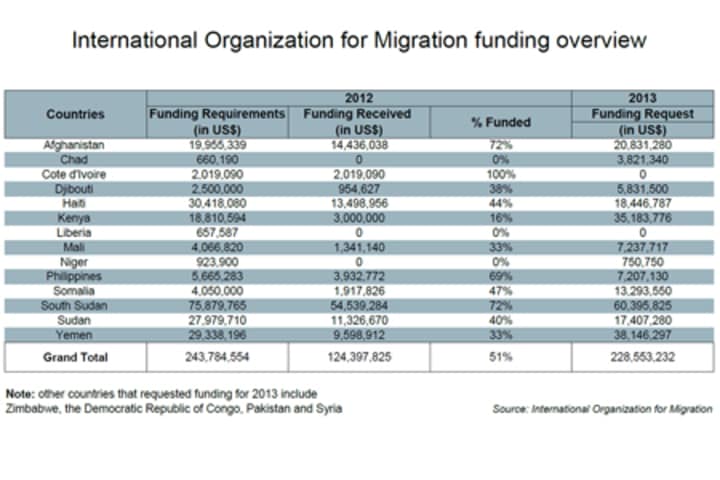 The International Organization for Migration engages in some of the toughest challenges of our time, and yet donors haven't been that kind. Now the agency has launched a $303 million appeal to fund this year's programs.
The funding plea announced Jan. 22 as part of IOM's Humanitarian Compendium 2013 covers not only the implementation of new priorities but also seeks to bridge a 50 percent funding gap from last year.
New on the list of top IOM priorities this year are Syria with a $35. 6 million request, the Democratic Republic of Congo ($16 million), Zimbabwe ($12 million) and Pakistan ($10 million). A few other interesting takeaways:
Afghanistan was one of the most generously funded countries last year, as it received almost three quarters its request – its 2013 funding request of $20.8 million is similar to last year's.

Chad's $3.8 million appeal for 2013 is almost 6 times more than its modest request last year, which was met with a frown by the donor community – not a good sign.

IOM did not issue a new appeal for Cote d'Ivoire after its 2012 appeal of $2 million was fully funded.

The appeal for Djibouti more than doubled this year to $5.8 million following a 62 percent funding gap in 2012.

Haiti was the second biggest hotspot for IOM last year, but the country's 2012 requirement was less than half funded; at $18 million, this year's request is significantly lower.

Kenya is holding elections this year, and IOM is asking for $35 million, almost twice as much as its previous appeal, which was only 16 percent funded, amounting to the second-highest funding gap in 2012.

No new appeal by Liberia even though its $657,587 requirement last year – the smallest listed by IOM – was not met at all.

Mali was also among the countries with the widest funding gap last year; IOM's $7 million appeal for this year is almost double.

Niger's 2013 appeal of $750,750, the smallest amount on IOM's list, is a tad lower than its 2012 requirement, which was also neglected by donors.

ThePhilippines' funding requirements, now at $7 million, increased as well; it was among the most successful appeals last year.

Somalia's $13 million appeal tripled from last year, perhaps a sign of optimism for a country whose new government has been making the rounds with major donors like the World Bank and United States lately.

South Sudan's requirement dropped to $60 million this year from $75.8 million in 2012, but it remains the country with the largest appeal, by far.

IOM's appeal for the troubled Sudan decreased to $17 million this year; its 2012 appeals was one of the largest, yet also most underfunded ones.

After a wide funding gap of 67 percent in 2012, Yemen's appeal increased to $38 million which, same as last year, is the second largest by IOM.
Apart from humanitarian aid, recovery and post-crisis assistance, the compendium also highlights IOM's other priorities for this year, such as addressing human trafficking, assisting children migrants, institutional improvements and enhancing the agency's capacity in camp management and humanitarian response.
Get development's most important headlines in your inbox every day.
Thanks for subscribing!
Read more development aid news online, and subscribe to The Development Newswire to receive top international development headlines from the world's leading donors, news sources and opinion leaders — emailed to you FREE every business day.