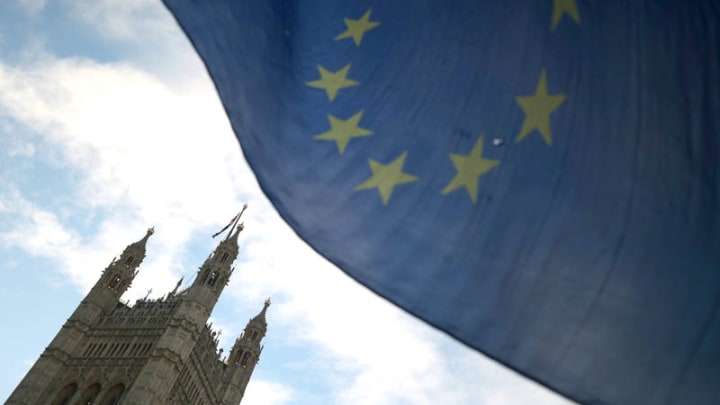 LONDON — European staff working at NGOs in the United Kingdom say they are worried about their future as the country gears up to leave the European Union, while aid organizations struggle to prepare for potential disruption amid ongoing political uncertainty.
"As a good employer you want to make sure everyone in your employment and who you're hiring has the right information and that they know what to expect," said Jose Hulsenbek, head of human resources for Médecins Sans Frontières, where around 30 percent of U.K.-based employees are from the EU. "I sometimes feel we're not able to live up to that and I find that very uncomfortable."
The nature of aid work, which means some staff spend significant amounts of time each year working outside the U.K., may create additional problems in securing residency rights. NGOs told Devex they are supporting staff by keeping up to date with political developments and sharing updates.
"We're sitting on a knife edge and there's only a certain amount you can do to prepare."
— Sue McCready, chief operating officer, International Alert
NGOs also said they are offering guidance and help for those who want to apply for settled status in the U.K., or for citizenship, and that staff can also get support from in-house counseling and welfare services. In addition, some NGOs said they have helped decipher dense government press releases or organized sessions with an immigration lawyer.
However, employees working in HR who spoke to Devex said it was difficult to prepare, or to provide regular accurate information, while so much is still unclear.
"We're sitting on a knife edge and there's only a certain amount you can do to prepare," said Sue McCready, chief operating officer at International Alert, where around 20 percent of the U.K.-based workforce are EU citizens. "It's a real dilemma; whether to invest time and money preparing for something that may not happen, or not in the way we envision it."
With the political situation changing by the day, it is difficult to provide EU staff with detailed and up-to-date information that may be relevant to them, HR professionals said. "The question is, do you give information [that could very quickly become out of date], or do you not give information, because all you have is sketchy information?" Hulsenbek said.
Many organizations appear to be erring on the side of caution and do not want to panic their staff. However, an EU citizen working for a major London-based humanitarian agency, who did not wish to be named because of professional sensitivities, said this has created the "loudest silence" around Brexit, despite "all the meaningless noise."
"There is no communication. Nobody talks about Brexit. So maybe there are contingency plans, but I don't know about them. As a sector, I feel we're just crossing our fingers and hoping for the best," the aid professional told Devex. "I would like to hear people say they are at least worried."
Some EU-staff at U.K. NGOs have particular cause for concern with regards to obtaining settled status. To be eligible, you need proof of continuous residence in the U.K. for at least six months of the year for five years in a row. But some humanitarian workers may have spent significant time working abroad while based in the U.K.
This is the case for Hulsenbek, who is from Holland. "I've been in the U.K. as a resident since 2006, but I've only been permanently based in the U.K. for the last two and a half years, because I've worked abroad a lot with MSF," she said. "It's been work that is at the heart of what the organization does, but I'm not sure it will count towards my settled status. So I'm potentially going to be penalized for doing good work."
Get development's most important headlines in your inbox every day.
Thanks for subscribing!
Jocelyn Blériot, an EU citizen working at the Ellen Macarthur Foundation, which promotes a circular economy, said he has foregone recent opportunities abroad due to concerns about his settled status. "I've seen a few opportunities come up but I'm not going for them," he said.
A number of British NGOs have opened up offices in continental Europe in the run-up to Brexit, in an effort to guarantee continued access to EU funding. However, those Devex has spoken with said they have no current plans to move EU staff to offices elsewhere because of Brexit.
"We are a globally-dispersed organization, but we haven't purposely shifted anyone," said Cameron Hall, director of HR at Mercy Corps, where about 20 percent of the team are EU citizens. International Alert's McCready pointed out that transfers aren't necessarily easy, as organizations must abide by various regulations.
NGOs told Devex they are not aware of large numbers of EU staff leaving their employment because of Brexit. "There hasn't been a mass exodus," said McCready, though some EU staff told Devex the political situation in the U.K. has made them consider making a move. "It's not the same atmosphere here now," said Blériot. "It's tempting to say ... let's go back to the continent. Having said that, I'm also very emotionally attached to the life I have in the U.K."
But with large proportions of their talent pool coming from the EU, organizations are worried about how to recruit people with the right expertise after Brexit. McCready said it will be a "nightmare" if she has to treat EU nationals in the same way as non-EU nationals. "I don't know how that's going to work," she said. "I guess the popular assumption would be that the U.K. has plenty of qualified nationals of our own and EU nationals are taking their place, but that's not the case" in this field of work.
NGOs are also worried about people being put off in the meantime. "In the last six months, it has in general been harder to recruit," Hulsenbek said. "[It's a] risk to give up a job and make a move to another country when in one or two years they could be without it." Hulsenbek added that some British citizens may also not want to move jobs at a time of uncertainty.
Last week, the U.K. government agreed to go back to Brussels to seek a deal to ringfence the rights of EU citizens in the case of a no-deal Brexit. It has also said the EU settlement scheme will remain in place until 2020 if there is a no-deal Brexit. "This has offered some reassurance that the options for EU staff won't change whatever the Brexit deal, or lack of," Dot Calvert, HR adviser at ActionAid UK, said.
However, many feel it is not enough. Hulsenbek said she is eager to get further answers, both for herself, and so she can provide worried staff with accurate information. And McCready said the uncertainty has an effect of attrition, slowly wearing everyone down. "People just want to know," she said.