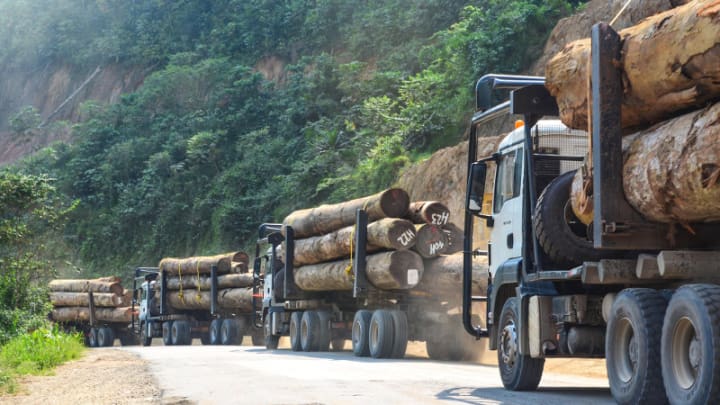 BONN, Germany — The Central African rainforest — the second-largest in the world — is disappearing at an unprecedented speed. A coalition of European donor countries and Central African states is trying to slow that rate without destabilizing the local economies or driving local populations into deeper poverty.
Officials behind the two-year effort, known as the Central African Forest Initiative, used the backdrop of the ongoing COP23 climate negotiations in Bonn, Germany, to highlight the progress they have made toward stemming deforestation in two countries and to push for other partners to speed up their efforts.
"We're not going to be able to solve the climate problem without looking at the second-largest rainforest in the world," said Norwegian Minister of Climate and Environment Vidar Helgesen, whose country chaired CAFI for its first two years.
Launched at the 2015 United Nations General Assembly, CAFI pairs European donor countries with six central African nations in a bid to create and fund policies that can help draw down deforestation. It has a minimum capitalization of $500 million over the 10-year lifespan of the project.
The idea is to bring a nuanced approach to preserving the Central African rainforest, which is critical both to soaking up carbon, but also to setting rainfall patterns for the region. At the same time, it is a source of livelihood for millions of people and an attractive resource for large-scale loggers who are able to skirt loose government regulations.
Representatives from those governments said the need to grapple with all of these issues is becoming increasingly urgent. Officials in the Democratic Republic of Congo estimate 100 million hectares of rainforest are disappearing within their borders alone each year. But a total ban on cutting down the rainforest is impractical — and impossible.
Deforestation is driven by a number of different problems, including local poverty, poor land use, and a lack of governance and law enforcement. Under CAFI, governments are trying to draft strategies to address all of these issues.
Get development's most important headlines in your inbox every day.
Thanks for subscribing!
Amy Ambatobe Nyongolo, the DRC's minister of environment and sustainable development, said CAFI has been important for helping his government quantify the scale of the problem and for working with officials to organize a more comprehensive policy toward its rainforests.
"It enabled us to have economic plans for the area, which respect the forest," he said. That includes coming up with income alternatives for local communities that have long been dependent on activities that involve deforestation, while also taking steps to more strictly enforce logging regulations.
Gabon has also introduced a strategic plan, which Guy Rossatanga-Rignault, the country's secretary general, said was critical if the country hopes to achieve the nationally determined contributions it set under the Paris Agreement.
"My country is resolved to act in order to reduce our emissions," he said, the majority of which are coming from activities associated with the rainforest.
Officials said there were still key gaps, however, as the remaining countries scramble to introduce their own policies and donors look to provide the expertise to support these efforts. Overall, they said they were struggling to draw global attention to the issue amid so many competing priorities.
Nyongolo cautioned that it will not be a quick process, but one that the affected countries are committed to.
"We are convinced that as we manage our forests properly, we are properly managing our country, our economy, and our future," he said.
Read more Devex coverage on environment and conservation.