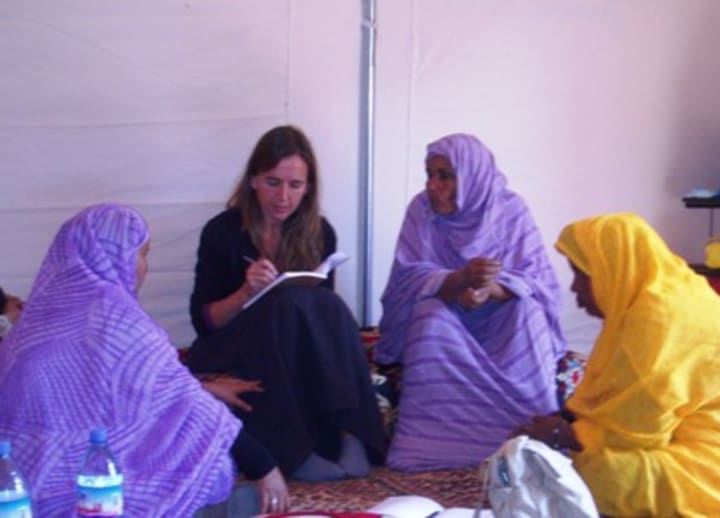 Luck is what happens when preparation meets opportunity, the saying goes. In the case of Silvia Hidalgo, working as a volunteer on migration issues during the 1992 Olympics in Spain provided the launching pad for a career in humanitarian aid and development.
"I started working at the beginning of a time when there was a lot of immigration towards Spain," the co-founder and executive director of Development Assistance Research Associates said. "Spain had always been a country with migrants who would go abroad, so there was really no infrastructure for that."
With the onset of the Balkan War in the early 1990s, the need for skilled immigration professionals arose. Two years later, the European Commission Humanitarian Office offered Hidalgo a traineeship focusing on issues related to immigrants enjoying temporary protection.
Hidalgo continued on as a desk officer for Bosnia-Herzegovina for two years, then moved to ECHO's Sarajevo field office.
In October 1998, the onset of another disaster carved a new path for Hidalgo. That year, she was hired by the Spanish Red Cross to work as the regional coordinator in Central America.
"In the wake of Hurricane Mitch there was a lot of funding, especially private funding that was provided to the Spanish Red Cross. They raised about $150 million from the Spanish public and from other sources," Hidalgo remembered. "They needed to have a strategy for how to manage the funding, and they were involved in rehabilitation and reconstruction efforts for the first time, so I went as regional director to work for them."
Her experience working in the field taught her that aid sometimes does more harm than good, Hidalgo recounted. Inadequate monitoring and evaluation strategies often made it hard to ensure aid effectiveness and to prepare for future disasters, she said.
At the time, aid effectiveness evaluations were mostly done in-house by donors or their hired consultants. Hidalgo saw a need for an entity to monitor the humanitarian relief sector and share best practices. Together with several former colleagues, she set up Dara in 2003.
Hidalgo remembered: "We started working on developing Dara, initially a bit like a public consultancy or a non-governmental organization of consultants who would sometimes have higher fees, but also charged subsidized fees for evaluations of smaller NGOs."
The organization later assumed a nonprofit status in Spain and extended its outreach by participating in efforts like the Tsunami Evaluation Coalition and the Disaster Risk Reduction Initiative.
In 2007, Dara added another initiative to its growing list of services with the launch of the Humanitarian Response Index in London. The index examines donor commitments to improve the quality and effectiveness of their humanitarian relief initiatives by looking at 60 indicators that are based in part on the "Principles and Good Practice of Humanitarian Donorship," drafted in recent years by various U.N., public and private stakeholders. This year's HRI ranks Norway and Sweden highest in their humanitarian relief strategies, with the European Commission at fifth and the United States at fourteenth out of 23 donors.
Get development's most important headlines in your inbox every day.
Thanks for subscribing!
Reflecting on the HRI, Hidalgo said: "We came in with a clear sense of purpose and a lot of humility as well. That's very important, to keep an open mind and always know that even the best methodology you can think of is open to change and has to be in touch with learning, lessons and looking for possible ways of improvement."
Through controversy, criticism and applause, and with the launch of its third HRI report on Nov. 10, Hidalgo and Dara have learned a lot evaluating humanitarian aid effectiveness.
"In terms of the index itself, I would say that the ranking issue surprised us more than we expected it to, the response that we've had from donors, both positive and negative," Hidalgo said. "What we've learned throughout the process is that more important than the product is the process itself. I think that's something we didn't expect and anticipate as much."
To create the index, Dara staff and temporary consultants, recruited through Dara's Web site, work with donors and their partners in major humanitarian hot spots like Afghanistan, the Democratic Republic of Congo and Sri Lanka.
While the 2009 report foreshadows funding cuts, Hidalgo remains optimistic about the future of humanitarian relief.
"I think that beyond the institutions, the bureaucracy, beyond everything is humanitarian response and action," she said. "I firmly believe that when people are exposed to what humanitarian action is about, it's only natural to respond in the right way."
Hidalgo continued: "It has to do with knowledge. I feel that poor response is based on ignorance. I refuse to believe that we can't improve our knowledge and tackle it. There's a huge amount of ignorance that goes into poor response."