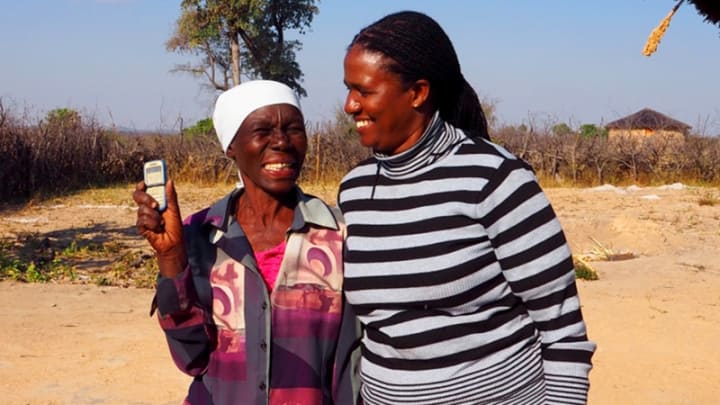 It is time to stop asking whether cash transfers work, and instead look at how donors and delivery partners can make cash the default tool for fast, accountable humanitarian response, many experts working in the humanitarian sector say.
More evidence to back up that position has recently emerged from a Care International program in Zimbabwe where a 2015 drought left 4.1 million people facing food insecurity, while a parallel economic crisis depleted the landlocked nation's cash reserves.
"Zimbabwe might've been one of those countries where someone said we can't do cash, because there was not enough cash liquidity in the country," Yolande Wright, head of conflict and humanitarian security at the United Kingdom Department for International Development told a group of aid professionals gathered to hear lessons learned from the scheme's implementation.
Typically, a shortage of hard cash might portent a no-go from donors for the cash transfer modality, which relies on mobile phone networks to ferry payments of humanitarian aid to individual users, who can then cash out via in-person money agents, conduct mobile-to-mobile payments with participating merchants or redeem for mobile credit. But, Wright explained, DFID took a risk. For the most part, it paid off, she said.
"Look what the evidence shows, and how people managed to use the mobile platform where you would have previously perhaps said, that's not a good context. I think far too often we say it isn't possible and I think we should be really questioning that."
With DFID support, and still some lingering doubts, Care International and partner World Vision International went ahead with the program, called "Emergency Cash-First Response to Drought-Affected Communities in the Southern Provinces of Zimbabwe." Thanks to the technology's ease of scale, the first beneficiaries received assistance only six weeks after the ink was dry on the grant agreement. From there, delivery partners together with two national mobile service providers, managed in the program's first year to reduce severe hunger in Zimbabwe from 12 percent of families to zero, and reduce moderate hunger from 51 percent of families to 10 percent.
While the cash liquidity crisis appeared at first to be a barrier, beneficiaries found a solution in the mobile platforms: mobile money penetration grew from 17 percent to 70 percent in a single year, as mobile users grew more familiar with their e-wallets and shopkeepers began accepting the payment method. When the drought raged on for a second year, DFID extended the program, and by its conclusion in May 2017, the program had reached 400,000 people in 17 districts in the worst-affected regions of southern Zimbabwe.
Wright and others from Care International, mobile payment platform GiveDirectly and the Overseas Development Institute all say that the program was a milestone for cash transfers, and should help tip the scales toward widespread scale-up across the humanitarian sector.
But they also acknowledged a frustrating possibility: The Zimbabwe program could also just be another cash transfer case study on top of a pile of others from Iraq, the Democratic Republic of Congo, Afghanistan, Ukraine, Mozambique, Nepal and many others. Despite a strong and growing evidence base, cash only makes up about 7 percent of all humanitarian aid, a figure that includes cash vouchers, according to an ODI study.
"Is lack of evidence the real problem here?" Wendy Fenton, head of the Humanitarian Practice Network at ODI asked. "We always want more and better quality evidence, but cash transfers as we all know are one of the most researched and studied tools in the last decade, so I think sometimes either a perceived lack of evidence or the real need for evidence is used as an excuse for not moving forward on things."
Wright acknowledged the frustration in the sector, but added that DFID, at least, is serious about dramatically increasing its use of cash transfers. At the World Humanitarian Summit last year, the U.K. committed to doubling its use of the cash modality in humanitarian assistance to at least 29 percent by 2025. Asked by Devex when DFID will be growing its portfolio, Wright said, "I'm ambitious to say, why just double?"
"We're really looking at how we can increase, and part of that is learning. We're keen that we don't just do incremental change, but try to bring about a transformative agenda here," she said, adding that DFID recognizes "there are some risks involved," she said.
Drawing on the Zimbabwe program for examples of these risks as well as good practice, Wright laid out DFID's priorities as it makes the push for more cash.
Driven by need — bigger, less frequent payments
Wright said DFID is aware of the growing evidence that favors cash over vouchers, as well as the use of larger, less-frequent cash transfers as a way of providing multisector benefit. Not only does a larger, more flexible payment give the beneficiary greater agency and dignity, it increases the likelihood that the user will invest in their own livelihood, for example by saving or establishing credit, purchasing livestock, paying school fees or starting a business.
Wright stressed that context reigns, reiterating that certain instances — fragile states where the market has completely broken down, for example — simply won't abide cash transfers. But we are [looking] where it's appropriate to push quite hard on cash, and ideally for us, where we can have cash over vouchers."
While DFID still supports some voucher schemes, Wright said "where feasible and possible we're quite keen to be pushing that cash is even more effective and efficient, and there are studies and evidence that back that up," she said.
DFID is investing in the evidence base to establish that larger, "lumpier" cash transfers carry greater benefit, while it is already funding a program in Jordan designed around "multisector" cash transfers for refugees.
Embracing "multisector cash transfers" should be a no-brainer, added Christy McLennan, former assistant country director for Care Zimbabwe and now part of the Care Rapid Response Team. By virtue of delivering larger, less frequent payments, donors will likely immediately see benefits beyond access to food. During the second year of the Zimbabwe program, Care and DFID saw fit to increase the payment amount from 17 payments of $5, amounting to $550 per household, to payments of $7 in time for the growing season, and as a result saw evidence of investment in households as well as local economies, as urgent food need began to subside.
Get development's most important headlines in your inbox every day.
Thanks for subscribing!
"From a recipient's point of view, say they already have multisector cash, the constraint is how much we give them," McLennan said.
"That's the challenge for us: How far are we prepared to let go?"
Fenton added that in order to embrace "multisector cash payments," donors and partners must also consider reconceptualizing programs from the design phase.
"The objective was to ensure greater food security and meet those needs, and so there is a possibility that you can introduce a bias in terms of what people think they're suppose to do with the money," Fenton said, explaining that beneficiaries as well as M&E staff can then assess impact based not just on food security, but economic, health and education impacts as well.
Wright added that DFID is "very pro multipurpose cash transfers; we don't see it as a massive benefit in having siloes, so I think it's a really good challenge to be asking why not do more of that."
Coordination and effectiveness
One challenge Care is facing in its other cash programs — particularly those in fragile or conflict-affected states — is around how to monitor and ensure effectiveness throughout the program, even when access to markets and mobile networks is limited.
"It isn't just about reaching people with cash, it's about ensuring that the whole process is managed really well. And I think in certain contexts such as refugee contexts, or with internally displaced people, there's a whole range of things that may go with cash, to ensure that we meet the full humanitarian need," Wright said.
In humanitarian crises, the need for support is often more urgent than partners' knowledge of specific needs, which can make assessment difficult. As Wright said, this can create some risks, and requires trust that satisfying those needs will manifest in measurable ways. Dr. Joanna Macrae, director of European partnerships at GiveDirectly told Devex GiveDirectly is learning quickly that beneficiaries can help fill in the gaps.
"What we're finding is that, incredibly, even though connectivity is very poor, even though they're far away from the nearest money agent, they're finding ways of working it," she said, referring to a GiveDirectly program in Uganda targeting remote communities.
"That's what's so exciting about this study, that people are making it happen, even under very difficult conditions," she said.
By establishing "accountability focal points" among recipients in the second phase, the Zimbabwe program integrated beneficiaries — mostly women — into the accountability framework. These focal points helped field questions in the community about accessing the cash payments, and also served as liaisons between the community and delivery partners, conveying complaints and trends in usage. Targeting women as the managers of accountability, the program not only created a recipient-led accountability value chain, it empowered female family members to participate in household financial decisions.
"It enhanced accountability by adding these gender and accountability focal points, these people were also beneficiaries, and there were many more women then there were men involved in that," Fenton added.
Transparent appraisal
"We are looking for transparent appraisal of the various different schemes and looking at the value for money for a given context," Wright said, explaining that robust and independent monitoring and evaluation — and the delivery partners' willingness to share evaluations and learnings — set the Zimbabwe intervention apart.
Care and World Vision not only conducted their own internal evaluation of the program for impact and lessons learned, it also engaged the Oxford Policy Management for an external evaluation, sharing the results of both assessments publicly. Care and the World Food Programme also used the Zimbabwe program to launch a cash program working group, a platform whereby humanitarian organizations using cash transfers can share lessons learned and also coordinate design and operations in-country.
Some of the key lessons learned emerged as part of these evaluations: OPM identified the need for follow-up in the community-based method for identifying needy households. Because of concerns that community members might show bias by identifying friends or relatives as "needy," OPM suggested independent follow-up to verify need claims.
Other challenges emerged as the wide possibilities of cash transfers in communities became more apparent: For example, users might've used mobile money to access health services, transportation or agricultural services, but telecom providers simply lacked the incentive to penetrate these industries. DFID and Care acknowledged that the second phase required bigger incentives for telecom providers to penetrate more rural areas, so tougher environments will likely require even greater patience with the private sector.
Though, as Denton pointed out, blockchain technology may soon ease — or leapfrog — the telecom private sector challenge, pointing to one WFP intervention in Azraq camp in Jordan utilizing the technology for refugee support.
One of cash transfers' biggest challenges however, remains with the public.
"One of the big journeys around cash is shifting from trusting charities from doing good things for poor people, to trusting poor people to do good things for poor people," MacRae observed.
"I think one of the big paradigm shifts we're facing now is how to build public confidence that we can indeed trust people," she said.
But in the U.K., where public trust in aid remains high while trust in charities declines, what appears in other contexts to be a challenge for cash transfers could in fact offer the British public a more satisfying way to give.
Update, Aug. 6 2018: This story was amended to correct DFID's target for cash spending
For more U.K. news, views and analysis visit the Future of DFID series page, follow @devex on Twitter and tweet using the hashtag #FutureofDFID.