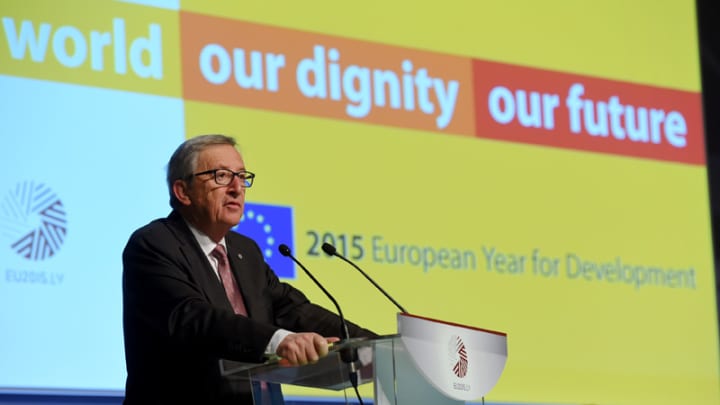 The future of international development cooperation is not just hashed out in dusty field offices and ramshackle schools and hospitals, but also at a variety of events, celebrations and other gatherings. Below are some of the most noteworthy events for the week starting June 1:
Institutional Investors: From Myth to Reality
June 1
Washington, D.C., United States
Urbanization in Africa: Trends, Promises and Challenges
June 1-2
Accra, Ghana
First Meeting of IAEG-SDG
June 1-2
New York, United States
WAVES 5th Annual Partnership Meeting
June 1-2
Washington, D.C., United States
DIME Seminar Series: Can Community Based Forest Conservation Work? Insights From a Randomized Impact Evaluation in Aceh
June 2
Washington, D.C., United States
Dissemination Workshop: Handbook for Improving the Living Conditions of Roma
June 2
Washington, D.C., United States
Facilitating Market-Led Agricultural Growth: A Comparison of Models in Nigeria and Uganda
June 2
Washington, D.C., United States
Modernizing Extension and Advisory Services Symposium (MEAS 2015)
June 3
Washington, D.C., United States
The European Development Days
June 3-4
Brussels, Belgium
World Economic Forum on Africa 2015
June 3-4
Cape Town, South Africa
Get development's most important headlines in your inbox every day.
Thanks for subscribing!
9th European Forum on the Rights of the Child
June 3-4
Brussels, Belgium

34th International Energy Workshop
June 3-5
Abu Dhabi, United Arab Emirates
Launch of the 2015 Iraq Humanitarian Response Plan
June 4
Brussels, Belgium
Sustainable Food Summit
June 4-5
Amsterdam, Netherlands
3rd International Conference on Sustainable Development
June 5-6
Rome, Italy
39th Session of the FAO Conference
June 6-13
Rome, Italy
ASFN 6th Conference and 9th Annual Meeting
June 1-5
Myanmar
G-7 Summit
June 7-8
Krün, Germany
International celebrations:
International Children's Day
June 1
Global Day of Parents
June 1
International Day of Innocent Children Victims of Aggression
June 4
World Environment Day 2015
June 5
Know of an upcoming event that might be of interest to the international development community? Leave a comment below or email us at news@devex.com.
Read more development aid news online, and subscribe to The Development Newswire to receive top international development headlines from the world's leading donors, news sources and opinion leaders — emailed to you FREE every business day.