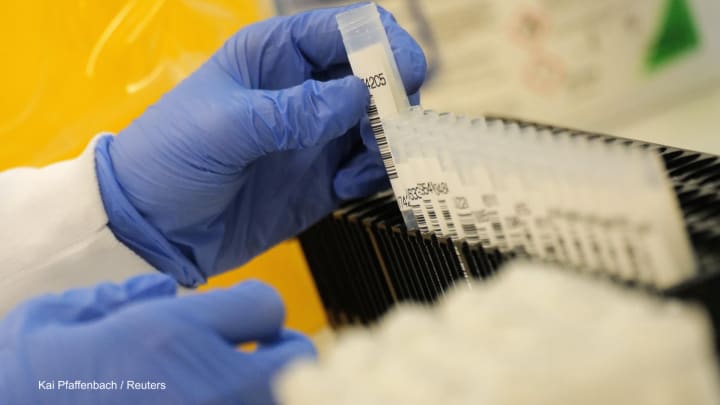 As COVID-19 vaccination campaigns ramp up globally, there are more opportunities for the virus to mutate as it works to escape growing levels of immunity. It's survival of the fittest and also a numbers game — the more people the virus infects globally, the more opportunities it has to change its form.
Sign up for Devex CheckUp
The must-read weekly newsletter for exclusive global health news and insider insights. First edition: March 11.
But tracking these mutations is complicated and expensive, and a large number of lower-income countries do not have the capacity to do this themselves and many of those that do, have only done so on a small scale.
The technique used to track mutations is called genomic sequencing. Laboratories sequence samples and then submit them to a global database called GISAID.
Devex analyzed data from January 2020 to the date of publishing and found that there are no genomic sequences of SARS-CoV-2 available for 49 countries — a quarter of the world's nations.
"The need for sequencing has become ever more urgent," said Dr. Bright Adu, research fellow at the Noguchi Memorial Institute for Medical Research in Ghana. "Once you start vaccinating, you are increasing the selection pressure on the virus and it now has to find clever ways to still survive."
Stark global inequities in sequencing capacity exist. There are no SARS-CoV-2 sequences available for about 40% of the countries in Africa. Denmark submitted over five times as many sequences as the entire African continent. If South Africa is excluded from Africa's figures, Denmark sequenced about nine times more than the rest of the African continent.
This data may not give a full picture of in-country capacity as many of those that have submitted samples to the global database may not have sequenced the samples domestically, but shipped them to a lab in another country.
While lack of sequencing is concerning for a country's population — as a new variant can be more contagious or have a more dire impact on a person's health — it is also concerning for the global community. If mutations are left to thrive without measures targeting their elimination, they will become a global problem, and could ultimately lead to vaccines, diagnostics, and treatments that are less effective.
"As a global community, we need to be deeply concerned about anything that's circulating that we don't understand," said Vanessa Moeder, director of global health at Illumina, a company that produces genome sequencing technologies.
Data source: GISAID data from Jan. 1, 2020, through Feb. 28, 2021
An expensive undertaking
While mutations are a normal part of how viruses spread, some are harmless and others raise alarm. Currently, there are three strains of SARS-CoV-2 that the global health community consider concerning because the strains have altered how the virus interacts with humans, by increasing transmissibility and lowering the effectiveness of vaccines.
Tracking strains of the virus helps the global health community modify vaccines and helps governments cater lockdowns to specific regions, rather than broad, country-level measures.
"Without genomic sequencing, we don't know which variants are actually driving the force of the pandemic, and therefore, how we control them," said Dr. Githinji Gitahi, CEO at Amref Health Africa.
It's also important for countries in choosing which vaccine to roll out. In February, South Africa announced a temporary hold on the rollout of the AstraZeneca vaccine, following research that found it offered minimal protection against mild and moderate cases of the 501Y.V2 variant, which was first identified in the country. The Africa Centres for Disease Control and Prevention recommends governments not roll out the vaccine if this variant is dominant in their country. But a country can only know if it's dominant if it adequately sequences genomes.
Sequencing is an expensive process that requires machines, software, reagents, and trained individuals. And over the past year, it hasn't been the highest priority, as overwhelmed countries grappled with scaling up basic testing capacity, Gitahi said.
According to Dr. Nicksy Gumede-Moeletsi, a virologist for the World Health Organization's Africa region, for labs with existing capacity, it could cost about $120 per sample.
This price can vary considerably based on how many sequences are performed at the same time, and on where the sequencing is performed based on affordability of inputs, genomic sequencing researchers said.
Even when funding is available, getting access to the necessary reagents to perform the sequencing has been difficult for lower-income countries due to shipment delays that can last for months. Reagents are also more expensive for lower-income countries because wealthier countries buy in bulk, researchers said.
"Even though we have the capacity to sequence a lot of samples each week, because of the limitations with reagents, we are not able to do that," Adu said.
Flaws in network systems
On the African continent, there is a network of regional labs that provide sequencing for neighboring countries, which ship their COVID-19 samples across borders. This is facilitated through the Pathogen Genomics Intelligence Institute and its Africa Pathogen Genomics Initiative, which is a public-private partnership with Africa CDC, WHO, Bill & Melinda Gates Foundation, Illumina, Oxford Nanopore, Microsoft, and other partners, working to provide support to countries to increase their sequencing.
Through this network, progress has been made over the past year, to improve sequencing capabilities. For example, at the end of June 2020, 13 African countries reported genomic sequences of SARS-CoV-2 to the global database, with 720 samples sequenced. As of this week, 34 countries had contributed 9,534 sequences.
Get development's most important headlines in your inbox every day.
Thanks for subscribing!
Data source: GISAID
One of these regional labs is the Noguchi Memorial Institute for Medical Research at the University of Ghana, which serves as a regional hub supporting Togo, Benin, Sierra Leone, and Liberia.
But this process has not been smooth. Nearly all of the samples that arrived in Ghana from neighboring countries were unusable because the ice packs they were shipped in melted, Adu said.
"The samples came in [to the lab] almost deteriorated. In fact, for most of them, we could not even detect any virus," he said. "The ice packs had thawed, and they were actually warm, literally."
Transport companies have also refused to carry packages after learning that positive COVID-19 samples were inside, said WHO's Gumede-Moeletsi. Travel restrictions also meant countries needed to reroute samples to other labs, rather than the labs assigned to them in the network.
This regional model also takes time, whereas quick turnarounds on these sequences helps national authorities know where and when new strains are moving so they can respond quickly to concerning new mutations, researchers said.
In Africa, countries such as Angola, Liberia, Somalia, and Malawi, and 18 others have yet to submit sequenced samples of SARS-CoV-2. Ethiopia, Mauritius, and Eswatini only submitted their first samples this month.
A similar network exists in Latin America, with two regional laboratories in Brazil and Chile, processing samples for their neighbors. But countries such as Guyana, Honduras, Nicaragua, and Paraguay, have yet to submit any sequenced samples.
There are also significant gaps in Pacific Island nations, Central Asia, and the Middle East, where countries such as the Marshall Islands, Fiji, Syria, and Yemen, have not submitted sequenced samples.
There can be delays in countries uploading sequences to GISAID. For example, Namibia reportedly received genomic sequencing results on March 6, which identified the presence of the 501Y.V2 variant, originally found in South Africa. But these results are not yet available in the global database. There can also be cases where countries don't want to report the presence of new variants because of concerns over how lockdown measures could impact economies.
A burning house
According to Gumede-Moeletsi, countries should strive to sequence about 4%-5% of positive COVID-19 samples each month. This is a similar goal to the European Union Commission, which has called on its countries to sequence at least 5% — but ideally 10% — of positive test results.
Most countries fall far behind. South Africa, which leads the African continent with the number of sequences of SARS-CoV-2 contributed — nearly 4,000 samples — but has only sequenced about 0.3% of its positive cases.
Africa CDC said it wants the continent to sequence 50,000 samples by the end of the year. But last month, the continent contributed only 2,435 sequences to the global database, meaning it would need to nearly double that output every month moving forward.
One example of a success story is Gambia. Dr. Abdul Karim Sesay, genomics facility manager at the Medical Research Council Unit in Gambia at London School of Hygiene & Tropical Medicine, runs a lab outside of the continental Africa CDC network, which is largely supported by the United Kingdom. Gambia has uploaded 430 sequenced genomes to the global database but plans to upload another 470 this week, which amounts to about 19% of its positive samples.
In a Washington Post article published in December, the country ranked 6th globally for the percentage of positive COVID-19 samples sequenced. But as a small country with a relatively low number of cases, it has a numbers advantage.
Sesay is an advocate for decentralizing genome sequencing so that each nation has several labs spread throughout the country. He is working to strengthen labs in Mali, Guinea Bissau, Senegal, and Burkina Faso, including providing them with cheaper, portable sequencing tools. This is important, he says, because even if Gambia sequences a high portion of its positive samples, these efforts could mean little if neighboring countries aren't doing the same due to the region's porous borders.
"There is no point in knowing what's happening in your bedroom if your house is burning — you'll end up burning anyway," he said.