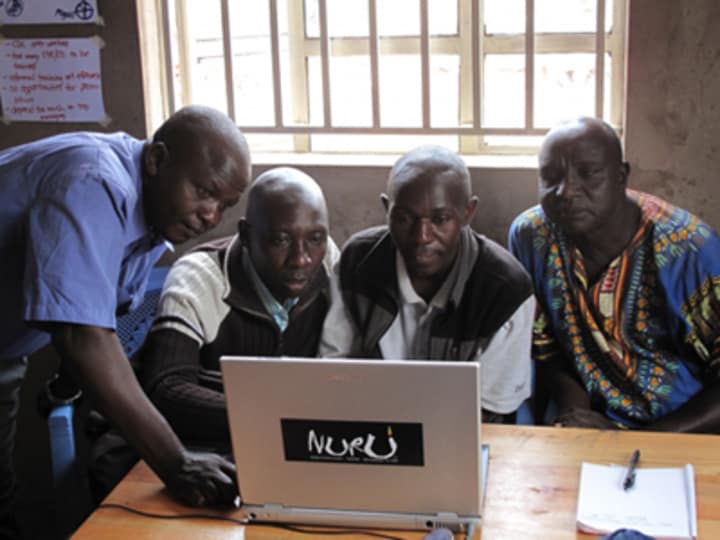 The pockmarked highway from Kisumu, Kenya's third largest city, to Isebania on the border with Tanzania is dotted with placards announcing the presence of a who's who of global development players: CARE, World Vision, JICA — an alphabet soup of donors and NGOs flashing by the car window. The signs blend in with handpainted storefronts and billboards above general stores and roadside bars advertising Sony Sugar and Coca-Cola. Children play in the dust, mothers carry jerrycans on their heads, and men balance goods — sometimes metal, sometimes maize — on the frame of well-worn bicycles. It's all part of the landscape, part of slow-motion life along this and many roads like it across the developing world.
At the end of the line, when you can go no further without crossing into "T-Zed," as the expats call it, if you transfer to a motorbike and head into the trails that connect the mudhuts and roughly-built brick homes of Kuria West, you'll come upon a seed and fertilizer storehouse. In an earth-toned landscape, where electricity and running water have yet to arrive, the large signboard on the low-slung building is the only place to find bright reds and blues: the USAID logo. I ask our Kurian guide Andrew Chacha Nyamohanga what the farmers make of the sign. "They don't know what USAID is," Andrew — who also works as impact manager for U.S.-based NGO Nuru International, owner and operator of the building — tells me with a shrug.
Here, in rural villages with so little hope and so much need, is where the 2030 sustainable development goals will be put to the test. Can we end extreme poverty by that year? That's the next big global goal. In Brazil, in India and in China it will be difficult, but perhaps within reach. But in places like Kuria West, far from the economic engine of Nairobi and nearer than ever to conflict and climate change (a drought wiped out last year's maize), it is an open, aching question. The world's biggest development agencies like DfID and CRS are doing a lot — aid is flowing and projects are underway. But are we moving the needle?
Two unlikely NGO leaders — both outsized personalities with a missionary zeal — are taking a different approach. One is Jeffrey Sachs, the celebrity economist, among the most influential development figures of our time, and eight years into his tendentious Millennium Villages Project (simply "Millennium" as the Kenyans call it.) The other is Jake Harriman, a sandy-haired ex-Marine from hardscrabble West Virginia farm country who fought in Iraq, now has a Stanford MBA and friends in high places in Silicon Valley, and began Nuru International four years ago. They have never met and neither knows much, if anything, about the other's project, though both are working at the village level in Western Kenya. In fact, after discussions with dozens of development workers in Kenya, Washington, D.C. and beyond, few know more about Millennium than the outline sketch they've read in the many published critiques, most recently Nina Munk's book "The Idealist"; and none had even heard of Nuru.
Millennium's funding is winding down, and Nuru, a startup, remains small. The former is spending perhaps several hundred thousand dollars per year in its flagship village project serving 70,000 people in Sauri, while Nuru has an annual budget of nearly a million dollars for 30,000 people in Kuria West. (Globally, Millennium spends around $25 million per year across 14 sites; Nuru around $5 million on one site in Kenya and a second, just beginning, in Ethiopia.) But these two NGOs with relatively modest budgets claim they will fundamentally change the way the development industry works.
Money really isn't the issue, insists Salome Munyendo, Millennium's confident and dynamic project officer in Sauri. She takes us to visit Margaret Achieng Siaji, a grandmother left to support herself and her family on 1.6 acres of land after her husband's death in 1984. Margaret, like so many others in Sauri, was once a maize farmer, but, thanks, she says, to Millennium's initial provision of fertilizer and training, she now grows kale, yam and groundnuts as well as maize, and has eight man-made ponds where she farms catfish and tilapia. With the extra cash that came from selling fish and a diverse blend of crops, she had the money to face the bureaucracy and secure a title to her land — not a small feat in a place where women can rarely keep their homestead away from male relatives. She's thriving on her own now; or, in the language of development — she's sustainable.
Sachs thinks big and is known for insisting that the formula for ending poverty is straightforward and doable, if only the world would pony-up the funds and get serious about the Millennium Development Goals. When it comes to Millennium, he has sought to show that just $120 per person per year — through targeted interventions like bed nets, immunizations, and fertilizer — is all it takes. Both Millennium and Nuru believe in providing these kinds of essentials for free or at highly subsidized rates, at least in the beginning. The idea is to entice farmers to start planting the right seeds and using fertilizer; once they see the increased yields, they'll decide to buy their own inputs when the subsidies are slowly pulled away. The same goes for healthcare: once people experience the lower incidence of malaria in their own lives, they'll start buying their own bed nets.
Some years ago, I was in the audience at a public forum featuring Sachs at the Council on Foreign Relations. In a scene uncommon in decorous Washington, D.C., the prominent economist was bluntly critical of PSI and its funder USAID for insisting on poor people paying even highly subsidized fees for bednets (so-called "social marketing"). As he persisted with the frank critique — even after a PSI executive in the audience raised her hand and pushed back with a question — you could feel the tension in the room. So it was surprising to see Millennium adopting an approach that included poor villagers paying for at least some essential products. It turns out ideological divides blur at the ground level.
Sachs has ruffled more than a few feathers in the development community, in part for impatiently insisting that he has the formula for development and others should get on board. Personalities aside, Millennium says that's exactly what's happening. DfID is now funding Millennium in Ghana, the Islamic Development Bank is supporting Millennium's farm credit programs, and UNDP is launching its own Millennium-inspired projects in Mozambique on a grand scale.
This is the powerful idea at the center of both Millennium and Nuru: If the development community can provide integrated support and capacity building at the most local level — the village — farmers and local leaders can find their own way out of poverty. Both NGOs work in health, education, agriculture, and economic development — they believe an integrated approach is the only way to sustain progress and they are mildly but discernibly disdainful of vertical projects like One Acre Fund which also operates in western Kenya but only serves farmers and focuses exclusively on increasing agricultural yields. Nuru, for example, proudly shows off a series of hand-dug latrines at their local headquarters they use to train farmers on how to dig one for themselves. Farmers who see yields increase due to Nuru's provision of inputs and training are more open to behavior change in other areas: from almost zero when they began, Nuru says 70 percent of the nearly 6,000 farmers in its program now have their own latrines.
An even bigger sin, the localists would argue, are international NGOs with a substantial expat staff. Millennium's work at Sauri now has not a single long-term expat (apparently some do come from time-to-time to provide technical expertise, but there were none during our visit other than the Earth Institute's Kyu Lee, there to accompany us); Nuru has eight expats in Kuria West and predicts "Western exit" in just two years. All the Nuru expat staff we met were quick to tell us their departure date, as if they were slightly embarrassed to be a "mzungu" (popular Swahili name for a white person) face in a Kenyan village and wanted to emphasize that this was all just an important, if slightly unnatural, temporary arrangement.
At Nuru, there is much talk of Philip Mochichi, a.k.a. the "chairman," a Kurian villager who went to Nairobi and did well for himself. Now a retired bank executive, he's back in Kuria and is the executive director of Nuru there. Mohichi has a brother who made it from Kuria all the way to Stanford, where he teaches at the business school and inspired Jake Harriman to consider Kuria as Nuru's project site. Now, Jake and his fellow ex-Marine buddy Alex Martin (like Jake, also from the elite Force Recon special operations unit), who runs the expat team in Kuria, are working to develop local leaders who will fully take over the various programs they've begun after the foreigners leave in two years. Alex, who sports a goatee with his shaved head, tan cargo pants, olive khaki shirt, and wraparound sunglasses, can't help but refer to "counterinsurgency" strategy, "kinetic" interventions, and "breach points" when talking development. For him, the opportunity to build up local leaders and engage them in developing their own communities is the other side of the coin he experienced chasing Somali pirates and fighting insurgents in Afghanistan and Iraq.
"The Idealist," Munk's just-published review of Millennium and Sachs's work, ultimately concludes that Millennium may be good charity but it's not good development. She (and others) insists that Millennium violates two basic principles of good development: It's not scalable and it's not sustainable. Sure, Millennium did some great work with George Soros's money, but, they would argue, what happens when the donation runs out? (It nearly has.) At least in Sauri — just one project site among the dozen that Millennium operates — the rebuttals to the common critiques were on display. Millennium's local leadership seemed most proud of the potential transition of its community health worker program to the Kenyan government at the national level. This, to Jessica Masira, Millennium's project leader, is scale. As for sustainability, the tour of Sauri was designed to highlight just that — we went from a government school that has hand-washing stations provided by Unilever's local soap brand Lifeboy as part of a public-private partnership and a 4H club that grows food on school grounds, some to be eaten during the daily school lunch and some to be sold for school funds, to a dairy cooperative, to a cooperative bank — all jump-started by Millennium but now entirely run by local people and the government.
Get development's most important headlines in your inbox every day.
Thanks for subscribing!
In both Kuria and Sauri, it's striking the degree to which other development groups are absent. There is certainly an important presence in the local health clinics, for example, where medicines, food, and other commodities are provided by the likes of PSI and the Global Fund. But we witnessed no operational projects and both local NGOs seemed to view their villages as wholly-owned. Masira, the Millennium project leader, acknowledging the dearth of other development players, noted that "we didn't chase them away; we did invite them." It's clear, though, that Millennium and Nuru see themselves in a special position: as midwives to local leaders, helping them to birth a new, healthier, more prosperous village. They view other international organizations as potential sources of funds or goods or sectoral technical expertise for the village, but not as equal partners. It's a "Millennium village" or a "Nuru village" after all.
There are key differences between Millennium and Nuru. Perhaps the most important is born of their own organizational culture: one being of a Columbia University and United Nations milieu, and the other from Silicon Valley and the military. Millennium is very focused on transferring its programs to the local government, whereas Nuru is quicker to acknowledge the challenges of local government in Kenya and instead focuses on building up local civil society leaders. When I asked Munyendo what she would do when the Millennium project wound down in 2015, she responded that she wasn't too worried — she could always be a teacher again. For Nuru, someone with Munyendo's leadership skills would, in their model, be kept on to run Nuru as a local project for years and even decades to come. Whereas Millennium tries to stick to a fixed timeframe for its complete exit (Sachs was definitive when I spoke to him that Millennium would provide no funding to its villages beyond the end of 2015), Nuru is only concerned about "Western exit." Nuru owns land, training centers, a small expat compound and more — all of which will remain with the local Nuru NGO after the foreigners leave. (It should be noted that Nuru's 'Western exit' is already a couple of years behind schedule.)
There is also a difference in style, this one coming from Nuru's special forces roots. Millennium has proper offices in Kisumu, just thirty minutes from Sauri, and a fleet that appeared to include four SUVs and pickups. Nuru, taking a page from counterinsurgency strategy, has no vehicles: its staff walk where they need to go, sometimes miles and miles. They see this as a way to connect with villagers who themselves walk everywhere, and as a visible separation from the traditional development workers they don't want to be. In their modest expat compound, Nuru's staff proudly explains that they do all their own chores — there's no cleaning lady or handyman or cook, just a weekly laundry pickup. "We don't want to create dependency" explains Athena Childs Fleisher, a just-arrived public health worker and Peace Corps alumna from Nashville, Tennessee, although there's clearly more to it than that. For these ex-Marines and returned Peace Corps volunteers, living simply and being close to the community is a big part of why they're here.
With Silicon Valley backers for Nuru — Don Faul, now head of operations at Pinterest and an early executive at Facebook and Google, is a key board member and close friend of Harriman — it's no wonder the organization talks openly of experimenting and failing along the way. "Proof-of-concept," Nuru insists, will come by the end of 2015. They also have Silicon Valley-sized ambitions — like this from their website: "The Nuru Model is designed to be the first self-sustaining, self-scaling, integrated development model to end extreme poverty in remote, rural areas in our lifetime." Bold, surely, and like Millennium they aim to achieve scale not by doing it all themselves, but rather by making their model "open-source."
In the end, Harriman is after something far bigger than building a successful NGO. It's not just that he dreams of expanding to Somalia, the Democratic Republic of Congo, and other hotspots where ex-Marines may be more willing to tread than most. Harriman wants to upend the culture of the development community.
He's no "Dead Aid" acolyte — when we sat down at an airport hotel lobby in San Francisco recently, he went out of his way to praise other NGOs and development institutions — but his critique of the development community is cutting: "They don't really believe we can end extreme poverty," he says, referring to most development professionals and NGO executives, and he intends to change that by showing them how.
The key premise behind Nuru, if you have to boil it all down, is that poor people hold the keys to their own development. Talk of "beneficiaries" visibly rankles Harriman, and he is passionate that development professionals are getting it all wrong when they focus on bringing in ideas from the outside — something Millennium is openly proud of given its connection to the Earth Institute and Columbia University experts there. Harriman takes a different view: "We've got to unlock the potential that's already there in that country."
Sachs is similarly frustrated, in his case by those who get "trapped in very narrow ideological lines." After decades as an advisor to presidents and U.N. secretary-generals, Millennium was his first foray into launching and running a large-scale development project. He has had to deal with fundraising, logistics, human resources, and the like — not just policy debates. Now, after persistent critiques from those who question the impact of his project, he sounds more like a field-level development worker than ever: "More and more people are working in the field aiming for practical things, and as they do that, then they begin to understand the true complexities of this work, and the multiplicity of approaches."
The approach Sachs has ultimately taken, to end funding to villages on schedule at the end of 2015 and to transfer what was achieved to local government leaders will no doubt remain a subject of hot debate among the think-tank set. (The final evaluation report, due to be published on July 1, 2016, according to Sachs, will surely spark a new round of backs-and-forths.) It's hard to imagine, but the most local of officials, like one assistant chief we met, whose duties extended to watching over several bags of communally stored grain and arresting the occasional drunk using a pair of handcuffs slung on the back of his chair, hold at least some of the keys to Sachs' development legacy.
Will Millennium, Nuru and the next set of localists hatching similar ideas right now show that an infusion of resources and expertise can jump-start the self-sustaining engine of a community? What's clear is that the broader trend toward spending development aid locally and new funding sources from Silicon Valley and Wall Street will likely spur more Millenniums and Nurus. These two evangelizing development leaders might just lead a broader movement for a new wave of integrated rural development organizations — NGOs which focus on leveraging local leadership, creating self-sustaining local enterprises, building open source knowledge and (in a departure from the norm) exiting on a fixed schedule.
For Harriman, old aid approaches are no longer an option.
"Politics change, donors die, things happen, the money dries up in foundations," he said. "Philanthropic capital is not sustainable in the long run."
Stay tuned for more of our special coverage on localization, including exclusive interviews by Devex President and Editor-in-chief Raj Kumar with Jake Harriman and Jeffrey Sachs, a profile of Nuru International and a #DevTrivia section on the Millennium Villages Project.