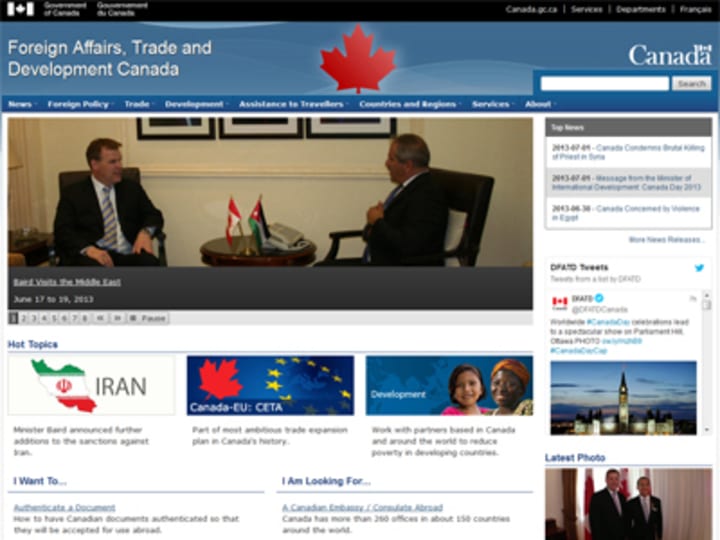 Expect changes in the coming days from Canada's new Department of Foreign Affairs, Trade and Development.
Days after DFATD was finally created, perhaps the first visible change within the Canadian International Development Agency is announcing the mega-department on its website.
It's a first step, but the process of the CIDA-DFAIT "amalgamation" may go on for up to two years, according to the Canadian government. 
"Over the coming months, all corporate services for the new amalgamated CIDA and DFAIT department will be merged to provide common systems and levels of service across the whole department," a CIDA spokesperson told Devex.
It is not yet clear whether the agency will appoint, for instance, one or two chief accountants for the former departments, and such a decision may greatly affect how CIDA and DFAIT operate on a daily basis without any disruption.
Crucial in the coming months are the appointments of officials who will head the mega-agency's corporate services: This can provide clues as to how the former CIDA will emerge equal in a department with a broad-reaching agenda.
Still on the planning table is how to combine programs and policies.
"Further planning is underway with regards to changes in the organizational structure, and horizontal methods of coordination and consultation for the geographic, program and policy groups in the new department," the CIDA spokesperson said. "These changes will allow the department to integrate advice, service and support across geography and themes."
Get development's most important headlines in your inbox every day.
Thanks for subscribing!
During recent parliamenty hearings, CIDA and DFAIT officials said staffing issues would take time, as other countries with an integrated foreign affairs ministry have experienced.
"On the human resources side it will take a longer period of time to create one culture," Michael Small, assistant deputy minister at then DFAIT and a member of the transition team, told lawmakers last May. "You can send out some early signals and incentives on how you're going to create opportunities for people with development experience to do other kinds of work and encourage people who have political and trade experience to do development work."
CIDA has also been studying past experiences of countries which merged their development programs into the foreign affairs portfolio.
"While examples of other countries with integrated foreign affairs and development ministries have been looked at in detail, the structure of the new DFAIT is being designed to respond to Canadian values and priorities," explained the CIDA spokesperson.
Read more development aid news online, and subscribe to The Development Newswire to receive top international development headlines from the world's leading donors, news sources and opinion leaders — emailed to you FREE every business day.