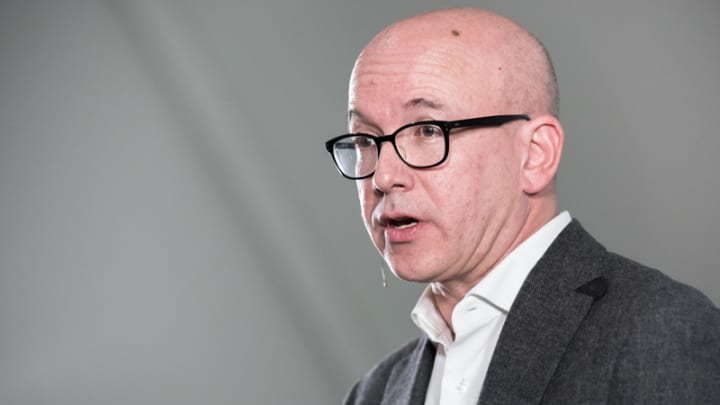 WASHINGTON — On Monday, humanitarian aid convoys reached the besieged eastern Ghouta region of Syria for the first time in weeks. Their access proved to be highly limited and short-lived as intense airstrikes and shelling resumed on the rebel-held enclave.
Among the humanitarian organizations striving to reach communities cut off from basic health and social services by brutal shelling, was the International Committee of the Red Cross. While the convoy was still on its return voyage from eastern Ghouta — and before aid workers were able to report back on the many limitations and desperate situation they had encountered — Devex spoke with Yves Daccord, the ICRC's director-general.
Daccord, in Washington to participate in the World Bank's "Fragility Forum," explained why the ICRC will always take advantage of opportunities to gain humanitarian access to vulnerable people — even when the terms of that access might be deeply frustrating and restricted. He also shared what the Syrian conflict has revealed about the future of humanitarian relief — and how broader issues of state-to-state politics challenge humanitarian principles.
This is part one of a two-part interview with Daccord and the conversation has been edited for length and clarity.
Let's start with what's in the news — Syria, partial humanitarian access to eastern Ghouta. What are the reports that you're hearing from your team on the ground?
They're just on the way back, so we didn't have the time to debrief them specifically. So the few things I know are — too little, too slow. For me, the critical issue is, are we able to repeat this? That's the critical question. It's not today. Today is [another example of] what you have right now in Syria, which is a lot of people involved, too many people involved. It's a big negotiation.
For humanitarian access in particular?
Yeah, it's too much. For me, the worst situation is when you have everybody involved in that — it's much more difficult to get access to Syria when you have the entire United Nations Security Council dealing with the access. It makes every move extremely political. That's my huge concern that we have right now. But that's not the issue. The question is, are we able to repeat it? And I think the jury's out. That's really the question for me, because if it's a one off — because last time it was a one off — that worries me a lot.
Is there a point at which it no longer makes sense to even call this a cease-fire for humanitarian access and say, "until we see some sort of more lasting and sincere commitment, we just can't work in Syria?"
Our job is always to push the limits of the possible. We will always be there to try to push, even if it's for very narrow options to come, with one condition — for us to be able to help the most vulnerable. That's really the critical issue. So we are able, ourselves, to make the assessments, together with the Syrian Red Crescent in this case. We are in Syria, so we are aware of how the war is fought over the last seven years, so we will always try to find if there is a window of opportunity. We will push and go for it.
"As long as what you create is a dynamic, which forces the different stakeholders to integrate the notion of humanitarian actions, that's the worthwhile element. And our experience in Syria is, you have to push, you have to go, you have to negotiate on a daily basis — constantly, constantly until it happens."
— Yves Daccord, director-general of the ICRC
We do that, at the same time, not just in the place all the media are talking about now. We're doing that everywhere in the country. Sometimes we're able to repeat, and then even better, to have a permanent presence. That's what we're trying to establish. Whereas here, what we've seen already in Homs, and then Aleppo, and now eastern Ghouta, is we are dealing with a situation where you have a mix of very heavy political objectives and also military objectives. And then in the midst of that there's very little humanitarian [assistance].
We don't care if it's called a cease-fire or whatever, we are willing always to get access, especially in besieged areas, and here with eastern Ghouta you're talking a cease-fire, humanitarian cease-fire. The point for me, what I'm interested is, are we able to repeat and to make a difference for the people?
But you don't worry that...
I worry a lot.
...that demonstrating some degree of humanitarian access to this place, where you would like to see much more humanitarian access, legitimizes the terms of this access?
That's always the complexity, and that's also the Syrian problem. You have to find the right balance. But in that case our presence there is also to guarantee that … the aid arriving to the people is the right one arriving in the right place. It's small, but it's 27,000 people. It's OK. We can go. We did in December even smaller. We went there to help dozens of people, two dozen people, to get outside of eastern Ghouta. They were dramatically wounded, so I think it was fair. So you can always wonder, are you doing that for fifty, or in this case 27,000 people out of 400,000? What does that mean? I would say as long as what you create is a dynamic, which forces the different stakeholders to integrate the notion of humanitarian actions, that's the worthwhile element. And our experience in Syria is, you have to push, you have to go, you have to negotiate on a daily basis — constantly, constantly until it happens.
But never, ever forget that it's just one element of a larger perspective. We will remain focused completely on eastern Ghouta. We will follow the communities, follow the people, even if it takes us months, years, because that's the problem. Homs or Aleppo today deserves the same focus as two years ago or a year ago, and that's my concern. The international community is shifting completely, and there is nobody any more telling the story of Aleppo or Homs.
Stepping back, what has the experience in Syria taught you about what the future of humanitarian access and humanitarian relief is likely to look like?
I would be very careful not to expand lessons learned in Syria and to say that tomorrow it will be like that everywhere. Because here is a very, very specific environment. But it has a few confirmations and a few learnings.
The confirmation — it's a sad confirmation — is that right now we are in a period of a lack of convergence between nations when it comes to trying to carve out a political solution. Syria is maybe the most striking example. Everybody understood quickly that Syria will not be in the position itself to solve the problem. Seven years ago, six years ago when it really started to be serious, the U.N. Security Council started to discuss Syria. By the way, if you would count, I think it's possibly the country which has been the most mentioned and discussed in the Security Council over the last six years. So you can't say, Syria was not discussed at the Security Council. It was constantly discussed, constantly, with almost — I'm slightly exaggerating — but with almost zero impact in the field, or extraordinarily limited [impact]. That's my concern, because it's not just about Syria.
Get development's most important headlines in your inbox every day.
Thanks for subscribing!
My concern is everybody in all the warring factions, all the armed groups, all the governments in the world, what they see is the Security Council focusing on a place, really putting pressure, and there is zero happening. That worries me, because that's the lesson out of Syria — impunity.
People perceive right now that there are values that are more important than others. And I think we're living in a time where, for good and bad reasons, states find it difficult to forge collective solutions or forge consensus. By the way, not just on war. War was always difficult, let's be honest. But even on ecology or climate change … on migration. All these issues deserve global solutions. As a humanitarian organization and as a citizen I'm concerned about that, because it makes our life, and life for people, much more complex.
Does that finding apply to the humanitarian sector as well? Do you think that that's one of the reasons that you're seeing less movement on maintaining humanitarian principles and neutrality and things like that?
I think we're living in a time where there is less interest in upholding international humanitarian standards. We had the 1990s — maybe the 1990s were the exception, I hope I'm wrong — when we had a fantastic breakthrough — after Rwanda, let's remember, and also after Bosnia. They were so shocking, the international community at the time decided to really go for it. If I look at the Rome Statute [establishing the International Criminal Court] and international justice, this is a remarkable time. What you have seen over time is clearly a sense that this dynamic has lost traction.
Right now, my real concern when it comes to international humanitarian law — without even talking about human rights law — is that it is becoming a kind of transactional commodity, and not any more a legal, or even a moral framework. And that's a real concern I see. The other thing, which goes much beyond humanitarian, I think it's a time where the fact that you would want to care for others than your own community, want to make sure that others are doing well, is under pressure. That's very clear. Of course, Syria, but also what we see in the Middle East, the migration questions, put a lot of strain and pressure on that dynamic.
That puts the broad topic of humanitarian reform in a really interesting and larger context. There's a lot of discussion about the problems with the humanitarian architecture and how the humanitarian sector needs to reform. A lot of these challenges are also rooted in the way that development has operated over recent decades. You're now pointing to bigger issues of state-to-state politics. Is the humanitarian sector the problem, or is it this broader context that humanitarianism is trying to somehow operate within?
Over the last 15 years, since the [Indian Ocean] tsunami, I would argue that our collective has done better when it comes to natural disasters. If you look at humanitarian, there's real success about the famous "localization" agenda, that local actors [should be the first to respond]. I would say natural disaster [response] is much better than it was 15 years ago. The early warning is better, even the investments and the insurance have done better. I'm looking at also forecast funding mechanisms. It's not perfect, but it's much better than it was 15 years ago. So that's good news.
"There was still the myth, even a few months ago, that you have a conflict, then the conflict slows down a bit, and then maybe you start to be close to peace, and that's the moment where the development ought to enter."
—
The other good news is that since 2016 — and here, the World Bank, I must say has played a role — there is suddenly an agreement that the focus is on protracted crises. The World Bank had the courage — frankly, it looks basic today — to add conflict. I do remember not a long time ago talking in some of these discussions: "Conflict? War? No, thank you, we're doing development. We don't do war." [The development community was] opting out of war, because you would never think about development during war. There was still the myth, even a few months ago, that you have a conflict, then the conflict slows down a bit, and then maybe you start to be close to peace, and that's the moment where the development ought to enter. [The World Bank's] focus has been very interesting. They're saying, "no, in protracted conflict … you know what, we have to invest." We have to invest in a very unstable environment where the governance mechanism, the control mechanisms are not at all standard. I give a lot of credit … to the World Bank, not so much in terms of finance, but that they will start to shape that.
Of course, the key question here is, how do you do that in an environment where the entire development world is used to working through the local government and local authorities? The reality is, when you talk about conflict, you're talking about a very complex governance system where, most of the time … part of the population cannot be helped, because the local authorities are not in a position to provide basic services — because they can't, like Central African Republic, or because they are at war. The entire development architecture is designed around helping the local government.
That's why you see an organization like us starting to say, "OK, we are ready to engage in new financial mechanisms," because we are deeply convinced that's one of the ways where we have to allow other people to start to invest in a very unstable environment, including people who are analyzing risk very differently than us.