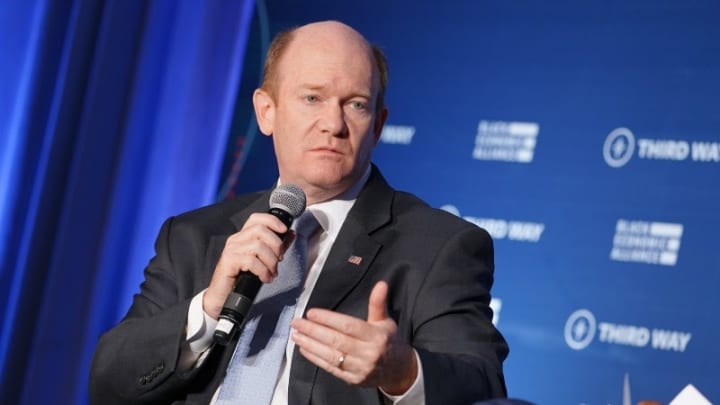 WASHINGTON — Some U.S. lawmakers are working to include $12 billion in support for the global COVID-19 response in a future funding package, but it's not easy.
"It has been a struggle in calls with a number of my colleagues to get them to embrace and respond to the idea that this is a critical international moment for the United States to show its engagement, its effectiveness, and its compassion for the rest of the world," Sen. Chris Coons, a Democrat from Delaware, said Tuesday at a briefing organized by CARE.
Americans and U.S. lawmakers are focused almost exclusively on the domestic response to the pandemic, Coons said, adding that 90% of the conversations he is having with other senators are about domestic response.
"It is demonstrably in America's national security interest to make sure that this pandemic is combatted globally."
— U.S. Sen. Chris Coons
That is partly because they have been working to pass another domestic-focused COVID-19 funding bill, which is expected to happen this week after lawmakers announced they had struck a bipartisan deal Tuesday. Funding for the global response will need to wait for the next funding bill.
While Coons said he thinks that the leaders of the Senate's state and foreign operations appropriations subcommittee may back a $12 billion proposal to support global response efforts, overall support for the additional funding is far from certain.
"Bluntly, we could really use help in engaging other Republicans who in the past have stepped up to defend the [foreign aid] account," he said. "There is a transition underway at USAID, and I am concerned that in the absence of real, effective, and engaged advocacy, we may see this administration's vision — which is to dramatically cut foreign assistance — carried out."
Get development's most important headlines in your inbox every day.
Thanks for subscribing!
It will be a challenge to not only defend the foreign aid budget from cuts, but to increase funding in this environment, Coons said, though he added that there are a number of clear arguments for supporting global efforts.
"It is demonstrably in America's national security interest to make sure that this pandemic is combatted globally," he said, adding that in addition to a self-interest argument, there are also ethical and humanitarian arguments.
Moreover, China "is seeing this moment as an opportunity for pandemic-response diplomacy," and the U.S. could be ceding its position as the world's leader in humanitarian relief, he said.
"We have to lift the eyes of the average American from the immediate crisis right in front of us to recognize that if we don't take steps to help stabilize the economies of dozens of emerging markets that have critical debt problems right now and … deliver badly needed and rightly deserved humanitarian assistance, then a moment for us to reassert our place at the table globally will pass us by," Coons said.
Visit our dedicated COVID-19 page for news, job opportunities, and funding insights.