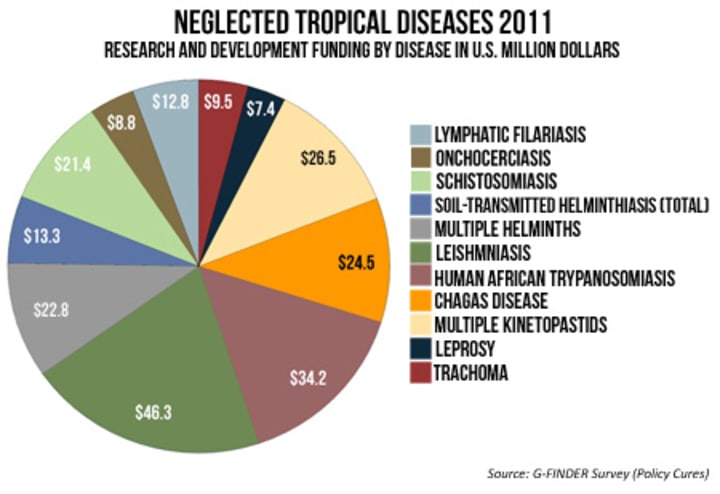 It's been a year since the World Health Organization released a road map to stop the spread of neglected tropical diseases by 2020. What has been its progress so far?
Based on a newly released report, there's reason to be optimistic.
WHO reports a hike in donations, which has enabled the group to expand the delivery of preventive chemotherapy, particularly for helminthiases and trachoma. It also noted "impressive progress" in ending dracunculiasis. Eradicating the disease, according to WHO, would result into a 29 percent jump in economic returns for the agricultural sector of countries where it is no longer endemic.
Among the biggest obstacles to the success of the road map: armed conflicts and population displacement. Violence not only disrupts delivery of preventive care and sufficient disease management and surveillance but also endangers the lives of health workers and hampers access to treatment.
Inadequate support to research and development presents another challenge.
"The strategies used to combat NTDs are based on science," the report said. "Research must continue if these diseases are to be overcome."
In 2011, funding toward research and development of 11 NTDs amounted to $227.5 million, based on data from the Global Funding of Innovation for Neglected Diseases, or G-FINDER.
Get development's most important headlines in your inbox every day.
Thanks for subscribing!
As part of their commitment to the London Declaration, partner organizations such as the Bill & Melinda Gates Foundation, U.K. Department for International Development, U.S. Agency for International Development, Mundo Sano and World Bankwould invest in various programs to advance the goals of the 2020 road map on NTDs.
NTDs affect more than a billion people around the globe, including about 800 million children. The WHO road map covers 17 diseases namely dengue, rabies, trachoma, Buruli ulcer, endemic treponematoses, leprosy, Chagas disease, sleeping sickness, leishmaniases, taeniasis or cysticercosis, dracunculiasis or Guinea worm disease, echinococcosis or hydatidosis, foodborne trematodiases, lymphatic filariasis, river blindness, schistosomiasis, and soil-transmitted helminthiases. It inspired the London Declaration on NTDs a year ago.
Read more development aid news online, and subscribe to The Development Newswire to receive top international development headlines from the world's leading donors, news sources and opinion leaders — emailed to you FREE every business day.