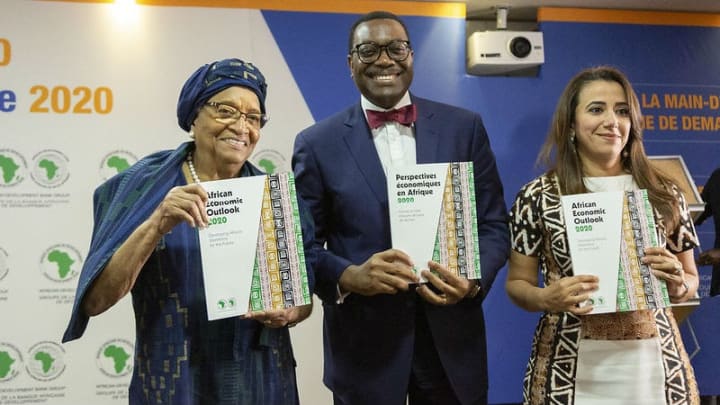 NAIROBI — Economic growth on the African continent has not been widely inclusive, according to "African Economic Outlook 2020," launched by the African Development Bank on Thursday. For about 60% of the countries that have data available, economic growth has not led to reductions in both poverty and inequality.
And while economic growth rates are higher in Africa than the global average, they are not fast enough to keep pace with the burgeoning population, according to Hanan Morsy, director of research at AfDB.
"Investing in an Africa's education and skills is really investing in Africa, present and future."
— Hanan Morsy, director of research, AfDB
Across the continent, the average real gross domestic product growth in Africa is estimated at 3.4% last year and is projected at 3.9% this year.
"If we were talking about anywhere else in the world, that rate would be quite a robust growth rate. The issue is that it's not good enough for Africa, because of what we are going through with rapid demographic growth and a large number of youth entering the labor markets," Morsy said.
Strong education policy reforms are one way to ensure that growth in the future is more inclusive of people from different income levels, according to the report. Weak education systems across the continent are leading to low test scores, skills gaps, and dampened earning potential.
Threats to growth and inclusiveness
Leading the continent for growth are Rwanda, Ethiopia, Côte d'Ivoire, Ghana, Tanzania, and Benin. East Africa is the continent's fastest growing region. But lower than expected growth for the continent as a whole is partly due to only moderate expansion in major economies including Algeria, Egypt, Morocco, Nigeria, and South Africa.
There are several reasons for slower growth, including the slowing of global trade volumes for metals and food, two of Africa's major export commodities.
Climate change also hindered growth, with extreme weather events such as recurrent droughts and floods weakening local economies by destroying crops. For example, Southern Africa, which has faced drought year after year and was devastated by Cyclones Idai and Kenneth last year, only had growth of 0.7% in 2019. El Niño conditions are also expected to hit East Africa this year, which could bring severe droughts, stifling agricultural output.
Rising insecurity challenges, especially in the Sahel, have also harmed economic growth.
For the economic growth that did occur, not everyone in society is benefitting. Growth has been inclusive — leading to reductions in consumption gaps between low and high incomes — in only 18 of the 48 countries with data.  
If current trends continue, the continent will not meet targets to eliminate extreme poverty by 2030.
"Although many countries have experienced strong growth episodes, relatively few have posted significant declines in extreme poverty and inequality, which remain higher than in other world regions," according to the report.
The report made recommendations to fuel inclusive growth. These include lessening constraints in the business environment in order to diversify economies away from commodities and expand the export base, as well as fostering fiscal policies that "rein in debt buildups." It also advocates that countries work to increase revenues, rather than cut expenses — in areas such as upgrading tax policies and tax administration systems, and that the implementation of public projects be better governed.
Countries should also build resilience to extreme weather events through climate-smart agricultural techniques, and provide risk-sharing platforms for households, such as insurance to help against damage and crop failures, and to expand social safety nets, such as cash transfers and targeted subsidies.
Strengthening education systems
Reforming education systems across the continent is one way to build inclusive growth in the future, according to the report. Africa lags behind other lower-income regions in areas such as average years of schooling and test scores, leading to skills gaps across the continent.
Get development's most important headlines in your inbox every day.
Thanks for subscribing!
There is also a mismatch of skills for the marketplace and not enough job opportunities. About half of employed youth say that the jobs they currently hold don't use their skill sets, compared to 32% in other low-income countries — hindering earnings potential.
Among low-income countries regions, Africa is the second highest spender on education as a share of GDP. But countries on the continent are spending more money for lower outcomes than those in Asia or Latin America, making it the least efficient region globally for public education spending.
Even with high levels of spending, the amount spent per student is the lowest in the world, given the size of the student populations. Household spending on education is also high.
Increasing the efficiencies of spending could almost lead African nations to reach universal primary enrollment, according to the report. Efforts to improve efficiencies include education expenditure audits and reviews, improving teacher quality, and using performance-based financing.
The report advises that countries expand access to education and training programs, including expanding access to schools in remote areas, increasing incentives to invest in education, such as daily meals, and creating a demand-driven education system focused on employer's needs.
Demand in markets is rising for nonrepetitive cognitive and social-behavior skills, such as critical thinking and digital literacy. Ensuring that education systems harbor these skills is important, according to the report.
"The educational system must adequately prepare the youth for the labor market. Priority must be placed on improving access to vocational skills training, reducing the mismatch between training and needs of the labor market, and providing greater incentives for the private sector to support young people with on-the-job training opportunities, as well as entrepreneurship," said Akinwumi Adesina, the president of AfDB, at the report launch on Thursday.
Governments and donors should also invest in public expenditures on education and infrastructure simultaneously, according to the report. This could include investments in reliable, affordable power supplies, transport infrastructure, high-speed internet, and interoperable systems. Investing in both areas simultaneously has greater payoffs than investing in only one of these areas, according to the report.
Closing the education attainment gap between those living in poverty and those with wealth, can reduce poverty variations by up to 13 % and inequality by 18%, it said.
African countries could also increase incomes and reduce poverty and inequality by removing barriers to the movement of workers to pursue opportunities across borders, according to the report.
The report also recommends that countries and donors invest in nutrition – because hungry children can't learn properly.
"Investing in an Africa's education and skills is really investing in Africa, present and future. And it means the collaboration of all stakeholders to work together: government, private sector, households, and international partners to get this done," Morsy said.