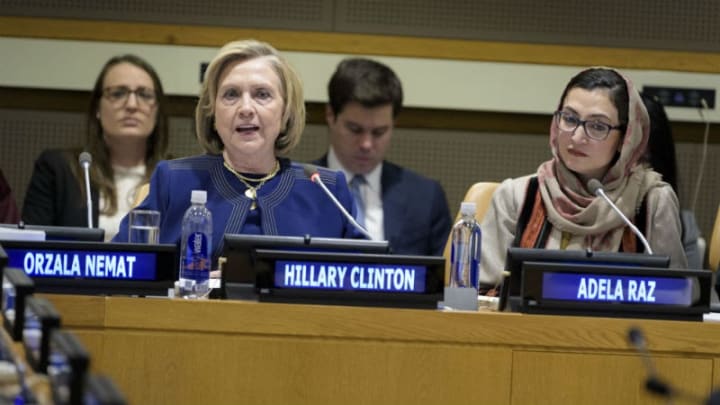 UNITED NATIONS — The ongoing peace process in Afghanistan is threatening progress achieved over the last two decades on girls' and women's rights, female civil society leaders from the country and former U.S. Secretary of State Hillary Clinton warned at the U.N. on Tuesday.
"If women are sidelined, the prospects for sustainable peace is slim."
— Hillary Clinton, former U.S. secretary of state
"Women must be included and women's rights must be respected as part of any peace negotiation in Afghanistan. Women are essential to combating corruption, ensuring economic growth, and are key to ensuring longevity of any peace agreement that is reached," Clinton said.
"If women are sidelined, the prospects for sustainable peace is slim. If society is torn apart and women are pushed to the margins, it is more likely that terrorists will find a haven," Clinton continued. She spoke at an event on women's rights and the Afghanistan peace process, convened by the Group of Friends of Women in Afghanistan, a member state and civil society coalition co-chaired by the U.K. and Afghanistan.
The U.S. and the Taliban negotiated a historic peace deal at the end of February, and the U.S. has since begun withdrawing troops from Afghanistan. The Afghan government is launching its own peace talks with the Taliban this week, amid a spike in violence in some parts of the country and ongoing disputes over the recent presidential election.
Women's rights and human rights are not mentioned in the text of the U.S.-Taliban peace agreement, and female civil society representatives from Afghanistan were not present at the recent talks. But at Tuesday's meeting, female politicians from the country and peace and security experts stressed that inclusion of women in the peace process is key to sustainable, lasting peace.
Representation should extend beyond women's physical presence in the rooms, said Adela Raz, Afghanistan's ambassador to the U.N., at the event.
"We want to have our own place in the room, and that is not limited only to representation, but also in terms of the substance. We want to make sure to have voices in different areas of our expertise, from the issues of rights to the Constitution to issues of development to economic growth," Raz said. "We have these people."
Get development's most important headlines in your inbox every day.
Thanks for subscribing!
Studies show that when women are at negotiating tables, peace agreements are less likely to fail and more likely to last over a long period of time. But two decades after the U.N. Security Council passed Resolution 1325, recognizing the benefits of women's engagement in peace, women are still routinely excluded from peace negotiations, according to UN Women.
"Research has shown the best predictor of a state's level of peace is not its economy, not its type of government or ethnic identity. Rather, it is how well women are treated in society," said Adam Lupel, vice president of the International Peace Institute.
Women's rights have improved in Afghanistan since the Taliban were removed from power in 2001, but activists have continued to face opposition from the Afghan government, according to Human Rights Watch. The Taliban were estimated to still control about 14% of the country last year.
Nargis Nehan, former minister of mines and petroleum in Afghanistan, noted that the Taliban are not the only players in the country's conflict. But she said that the Taliban's potentially forthcoming deal with the Afghan government should not signify a return to how women and girls were treated — prohibited from attending school and work and from going outside without a male escort — under the height of their rule.
"Afghan women will not go back. No matter how bad it is going to be, no matter how challenging it is going to be, we are going to move forward," Nehan said. "Our movement had started before 9/11, our movement was expanded after 9/11, and it will continue."