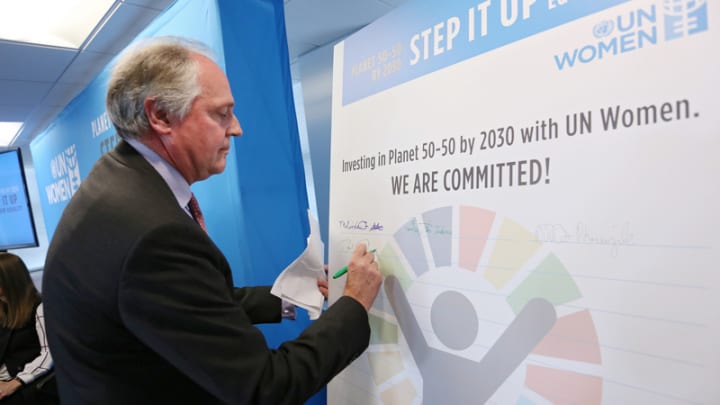 On the surface, it looks like the world has never been more prosperous than it is today. In the past 50 years average per capita income has almost tripled and the global economy has expanded sixfold in terms of gross domestic product.
People around the world live longer and healthier lives, and billions have been lifted out of extreme poverty. Business has prospered and grown on the back of these economic successes.
This success though, is a veneer. And like all veneers it masks something less appealing. Many of the old drivers of growth are no longer sustainable, a host of global issues — from food security to unemployment to poverty and climate change — threaten our future stability, prosperity has not been fairly shared and inequality is still rife.
The Sustainable Development Goals are nothing less than the cornerstone upon which we can eradicate poverty, tackle inequality and safeguard our environment for generations to come, all the while securing the world's future economic and business growth.
It's simply not possible to have a strong, functioning business in a world of increasing inequality, poverty and climate change. The interdependence is clear. That's why a business that isn't positively contributing to the society it serves will find itself more and more isolated — abandoned by consumers and shareholders alike, as they increasingly choose to buy products from and invest in businesses that recognize the opportunities that the SDGs represent.
Business has the unique opportunity to embrace the new global development agenda and recognise it as a driver of business strategies, innovation and investment decisions. Those that adopt the new models the SDGs demand will have an edge over their competitors.
Businesses must adapt or die. If they do, the SDGs offer the greatest economic opportunity of a lifetime. With an estimated investment of between $2 trillion and $3 trillion a year, the potential value that can be unlocked for society will be immense — $20 trillion, or more perhaps. Hundreds of billions in individual sectors — a very attractively high payback for this global agenda. We have seen action on climate, which influences 13 of the 17 SDGs. Businesses that actively account for climate change enjoy 18 percent higher returns on investment.
The 2015 Paris agreement — recently ratified by both the U.S, and China — sent a clear sign that the governments of this world are committed to de-carbonizing our economies, with the reverberations felt in banks, stock exchanges and boardrooms. It is clear that the private sector is starting to appreciate the business case for a rapid transition to a low-carbon world. The same spirit is required to deliver on the SDGs.
Get development's most important headlines in your inbox every day.
Thanks for subscribing!
The opportunities though, will not be realized if we continue with a "business as usual" approach. We need new, dynamic models for growth through the sharing economy, using big data to unlock new insights and adopting closed-loop cycles.
At Unilever, we have placed sustainability at the heart of our business through our Unilever Sustainable Living Plan. We have worked with many partners to make progress against our own goals and we will continue to work with others toward our shared ambitions. Only this week, we announced a new partnership with the Clinton Global Initiative, Vital Voices and a coalition of over 30 core partners from the public, private and multilateral sectors to work on a series of commitments that aim to address significant gender gaps and advance the gender equality targets of the SDGs.
This kind of approach — on an altogether larger scale — will be increasingly necessary to deliver on the SDGs. Governments, nongovernmental organizations, civil society and business need to work in a more interconnected way, leveraging partnerships and collaboration to generate more than the sum of our parts.
It is one year since the SDGs were agreed. In that time, the old approaches have edged us forwards towards delivering against the SDGs and attitudes have begun to change. But in the face of the challenges that confront us, what's needed is nothing less than a transformation.
This transformation won't happen automatically. It requires genuine leadership and concerted action. Only then will it become a reality and the potentially catastrophic consequences of failure be avoided.
This year's U.N. General Assembly is an opportunity to drive this transformative agenda and ensure we give ourselves the best chance for success in building a future that is bright for all.
Join Devex to network with peers, discover talent and forge new partnerships in international development — it's free. Then sign up for the Devex Impact newsletter to receive cutting-edge news and analysis at the intersection of business and development.