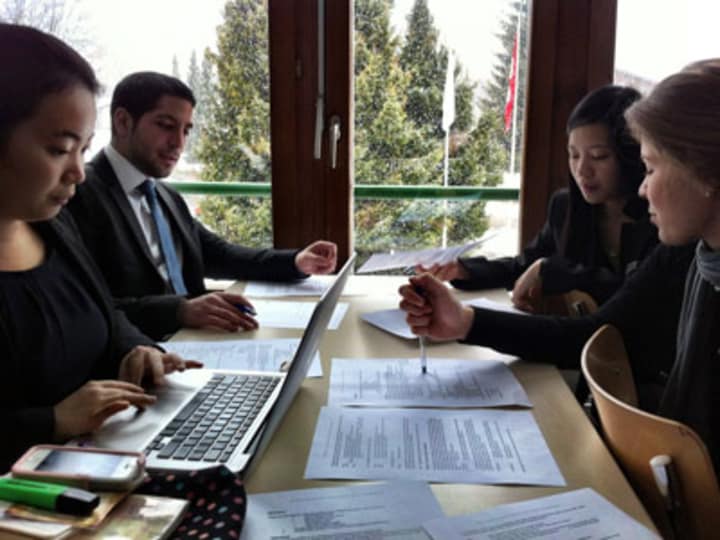 Throughout his career, Pierre Seguin has seen too many projects where an expat has set up a system that only they can operate.
Seguin, an International Monetary Fund technical and banking advisor in the Pacific, said the problem arises when he arrives to train on a project where — especially in banking and technology — an expat project leader has devised his or her own software system without identifying a local professional to assume responsibility later.
"They guarantee themselves a lifetime's worth of work since they are the only one holding the key," he commented of project leaders who don't prioritize the formation of an exit strategy. When the expat leaves, the system is usually abandoned, and another donor must step in to implement a completely different version.
This must change, Seguin said. And according to recruiters, it is.
One solution that has become popular in recent years: transitioning the chief of party or project leader position from an expat to a local or third-country national.
This transition — whether at 18 months or several years into a project — is often incorporated into the bid or grant proposal by implementing organizations eager to prove to donors that they are cost-effective and building local capacity.
Of course, recruiters are quick to point out that despite their focus on local hiring, they will still choose whoever is the best fit for the assignment, regardless of nationality — but if that person is an expat, a successful mid-project handover of leadership responsibilities can advance sustainability.
A burgeoning strategy
Leland Howard, a senior recruiter with Abt Associates, noted that in the past two years, he hasn't seen a single project that budgeted an expat leader for the duration of the project, although conflict zones are an exception. If it isn't possible to satisfy requirements with a local professional, recruiters will look in the region before turning to international options.
"The transition strategy is definitely taking over," he said. "We will look back in five years, and say, 'Wow, that was the moment that it turned.'"
Aside from concerns about sustainability, a succession plan for an expat leaving a project can be a money saver — a welcome byproduct in fiscally conservative times, Kathryn Erskine, senior recruiter with Creative Associates, suggested.
What used to be spent on expat salaries and allowances can then go toward programming and project implementation as opposed to overhead.
Transition to keep up
The transition strategy has become so popular that it is seen almost as a prerequisite to fundraising, according to Maya Salomon, senior recruiter for The Asia Foundation.
"We've seen situations where we have lost a competitive bid on a [request for proposal] to someone who proposed a local COP or had a better, more robust local ownership strategy," she said.
On any project, there needs to be a complementary mix of expats and locals, which might mean that the local candidate makes the better project leader while the expat takes a support role from the beginning, said Diane Marker, director of recruitment for GRM International based in Dubai. There would still a transition in place, but the expat might have an easier phase-out from the less senior position.
Abt has begun to, whenever possible, propose a local project director for the duration of a project, Howard said, giving the example of a $100 million project in Nigeria funded by the U.K. Department for International Development.
Marker is working on a major bid where the team leader is a host-country national, but acknowledged that her staffing approach varies on a project-by-project basis.
Get development's most important headlines in your inbox every day.
Thanks for subscribing!
"Our clients — which could be USAID, DfiD or AusAID — expect that we are [doing] capacity building," she said.
And local or not, it does still come down to the best fit for the project, said Zen Nasser, human talents coordinator for Transtec in Brussels. For donors like the EU, for instance, meeting the terms of reference is absolutely crucial for organizations bidding for a project, so the staff's nationalities can become a secondary consideration.
For example, if a tender requests a bilingual English-Arabic speaking candidate with at least five years experience in the MENA region, with a proven experience of at least 10 years in public administration reform in European countries, Nasser will first try to find a local or regional candidate who fits the tender requested criteria.
"But in the end what counts to increase the chances to win a tender is to present candidates that meet the requested  criteria, since this is what will be scored in an evaluation grid, whether the candidate is American, European, Canadian, or local," she said.
The exit challenge
There are various types of exit strategies, and the best-laid plans on paper can still backfire without the right mix and mentalities of expats and locals. Navigating those relationships is tricky, recruiters tell Devex.
Sometimes, clients are reluctant to have expats rolled off, Erskine said, citing an ongoing project where expat support was scheduled to cease after 18 months.
"The client has asked that the expats stay on for the rest of the project," Erskine said. "The transition is a strategy going in, but the success is also based on the client and what they want."
A transition from expat to local leadership can succeed if it's managed well, but it can easily fail if the local professional is not empowered by the project leader early on.
"You can have a project going from highly functioning to dysfunctional in a week, at no fault of the [deputy chief of party]," Howard said.
This means choosing an expat with a willingness to take a backseat, capacity building role from the beginning.
"Is it uncomfortable to give away your trade secrets and train someone else? Maybe. But its also very rewarding, and that's why were really in this," said Trish Ferrett, recruitment and global human resources manager at Pact.
Important is to have a time in mind when the expat will begin the "managerial slowdown" by phasing out and handing over duties before leaving the project, Seguin said.
He pointed to the Democratic Republic of the Congo for inspiration.
"At 4 p.m. on your 60th birthday, you retire," he said. "Succession was really important in that country because they knew exactly when that person was going to leave."
That spirit of a structural phaseout can help aid groups put together a winning mix of staff, Sequin suggested.
At the end of the day, Marker said, it's important to remember: "The transition strategy is not a strategy to win bids, it's a strategy to develop sustainable projects."
Please leave a comment below, tweet @devexcareers or join the Devex LinkedIn group for recruiters.