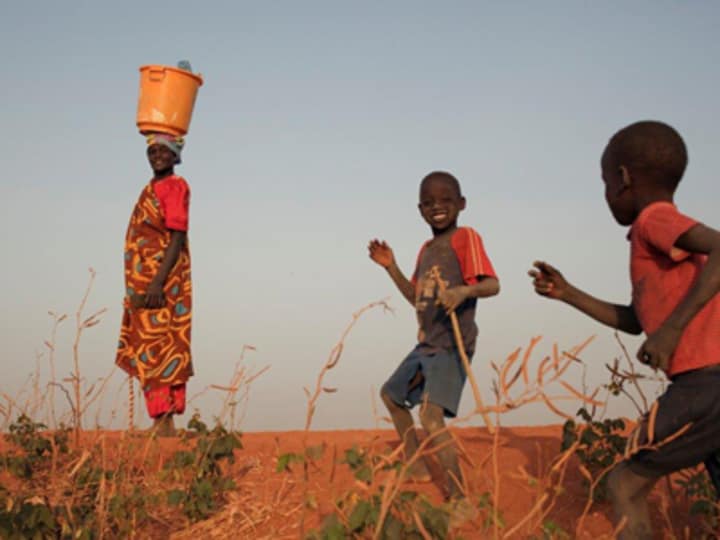 In South Sudan, members of a clan displaced by war move home and reclaim their ancestral lands without incident. A tribal chief gives a plot of land to a single mother returning from a refugee camp. Village elders from competing tribes negotiate resolutions over land claims that satisfy both parties.
Far from the news about armed herders burning villages over property disputes, residents in a corner of South Sudan near the Sudanese border have been working peacefully to resolve conflicts over land following a civil war that displaced thousands of people and left a legacy of land disputes that are still being felt in many parts of the country.
The reason for their success: recognition of customary land tenure. In short, tribal elders were able to reclaim their ancestral land and resolve disputes when returning refugees came home to find someone else on their land, international development workers said.
"In some areas where communities have returned in full force, they've been able to reinstate customary land rights," said Tiernan Mennen, director at Chemonics who has worked with tribal chiefs to promote peaceful solutions to conflict over land in South Sudan.
"In these places, tribal elders decide who used to live where and through community consultation try to return people to their land," Mennen said. "If there is someone on that land, they find another plot for them. This is common for entire communities who returned back with their elders. It's also true for people who are returning themselves."
Across Africa and beyond, the aftershocks of civil strife are often played out one plot of land at a time. Even if a conflict was drawn along ethnic lines or socioeconomic status, the seeds of discontent often lie in who owned the land, development workers say. Those tensions often linger when the fighting has ended.
Even in places that have not flared into full-fledged war, land often lies at the heart of a dispute — whether it is cattlemen grazing their herds on land claimed by a farmer or an ethnic community whose claims to a forest were undercut by a government concession to a logging concern.
"The land issue is so complicated, it often doesn't get told," said Jennifer Graham, an associate of the land, tenure and property rights division of Tetra Tech. "But it's at the crux of so many conflicts. People think it's Hutus and Tutsis, but no, it's about who has the right to have their cattle cross the land."
There are many permutations of conflict over land. Disputes may be over a natural resource, such as minerals or biofuels, waterways or grazing lands, development workers said. In Cameroon, much of the conflict is over rights to the country's forests. In Colombia, where a tiny fraction of the population owns huge swaths of the land, peasant farmers have been pitted against large mining concerns and others for decades. In Myanmar, landless ethnic minorities have been fighting the government as well. India and China have long histories of disputes over land.
"It's pretty much the bedrock of conflict — even conflicts that seem on the surface to be about something else," said Tim Large, editor-in-chief of Thomson Reuters. "Since that's the case, it's pretty fair to say that recognizing land tenure is probably the single most important thing you can do if you're going to tackle that conflict."
Large-scale conflicts often produce even more land disputes as refugees flee for safer ground that is often already claimed by someone else. In Uganda, for instance, the government set up refugee camps on land claimed by others and then passed a law recognizing squatters' rights; when refugees returned home after years spent in a camp, they often found someone else with legitimate claims to their land.
Even in places that are known for progressive recognition of communal land tenure, such as Tanzania, conflicts can arise from laws that allow the state to lease land to companies interested in extracting the natural resources — and then retain control of the land even if the deal falls through.
"The land moves out of the hands of the villagers permanently, so even if the company fails or goes bankrupt, the land does not revert back to the village," said Peter Veit, project manager for the World Resources Institute's Equity, Poverty and Environment Initiative. "It stays general land, so the government has the option to lease it out to somebody else."
Land has been one of the many drivers of conflict in Myanmar, also known as Burma, where about 10 million of the country's 55 million residents remain landless, said Douglas Batson, a human geographer with the Department of Defense who co-authored an article entitled "A U.S. Asian-Pacific Pivot Point: Burma's Natural Resources" that appeared in Prism magazine's volume 4, no. 3.
"Peace does not have much of a chance without transparent land tenure and property rights," Batson said. "Conflict will continue to simmer and derail Burma's opening up to democracy."
In China, many incidents of violence in the countryside can be traced to land-based grievances, said Roy Prosterman, founder of Landesa, a rural development institute.
Many of these conflicts result from "taking farmers' land or the eviction of farmers with poor process and compensation," Prosterman said. "The land issue vis-a-vis conflict and violence is a very important one."
There has been some success in addressing land grievances in Colombia, where decades of armed conflict displaced more than 5.6 million people. A 2011 law on land restitution has returned some 20,000 hectares of land to claimants who won nearly 230 cases heard in 39 special land restitution courts.
There are still more than 60,000 displaced persons who have filed land claims, and an estimated 5 million hectares of land yet to recover, according to Fernando Calado, a land expert in Colombia. But he counts these few court victories as a promising start.
Get development's most important headlines in your inbox every day.
Thanks for subscribing!
"This is quite a significant breakthrough," Calado said. "One of the challenges is to scale up this policy to make sure they can provide restitution for all of this land."
The land law in Colombia inverted the burden of proof, Calado said, forcing those on the land to provide proof of ownership against claims from displaced returnees. That solution seems to be working for Colombia. But not all countries rely on formal land titles.
Help governments initiate land reforms, and where applicable, help fuse statutory laws and traditional customs into one land policy
Part of the problem is that in many countries, a set of statutory land laws may be on the books, and often applied in urban settings, while competing traditional ways are applied in rural areas, development experts said.
"It's not uncommon to have two systems," said Jolyne Sanjak, deputy vice president in the Millennium Challenge Corp.'s Department of Compact Operations, where she's part of the technical services division. "There are multiple sets of rules at play."
MCC and other development agencies work with governments to synthesize statutory and customary land tenure into a single body of law, Sanjak said. They look at where there are gaps in the legal and regulatory frameworks and then size up the institutional capacity of the government, including its ability to create maps, to fairly adjudicate disputes and its ability to manage land rights over time.
Legal reform is often the starting point, said Large, the Thomson Reuters editor.
"In many conflict situations, you may not have very robust legal processes in place to ensure fair outcomes," he noted.
Create land commissions composed of traditional leaders as well as state officials
To help resolve issues over land, many governments have begun to set up land commissions or initiated reforms that allocate large swaths of territory to landless farmers or indigenous groups. The process also involves creating avenues to resolve disputes, and that often involves recognizing customary land rights in parts of the world where claims are rarely written down.
In Liberia, Tetra Tech and USAID initiated the Conflict Resolution Project in 2011, in part to facilitate the work of the country's new land commission, which had set up community-based centers that are charged with tracking disputes and agreements and also work on a national level to produce a land policy.
Tribal input has been an integral part of the process in Liberia, said Nick Thomas, senior associate and director of Tetra Tech geospacial technologies.
"We invite the tribal elders," Thomas said. "The local people always know where the boundaries are. Then I introduce them to maps using satellite images. I get them to discuss and get the whole group to agree on boundaries."
From there, Thomas delivers the final product to the conflict resolution body or land administration. Similar processes are under way in several other countries, development workers said.
"It's extremely important to have local people verify who lives where and monitor if someone is being dispossessed of their land," said Mennen, of Chemonics. "They need to have a voice in a formal committee. Donor-funded projects need to recognize the importance of customary land tenure use and ownership and make sure the country's policies reflect this."
Use mediation to resolve disputes
In some instances, it can take years to create the institutions or implement the reforms needed to deal with land disputes. In the interim, mediation can help where courts may produce clear winners and losers, leaving one side feeling aggrieved.
"Mediation can blur those edges somewhat," said John Bruce, a partner at Land and Development Solutions International who formerly directed the Land Tenure Center at the University of Wisconsin-Madison and worked as senior counsel on land issues for the World Bank.
"It can allow both parties to leave feeling that their grievances have been addressed in a way that allows them to coexist in the future," Bruce said.
Bruce co-produced a handbook with Sally Holt called the "Quick Guide to Land and Conflict Prevention"; it offers several ways to help communities resolve land disputes, including making sure that participation in the resolution process is open and democratic, includes confidence-building measures such as public hearings, and respects local knowledge and customs.
"In the longer-run, there are only things that government can do, such as legal reforms and land reform," Bruce said. "But in the [immediate] post-conflict stage, there is an opening, an opportunity to resolve disputes before things have solidified and then you tend to face more opposition."
Public outreach
An important part of the process is getting the word out about land law reforms or dispute resolution commissions, development experts said. Such public outreach can ensure that people know their land rights — and where to go to resolve disputes.
Sometimes this involves creating posters or videos that inform people about a mapping project or a new land law. In Africa, public outreach can also involve live performances.
"There is drumming and dancing," said Jennifer Graham, at Tetra Tech. "It's a way to get people together and then deliver an important message. It gets people to think differently about their land and peacefully resolve disputes over land."
Want to know more? Check out Land Matters, a new campaign to showcase innovative solutions in the areas of food security, economic development, conservation and more.