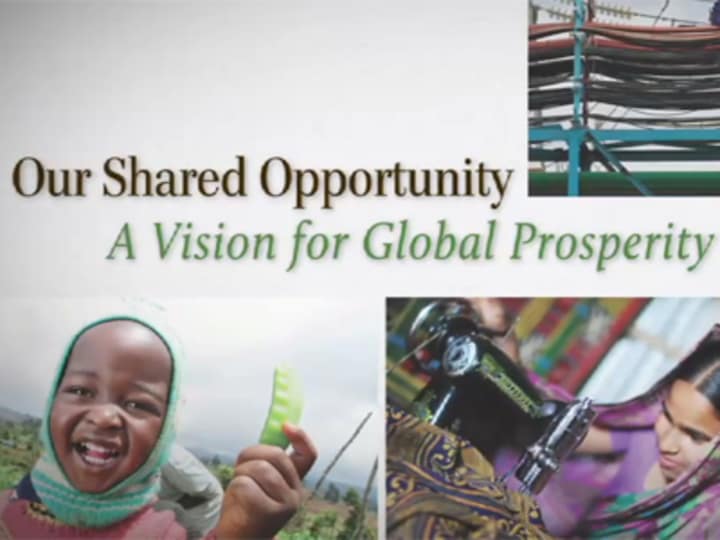 This article is produced and published by Devex Impact, a global initiative of Devex and USAID, that focuses on the intersection of business and global development and connects companies, organizations and professionals to the practical information they need to make an impact.
Today, the Washington D.C.-based Center for Strategic and International Studies released a new report that calls for U.S. foreign aid to reorient itself around the private sector and make "broad-based economic growth" its organizing principle.
"Private-sector-led, broad-based economic growth is the transformational force in development," says the report, issued by the center's Executive Council on Development, whose members include high-profile leaders from the realms of business, government and international development.
"While the U.S. government has historically played a vital role in development, that role needs to change because the world has changed. Public-private partnerships are now a necessity," Carly Fiorina, former Hewlett-Packard CEO and council co-chair, says in the report titled, "Our Shared Opportunity: A Vision for Global Prosperity."
In a letter at the report's opening, Fiorina and her fellow co-chairs — former Sen. Tom Daschle of South Dakota, Hyatt Hotels Corp. Executive Chairman Tom Pritzker and former Rep. Vin Weber of Minnesota — said that while the council is not calling for the "privatization" of foreign aid, they are calling for changes in priorities.
"Foreign aid as we know it cannot leverage the seismic shifts in global capital and investment opportunities and does not fully serve U.S. interests or those of the countries we seek to engage," they wrote.
The report highlights oft-quoted statistics from the Hudson Institute's Index of Global Philanthropy and Remittances, which has documented that private capital flows and remittances now dwarf U.S. official development assistance.
"In light of the fact that approximately 87 percent of capital flows to the developing world are private, public-sector players need to focus more on how they can fit into private-sector investment strategies rather than on how to get private-sector organizations into their programs," Robert Mosbacher Jr., former president and CEO of the Overseas Private Investment Corp., says in the report.
Get development's most important headlines in your inbox every day.
Thanks for subscribing!
The report also points to government budget reductions as a reason to shift foreign aid's center of gravity from government-led spending to private-sector-led partnership. With slashed budgets, U.S. officials can no longer afford to "hold private sector at arm's length and regard corporate actors as secondary or insignificant."
By bringing foreign policy into alignment with this new reality, the report argues, the United States could "make foreign aid as we know it today obsolete in 25 years."
The council's report focuses its recommendations on three areas: reorganizing foreign aid policy around economic growth; aligning U.S. development instruments with private sector interests; and promoting trade and investment using "existing but underutilized tools."
Among the more specific recommendations are for the United States to shift $350 million in development assistance to economic growth activities and to devote 25 percent of development funding to partnerships that involve core business interests. The council also calls for the consolidation of the approximately 20 agencies involved in U.S. foreign assistance.
In the report, business leaders on the council argue multinational corporations are ready to embrace a new level of global responsibility.
"The days of the pure pursuit of profit are over. Total, meaningful engagement with society is now essential for long-term sustainability of companies," E. Neville Isdell, former chairman and CEO of the Coca-Cola Co., says in the report.
This new style of aid, the council wrote, will better engage developing countries that want to be seen "as trading partners and economic peers, not as aid recipients" and would help Americans perceive citizens of developing countries "as the hopeful and healthy consumers they have become."
CSIS will launch the report at a half-day event, featuring keynote addresses from Millennium Challenge Corp. CEO Daniel Yohannes and OPIC President and CEO Elizabeth Littlefield.
Explore related content:
Join the 500,000-strong Devex community to network with peers, discover talent and forge new partnerships — it's free! Then sign up for the Devex Impact newsletter to receive cutting-edge news and analysis every month on the intersection of business and development.