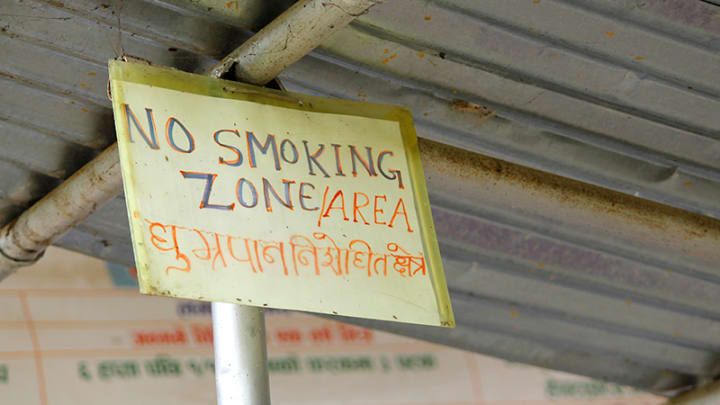 Development practitioners are continually grappling with questions about how to achieve genuine, lasting improvements as development outcomes. The shortcomings and disappointments associated with some programming have fueled debates about "doing development differently" or the need to "think and work politically." The lexicon of development now routinely includes talk of the importance of context-specific solutions, but what does this mean in practice and how can it be made to work?
Answering these questions is key to addressing global health challenges, in particular, the increasing deaths and morbidity caused by the global rise in noncommunicable diseases. As the global population ages, the total number of deaths due to NCDs is projected to rise to 52 million in 2030.
Changing the behaviors driving the increase in NCDs — such as smoking — requires policies that understand the culture and attitudes of local populations. To convince politicians to act, the salience of NCDs as a driver of poor health and economic outcomes needs to be built up by framing the issue in ways that resonate with domestic political priorities.
We call on donors and development practitioners to learn from these experiences and replicate the approach in wider contexts.
—
The tobacco epidemic — one of the leading causes of NCDs such as cancers — is one of the biggest public health threats the world has ever faced, killing more than 8 million people a year around the world. The rising impact of tobacco use across the developing world has prompted a focus on different ways to tackle the issue.
In low- and middle-income countries, NCDs will be responsible for three times as many disability adjusted life years — a measure of the potential life lost due to premature mortality and the years of productive life lost due to disability — and nearly five times as many deaths as communicable diseases by 2030.
Cancer Research UK is concerned by the growing impact of NCDs — the impact of tobacco use in particular — in low- and middle-income countries. This has prompted them to develop new approaches to reduce tobacco prevalence in countries such as Nepal and Sri Lanka, which have different levels of commitment to tobacco control.
Sri Lanka has already taken a range of measures — recommended by the World Health Organisation — in an effort to curb tobacco use. As a result, Sri Lanka has seen an impressive reduction in smoking rates — the percentage of people smoking dropped from 38% in 2009 to 28% in 2018.
In many respects, these gains have been the result of adopting policies that reflect international good practice. Cigarettes in Sri Lanka are some of the most expensive in Asia with 66% of the retail price going to the government in taxes. Smoking is also banned in public places, tobacco advertising is prohibited, and there are 80% pictorial warnings on cigarette packets.
Yet every year, more than 12,000 Sri Lankans continue to die of tobacco-related diseases. Tobacco consumption continues to cost the country 89 billion rupees (almost $500 million) per year in health costs. Meanwhile, the tobacco industry's profits continue to increase. Those still smoking are disproportionately men over 40, or teenage school drop-outs, from lower socioeconomic groups, and from the hill regions and areas affected by previous conflicts.
Having made so many improvements in terms of tobacco control, the challenge for Sri Lanka is how to sustain that political commitment around it and implement effective new policies that cut smoking rates further. Thinking ambitiously, there is even an opportunity to reduce tobacco use to under 10% and make Sri Lanka a beacon both within Asia and further afield.
To achieve this, Sri Lanka must go beyond the standard set of internationally recommended policies — which have helped drive down tobacco use over the past 15 years — and implement targeted, innovative, and locally specific policy.
Strong political commitment to take tough decisions is needed, now that the easier gains have been made. It will also involve challenging the myths promulgated by the powerful, monopolistic tobacco industry, which act as a brake on progress. These include over-estimates of the economic contribution of tobacco and numbers employed in its cultivation, and exaggerations of the impact of tax rises on smuggling rates.
Get development's most important headlines in your inbox every day.
Thanks for subscribing!
CRUK's approach to localized support
While international organizations such as WHO continue to play a critical role, others such as CRUK are offering additional focused and localized support. We are therefore putting some of these ideas into practice by developing an approach to tackle tobacco use in Sri Lanka, which can be replicated among wider health issues. That approach, which is also being trialed in Nepal, includes:
1. The use of local experts
In Sri Lanka, our lead local partner is a think tank called the Institute for Policy Studies, which is highly respected and influential with strong links to the government. It has innate political understanding, local networks, and in-depth knowledge of Sri Lankan society, policy, and politics. This means that it is well placed to develop solutions that are practical in the Sri Lankan context but will also fly politically. Working through local think tanks and building their capacity to advocate effectively for change is an important, and often overlooked, route to achieving lasting change.
IPS's immediate attention is focused on the upcoming presidential elections, where security and economic concerns are dominating, but it plans to keep tobacco on the political agenda. It will be making the case for sustained action to go the last mile on tobacco control, including by joining up with campaigning organizations in the tobacco field, to create a coalition for change.
In the pre-election period, research will help myth-bust tobacco industry propaganda, which exaggerates the contribution to the economy made by tobacco revenues and the number of jobs sustained in tobacco growing. On the policy front, IPS is looking at a range of context specific options including the potential to ban the sale of single sticks; the way in which is how many smokers purchase their cigarettes; tobacco-free villages; and are developing options for further tax increases.
2. The use of specialist international support
Kivu International is an organization that specializes in advising local partners on approaches to effectively influence policy. What should an overall "policy influencing strategy" be? How can research organizations maximize their policy impact? How can different civil society organizations partner to create influential alliances?
Kivu believes in using research to influence policy and has first-hand experience in seeking to achieve change in highly political contexts. Kivu is working hand in hand with IPS to maximize the impact of the Sri Lankan tobacco control program.
This combination of local insight and specialist international support has paid dividends in other contexts too. On issues from agricultural market reform to government debt, and from energy markets to taxation reform, Kivu has supported local partners to influence policy. We believe this approach has a significant role to play in improving health outcomes in LMICs. Our work in Sri Lanka, and its sister program in Nepal, are starting to demonstrate this.
While this approach is in its early days in Sri Lanka, it is already taking shape. Going the last mile on tobacco is a challenge, both politically and in terms of effecting lasting change. But CRUK's approach, of locally driven advocacy and policy development led by IPS, supported by international expertise from Kivu, is finding opportunities for influence and impact. We call on donors and development practitioners to learn from these experiences and replicate the approach in wider contexts.