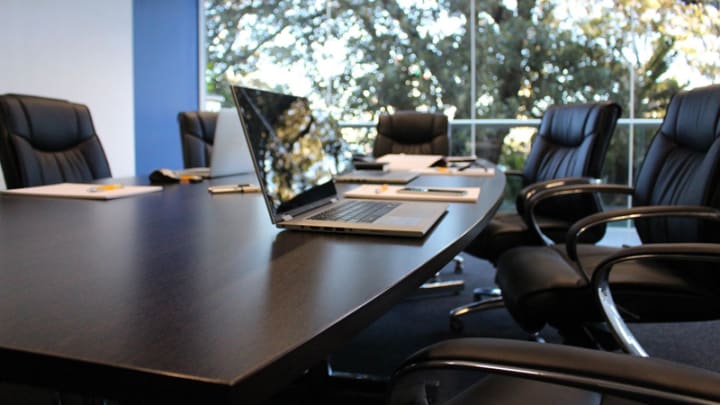 LONDON — Marcia Ashong was experiencing an entrepreneur's nightmare; she had a great idea for a startup, but couldn't get her would-be business partner on the phone.
"I couldn't reach her … Every time I said we need to meet, she'd say, 'yes maybe in a week, maybe in a month,'" said Ashong, a former lawyer in the oil and gas industry in East Africa. Eventually, she "just gave up and sent her the PDF of the proposal."
"[The] impact world is interested in lower-income communities and not women in leadership."
— Marcia Ashong, a former lawyer in the oil and gas industry in East Africa
The PDF was a sketch of what, in 2017, would become TheBoardroom Africa — a social enterprise that trains up-and-coming African businesswomen to be "boardroom-ready," matching them with high-level vacancies in African companies and creating a pipeline of female business leaders. By working with key development finance institutions such as the United Kingdom's CDC to identify vacancies, TheBoardroom Africa aims to influence parity at the highest levels of leadership, at the earliest stages of investment.
The recipient of that email pitch was Tamsin Jones, one of the early influencers of The Africa List, a compilation of ascendant African businesspeople identified by CEOs. Jones was between work trips when she read the email, and answered within two minutes: "Absolutely game on."
Ashong and Jones met in 2014 at the African Leadership Network conference, where they found they shared a frustration in the lack of networks and support systems designed to promote gender parity in boardrooms.
Africa is in some ways ahead of the curve when it comes to hiring and promoting female executives — about 5 percent of CEOs and 14 percent of board members in Africa are women, slightly above the global average, according to 2016 research — but Ashong and Jones lamented the risks of slipping backward if nothing was done to formalize a pipeline of rising African businesswomen.
The business plan
Given the continent's status as a relatively unsung frontrunner in gender parity, Ashong and Jones saw an opportunity to elevate Africa's example and institutionalize growth.
When they met at the African Leadership Network conference, they became part of an informal network of women. "It was so therapeutic to sit around … talking about the issues that we've all been experiencing but we don't really talk about," Ashong said. At the time, she was country lead for Côte d'Ivoire at a prominent oil and gas company, and had seen how difficult it could be for women at, or near, the top.
Earlier in her career, Ahong had found herself surrounded by male mentors, but as her responsibilities grew Ashong said she "really started to see the male angst about me being where I was," and how little had been done to specifically challenge the way women are hired, promoted, and trained to lead.
For her part, Jones was already well-acquainted with the challenges faced by women trying to move up in business. Through her work with The Africa List, she had met many amazing women, but "getting women to tell their story and own their leadership is sadly hard because a lot of them feel ... imposter syndrome," Jones said.
That was the perspective she brought to TheBoardroom Africa. "I want these women to own their incredible story and to take it into that CEO job," Jones said.
Like all startups, once Ashong and Jones set to work together on TheBoardroom Africa, they identified a few gaps in the business plan, namely a cash-flow problem.
Jones had venture capital contacts, and they began putting TheBoardroom Africa's business model through the wringer. 
After venture capital contacts said they wanted to see the growth potential before investing, the pair looked closely at their business plan and potential investors and realized their vision wasn't ideal for the venture capital market.
So they turned to impact investors, where they met Suzanne Biegel, founder of Catalyst at Large. Siegel proved that not all foundational investments are financial.
Ashong said Biegel took a selfie as an "I knew you when…" memento, and Biegel told the pair she planned to do "everything within my network and my power to ensure that if there are relevant things, you have access."
As they met other impact investors, they also discovered "that this impact world is interested in lower-income communities and not women in leadership," Ashong said.
Biegel introduced the pair to Nick O'Donohue, the newly appointed CEO of CDC. The U.K.'s development finance institution had just refocused its investments in higher-risk contexts, namely sub-Saharan Africa. An early investor in the Africa List, it hoped to uncover exceptional talent in fragile markets whom it could nominate for high-level appointments on investee boards. With a new geographic focus and CDC's flagship gender strategy in the offing, the institution seemed an ideal partner.
Get development's most important headlines in your inbox every day.
Thanks for subscribing!
The big fish
"Within CDC right now, we are placing around two dozen board seats a year in our current portfolio, maybe more," Jen Braswell, director of strategy and policy at CDC, told Devex. "So, in that scenario, we recognize that we have a significant opportunity, at a minimum, to make sure that we have parity in our candidate slate, for each of the board positions that we place."
What The Africa List had produced was "a natural leadership pool of up-and-coming younger women who may not already be on board seats but have the ability to be placed on boards and/or … C-suite positions," Braswell said. But through meetings with The Africa List members, CDC learned that many of the women identified were also asking "for training to provide them with primarily the confidence but also the skills to be an effective board member." With those needs in mind, CDC brought TheBoardroom Africa in for a six-month design phase.
"TBrA has basically come in to provide that framework," Braswell said, "but also for us to support the building of a network that can provide benefits back to the women who participate."
With CDC's support, TheBoardroom Africa developed an "Institute of Directors-sanctioned" leadership certification, alongside a suite of tools emphasizing mentorship and in-person coaching.
CDC's relationship with TheBoardroom Africa is unusual in that it "provides us a service — it's a service that we need — and if it had been a service provider that was already out there in the market then we would just simply be using them and subscribing to their services," CDC's Braswell said. "But it didn't exist."
Finding that TheBoardroom Africa's presence was also impacting its new gender strategy, CDC positioned TBrA as an influencer in the new CDC-led Gender Finance Collaborative, a group of 14 development finance institutions — including the Overseas Private Investment Corporation, FinDev Canada, and Swedfund — which share tools and resources "to help to [build] something we call 'the anatomy of the gender strategy.'"
Braswell said the collaborative brings together investment, strategy, and gender teams to share lessons learned and "have some peer-to-peer learning so that we're not each reinventing the wheel as we think about how we can integrate a gender lens into our investment decision-making and work post-investment."
As a result, TheBoardroom Africa is now shaping the gender strategies of the world's leading development financiers. At a recent two-day collaborative meeting in Stockholm, Sweden, Braswell said TheBoardroom Africa served as the nexus for discussions about gender among some of the world's most influential development finance institutions, which are now "calling for a greater number and a certain larger percentage of women candidates in their placement slates." CDC is now "just about to provide TBrA with some grant funding to help them further refine the business model."
Though Ashong and Jones have their hands full, Jones said that the work with development finance institutions has opened their eyes to other markets.
"We're … really interested in hearing from development organizations out there that are having these challenges, because we understand certain markets better than others," Jones said, issuing an open call to the aid sector.
"If you're having a challenge, come and talk to us. Hopefully, we can solve it, and maybe develop a model for that nonprofit space."